Jaden Rose Guitars Coming to Stores Soon
Published on 10 November 2012

We are very excited to announce that next Thursday we will be taking delivery of our first batch of handmade guitars from UK luthier Jaden Rose! This gorgeous selection of 6 guitars includes both 6 and 7-string models and we can assure you that they play every bit as good as they look - and they do look good!
Meet and Greet with Jaden Rose
On Thursday November 22nd Jaden Rose will personally be delivering the guitars to our Epsom store, where he will be answering questions from 12pm onwards.
So make sure to come along, try out the new guitars and quiz the man himself!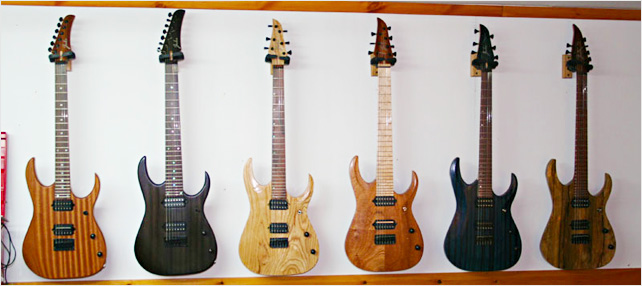 Jaden Rose Guitars Bio
Jaden Rose Guitars is a British guitar maker based in Halfway, Carmarthenshire. Specialising in guitar designs that make the most of the natural beauty of the highest quality tonewoods. A unique finishing technique further enhances the guitars, reminiscent of the high lustre seen on centuries-old fine English Oak furniture. Jaden Rose comes to guitar making with a 20 year background in bespoke joinery and precision engineering in the UK, USA, China & several European countries.
Frustrated as a player by the limitations of production guitars that just missed the mark, Jaden designed his own ideal guitar. Instead of making just one, Jaden set up his own mini factory complete with brand new tooling and CNC machinery to ensure perfect replication and precision every time. Working only with the finest raw materials, every guitar is made entirely by Jaden. Nothing is commissioned or sub-contracted to guitar factories abroad and all hardware is of highest quality. Jaden Rose Guitars produces no more than 200 guitars a year and every one is set up and checked by Jaden personally.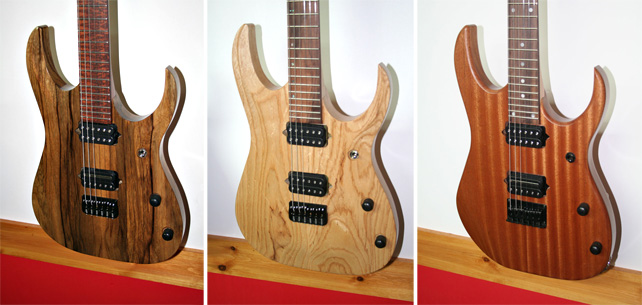 For more information:
Jaden Rose Guitars Website