Compare the Roland TD-11KV or TD-25K V-Drum Mid Range Kits
Published on 31 March 2016
We have been asked a lot regarding the difference or choice between the new TD-25K and the more affordable TD-11KV for mid range and session drum kits. We take a look at the comparisons below so you can make your own choice to suite your needs...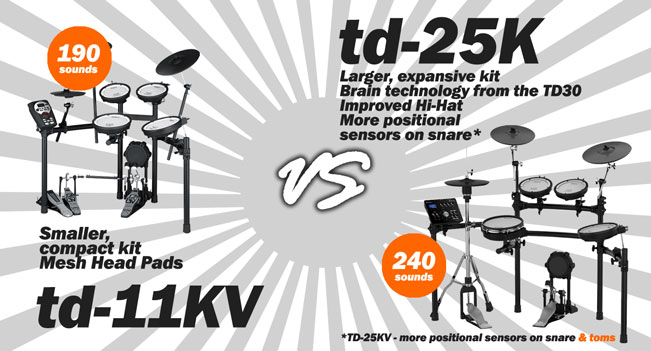 ROLAND TD-11KV
Before the arrival of the TD-11K/KV the only electronic drum kit that harnessed the power of Roland's SuperNATURAL sound technology was four times the price. Thankfully, access to high quality sound processing is available on far more affordable kits.
For those unfamiliar with this technology, Roland's SuperNATURAL sound denotes real-time sample playback with subtle variances and adjustments in tone, depending on a number of different parameters. Simply put, if you hit the snare hard in a particular place, it will sound noticeably different to hitting the snare softly or in another spot.
The high quality mesh snare head does a great job of emulating the physical response and playability of a real drum skin. The TD-11KV kit offers mesh heads on all the drums, giving you that elusive advanced response often missed on standard electronic kits.
Inside the TD-11KV's drum module, the brains of the kit, there's some serious controls for mid-level and professional players alike. 50 kit types, 190 individual percussion sounds and 7 tweakable parameters for each drum gives you some true studio quality sound customisation. The TD-11KV even gives you 10 ambience modes which emulate the variation different types of room would have on your kit. You can even play backing songs through it with quick record too.
Although you could fit another drum onto the TD-11KV kit, the frame is smaller than your standard acoustic session kit and it would feel maybe too cozy for some in a tight space.
ROLAND TD-25K
So the TD-11KV has some great sounds under its hood and mesh head drums, but what about if you want even more bang for your buck? Enter the tremendously powerful TD-25K, a larger scale and hugely expandable professional quality drum kit that matches the standard size of a typical acoustic kit on stage. With the difference in size you can actually expand this kit with an additional Tom and Cymbal (due to the extra 2 aux inputs on the brain) if need be and still have enough room to breathe.
With technology derived from it's bigger brother the TD-30, the TD-25K has a much improved module, with direct recording capabilities allowing separate drum track and backing tracks recorded to USB, more added FX, plus in-depth EQ and reverb types and even MIDI out, so you can lay down tracks and sequence your beats straight into a DAW like Ableton Live.
But where the TD-25K is really light years ahead is its drum heads. Mesh heads as standard, but now with more positional sensors on the Snare (TD-25K only) and across the whole range of Snare/Pads/Toms on the TD-25KV than those in the TD-11 kits. Playing on this kit feels more real and sounds even better, and allows for much more nuanced, subtle play styles and expression. Cymbal choking, rim shots and drum rolls all sound like the real thing. The Hi-Hat included is the new improved VH11 with dual trigger and a floating design to emulate a two piece hat as realistic as it gets.
While true professionals and session players will appreciate the flagship TD-30K's hugely expanded sonic sculpting, as well as it's 8x individual drum outputs for multi-track studio recording options, we think the TD-25K is a hugely impressive kit for the money, offering some incredible features that will keep you playing and practising for years to come.