Introducing Native Instruments Komplete 11
NEWS Published on 02 August 2016



KOMPLETE 11: YOUR SOUND. UNLIMITED.
Discover a new universe of sound with KOMPLETE. The latest generation of the world's leading production suite combines inspiring, state-of-the-art instruments with studio-quality effects – a comprehensive collection for any production task and all genres of music. A long-established must-have for pro studios, KOMPLETE is everything you need to define your sound without limits.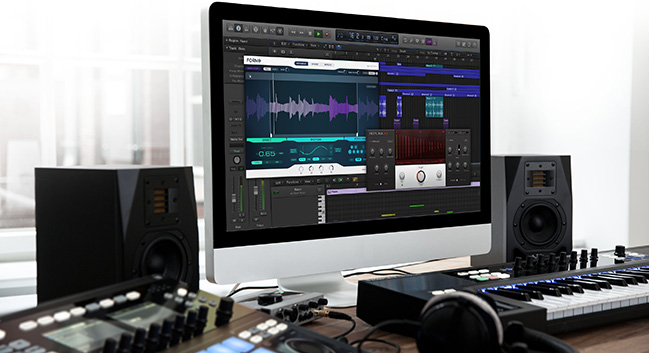 INSTRUMENTS, EFFECTS, AND MUCH MORE
Fully integrated and easily expandable, KOMPLETE gives you an adaptable, all-powerful studio command center.


EASY INSTALLATION
Get up and running fast. All KOMPLETE 11 versions are available as downloads or as boxed versions with USB flash drive or hard drive installation options. The brand-new Native Access offers cloud-based system management. This simplifies installation, registration, and updates.
EXTENSIVE INTEGRATION
Use the included KOMPLETE KONTROL software to access your entire instrument collection from a single plug-in. Take direct control of your instruments through integration with KOMPLETE KONTROL S-Series keyboards and MASCHINE. And the open plug-in format Native Kontrol Standard® allows deep integration with software instruments from leading manufacturers such as Arturia, Heavyocity, Soniccouture, and many more.
FULLY EXPANDABLE
Your KOMPLETE universe grows with you. When you're ready to expand your instrument and effect collection, progress to the next-level-up KOMPLETE suite – careful upgrade pricing means you won't lose a single cent.
UNBEATABLE VALUE
No matter which KOMPLETE 11 suite you choose, you get a set of instruments and effects at a small fraction of the cost of the individual components. With KOMPLETE 11, you get more content and a greater value than ever before – an 88% saving compared to the price of the individual products. And KOMPLETE 11 ULTIMATE has doubled in size over the last two generations.

CHOOSE YOUR KOMPLETE
The latest KOMPLETE generation comes in three different sizes. Choose yours...
KOMPLETE 11 ULTIMATE
The ultimate resource for pro production, scoring, performance, and sound design. 87 products, over 18,000 sounds, and more than 500 GB of instruments and effects. With maximum range and quality at your fingertips, create music without limits.

KOMPLETE 11
The world's leading collection for production, performance, and sound design. 45 products, over 13,000 sounds, and more than 155 GB of instruments and effects. The tools you need for every production task and any type of music.

KOMPLETE 11 SELECT
A wide-ranging music production suite for all genres – the perfect gateway to the world of KOMPLETE. You get 11 full products, over 2,500 sounds, and more than 25 GB of instruments and effects in a single, studio-ready package.