Cashback deal from ADAM: Professional Audio
NEWS Published on 07 October 2016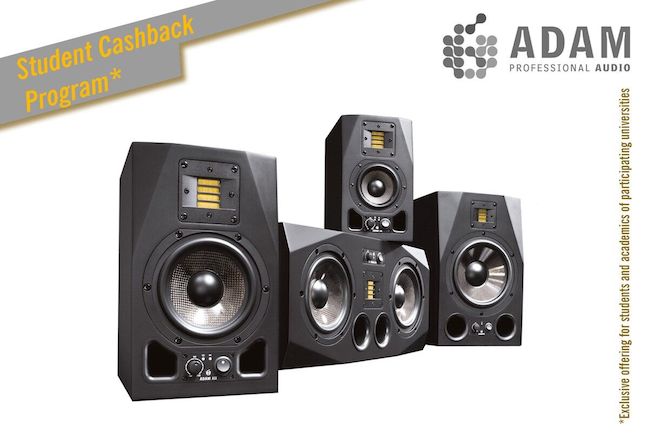 10% Cashback deal from ADAM: Professional Audio
Simply register your purchase on their website. They have have an extensive list of participating educational institutions however if you notice an important institution missing from the list below, that you feel should be considered for the cash back program please inform us and as long as it meets the criteria it will be added.

The cashback rebate is limited to one pair of speakers and one subwoofer per participant.
Every participant in the ADAM Audio Student Cashback Program must qualify as a student or lecturer by participating in a course of studies which is audio related (example: music production, media, TV& broadcast, etc.)
Only students or lecturers of educational institutions which are officially verified by ADAM Audio GmbH can participate in the Cashback Program. If your college or institution isn't in the program yet, please write to us via Email
The ADAM Audio Student/Lecturer Cashback Program is valid for purchases as from 1/1/2016.
Invoices which are submitted may not be older than 30 days at the time of submission.
The Cashback can only be granted if the purchase price of the speakers is explicitly listed on the invoice/receipt. Please note that very often bundle offerings (e.g. speakers + stands) are issued as a single item by the retailers. (In this case Cashback cannot be granted. Please check with the retailer before your purchase.)
The Cashback is not valid in combination with other discounts or sales promotion actions initiated by ADAM Audio (e.g. Triple7 offering)
ADAM Audio reserves the right to rescind from the program anytime without advance notice. No specific individual has a right to the cashback reward.
ADAM Audio is not responsible for all eventual impacts on tax affairs of the participants.
The declared buyer's name on the invoice has to be identical with the declared name on the submitted student ID.
Invoices without a buyer's name can not be accepted.
ADAM Audio will transfer the cashback direct into your bank account within 45 days of us confirming your claim.
FOR LECTURERS: If no current ID confirming you post, we will accept a verification confirmed by the educational institute.