Buy a Roland GP, LX or HP Piano - Get FREE Sheet Music
NEWS Published on 01 February 2017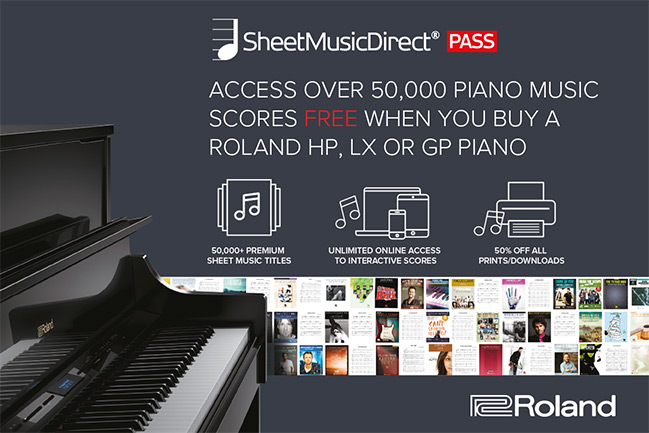 Buy a Roland GP, LX or HP Piano - Get 3 free months of PASS
Sheet Music Direct and Roland have partnered to bring you 3 free months of PASS, the world's premium sheet music subscription. Get UNLIMITED online access (via computer, tablet and smartphone) to over 50,000 interactive digital titles PLUS 50% off all prints/downloads.





Since 1972, Roland has worked to create the ultimate piano experience. The LX, HP, and GP digital piano models are among the most exciting yet.
The LX models are luxurious upright pianos for the connoisseur, with the rich sound and graceful appearance of an acoustic, along with a multitude of advantages only possible with a digital piano. The HP models showcase a philosophy that is all about bringing the sound and performance of a concert-class piano into your home. The GP607 is a stylish digital mini grand piano that offers the look and feel of a traditional mini grand piano, but without the cost and hassle.
Roland's high-quality digital pianos pair perfectly with Sheet Music Direct's PASS premium digital sheet music subscription, allowing you to access and play more music than ever before.


Buy a qualifying product
Pick up your registration card from our friendly staff
Fill in the form here
Offer ends 31st July 2017.