Steve Vai Collection
NEWS Published on 17 February 2017
For the love of G...Another collection?! Of course! This time a very Steve Vai-esque affair. With his 30th anniversary celebration with Ibanez underway, Vai Academy, and Passion and Warfare 25th Tour, Steve Vai has had a busy year. So let's have a look at the gear he's used in the decades of unadulterated guitar mastery!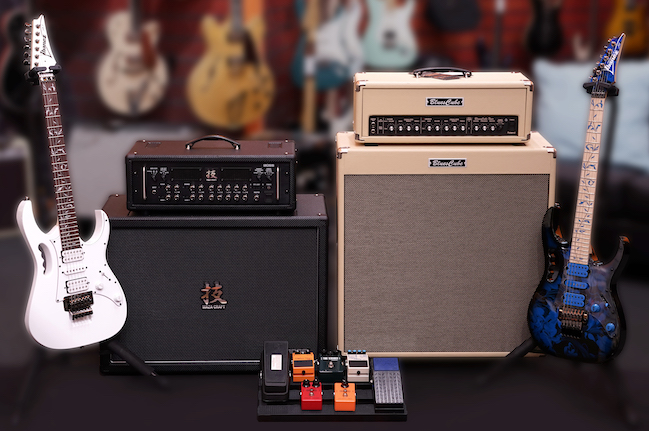 What would Steve be without his unique, and very recognisable JEM from Ibanez? Whether you are a budding Vai fan or a guitar master yourself, there is a wide range of JEMs to choose from. Pictured here is the JEM Junior in white, certainly the most well known from Steve's palette of colours, and with full Vine Inlay and lower price point, it's perfect to start on the path of the man himself.
On the other end of the spectrum (and side of the picture) is the reissue of the Blue Floral Jem. Created in 1991, these newer 2015 reissues capture the magic of the originals, with incredible blue vine inlays to match the floral pattern, and bright blue Gravity Storm and Evolution Pickups for the Vai tone you have been searching for!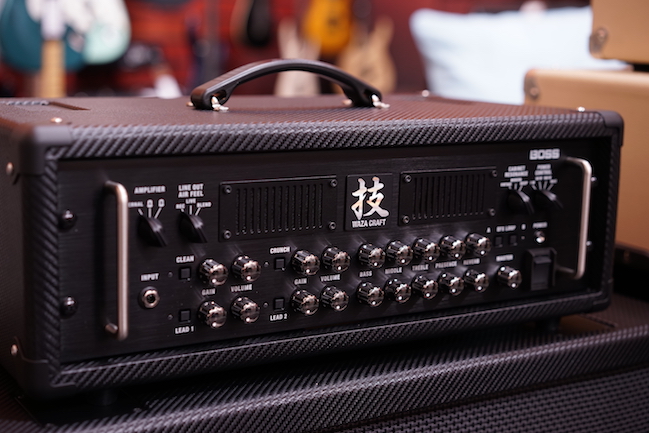 Last year Steve Vai released his voiced "Tone Capsules" from Boss Waza craft. In order to use these wonderful little machines, you need the right amp to slot them into. What better than the Boss Waza Craft Head? This amp is a 150-watt monster, with four fully fledged channels, effects loop, and wattage control, so you can have your stage ready tone at any volume.
If you'd rather have a more classic sounding amp, then the Roland Blues Cube is what you are looking for. This 100 Watt head is perfect for more classic rock and blues inspired riffs. Two channels for clean and crunch, with a dedicated blend mode to open up the sound to new possibilities, and just like the Waza head, a switchable power control to bring that volume down to 0.5 watts!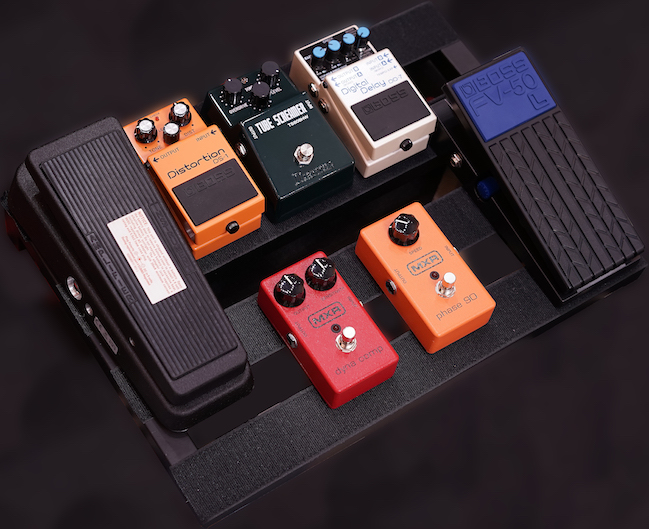 Already got your perfect amp and guitar setup? Then you'll need some pedals, and Mr. Vai loves his pedals. He's used countless numbers of different products of the last 30 years on his live and studio boards. It would be impossible to gather them all, so here's a smaller selection of the more iconic sounding sonic manipulators.
Going for overdrive or distortion? you'll want the Boss DS-1 or Ibanez Tubescreamer on your board, for a mix of searing and smooth lead lines and crunchy tones.
Want that whooshing spacey sound? You'll need the Boss DD-7 Stereo delay in tandem with an MXR Phase 90, a combination any Vai fan can't be without to really nail that slightly alien sounding tone found on almost all of his recordings.
Let's also not forget the consistent compression he channels from his MXR Dynacomp, the wailing lead lines he throws at his Dunlop Crybaby, his pitch shifting antics from the Digitech Whammy, or even when things need to be quiet, the subtle effects of his Boss FV-50L Volume Pedal.
There are many more guitars and effects available to give you the full Steve Vai experience, so make sure and check out the rest of our collection and start creating a 'Gravity Storm' all of your own!