Focusrite Plug-in Collective - Exponential Audio
NEWS Published on 06 April 2017



So far, the Focusrite Plug-in Collective have partnered with top plug-in developers including SoundRadix, Eventide and Positive Grid to provide registered Focusrite customers with great plug-ins, and a new offer will be in their accounts every month.
The Exponential Audio R2 stereo reverb plug-in is free for Focusrite hardware customers (iLok 2 or iLok 3 required) in this month's Plug-in Collective offer. Register Focusrite hardware before 1 May 2017 to receive the plug-in, or sign in to your Focusrite account if you have already registered.
R2 makes a real difference, showing just how far the art of reverb has advanced, but Focusrite hardware customers can take that even further. When they redeem their R2 license, they will become eligible for 40% off R2 Surround and 50% off R4.
R2 is one of the first and most popular Exponential Audio plug-ins. It's been an essential part of countless music mixes as well as films and broadcasts. The plug-in is known as a character reverb that adds a tasty finish to any source material, and is capable of adding warmth and fatness to mixes that might otherwise be sterile. For soloists, it has a savoury and deep tail that adds a high-production gloss to anything.
R2 Surround is an expanded version of R2, featuring additional control over early reflections and a native channel count of up to 7.1. R4 is the newest Exponential Audio reverb, and combines the classic sound of hardware reverberation with an all-modern approach.
Exponential Audio plug-ins are used on Grammy-winning albums and top movies that take you to galaxies far, far away or deep into Middle-earth.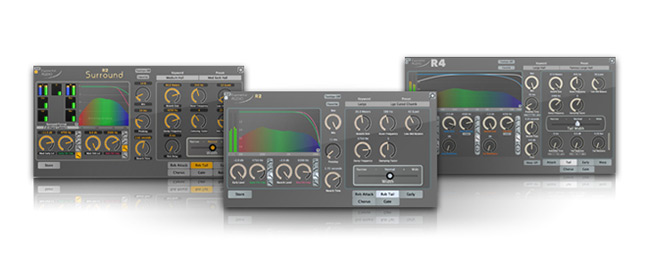 Included Software
Focusrite Scarlett interfaces come with time-unlimited versions of industry-standard music software: Ableton Live Lite and Pro Tools | First - Focusrite Creative Pack, which features 12 additional plug-ins including the Eleven Lite for real-life guitar amp emulations and Black Op for iconic distortions and overdrives. You also get Softube's Time and Tone bundle, the Focusrite Red Plug-In Suite, 2GB of Loopmasters samples and one of the four Addictive Keys instruments from XLN Audio.
Find out more here - focusrite.com/plugin-collective