Slash Anaconda Burst Les Paul
Published on 17 August 2017
Feast your eyes on the latest concoction from the Gibson Custom Shop - the Slash Anaconda Burst Les Paul!
Slash, perhaps one of the top two or three most iconic living guitarists has once again teamed up with Gibson's Custom Shop, this time to release a very limited run of Les Paul 'Anaconda' guitars! As arguably the highest profile Les Paul player out there that isn't Jimmy Page, we think that warrants some celebration!
As one of the most badass shredders of all time, Slash is one of those musicians that transcends guitar. Inspiring many to start playing and unfortunately inspiring others to put on a pair of leather trousers, the influence Slash has had on rock music is plain to see. Sticking with Les Pauls as his weapon of choice, the iconic image of Slash that you conjure up tends to include a sunburst model; but over the last few years he has switched it up and thanks to the guys at Gibson Custom Shop, this beauty was born...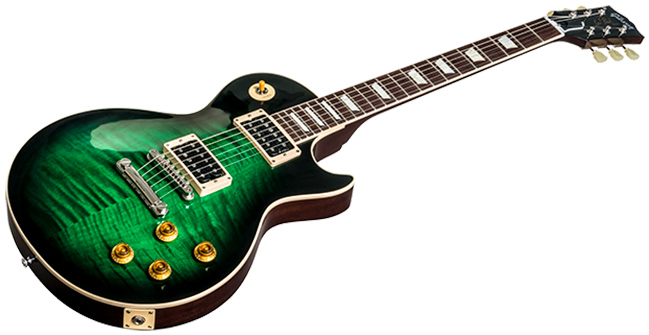 Available in three variations, all featuring the bold-yet-pleasingly tasteful black-into-green Anaconda Burst finish, this run of Les Pauls is available in a Plain Top, a signed and numbered Plain Top and a signed and numbered Flame Top.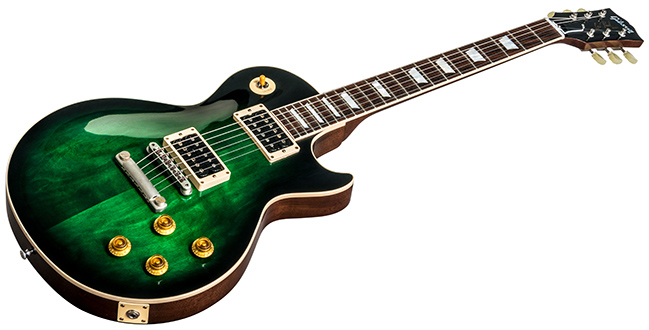 Aside from these distinctions, the guitars are the same. They all follow Slash's preference for a late 50s style build with a long tenon neck joint and hide glue fittings. All guitars feature a custom neck profile based on one of Slash's own favourite vintage Les Pauls, solid Mahogany bodies with maple tops (pick from Plain or Flamed), Seymour Duncan Slash signature humbuckers and hand-wired electronics that include CTS pots and Orange Drop capacitors, all built just like they used to with Gibson's Custom Shop Historic 50s construction methods and attention to detail.

These hard rock masterpieces are available in EXTREMELY limited numbers; indeed, some are already pre-ordered so if you love the reptilian beauty of these full-throated Les Pauls then please do not delay! Fans who have caught Slash live over the past year or so will have already caught sight of him playing the prototype models of these Amazon beauties: for everyone else, prepare to be amazed!