Digital Drum Kits: 3 of our Favourites
Published on 11 September 2017
With advances in digital drum kits causing many drummers to abandon their traditional acoustic setups, there's never been a better time to delve into the world of digital drums.
While there's nothing like battering away at a full-sized acoustic kit, there's no denying that they're not always the most practical to play every day. Loud, hard to transport and just about guaranteed to turn your neighbours against you, drummers certainly have their work cut out for them. Don't get me wrong, almost everything that makes them inconvenient is also a massive part of their charm, but with the introduction and rise in popularity of high-quality digital kits, a lot of the headaches can be avoided (even the one that your neighbour keeps moaning about!)
What surprises us, is that despite the hardships that every drummer inevitably puts up with; so many are still reluctant to buy a digital kit. This apprehension most likely stems from the early days of digital drumming and too many unfortunate experiences playing plastic-ey, cheap feeling, unresponsive kits. However, with so many advantages for the modern player, we can't see past how practical they can be; particularly given the unbelievable natural feel and quality of some of the digital options that we've come across. Gone are the days where drummers are restricted to hitting unresponsive lumps of plastic, these are some intelligent pieces of kit and you'll know all about it the second your stick touches them! To show off their capabilities, we'll run through a few of our favourites...
Roland TD-1KV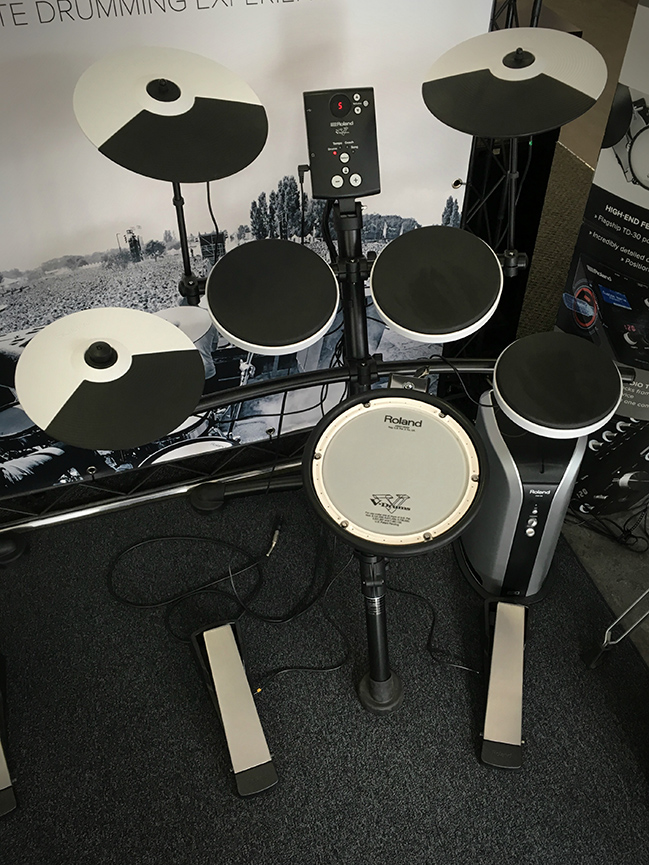 Representing the entry level kits is this compact little setup from Roland. The TD-1KV is always a customer favourite in our stores for its superb feel and reasonable price and it really does provide an excellent introduction to the digital side of drumming. Building on the success of the TD-1K, this version includes Roland's mesh head snare; an absolute game changer when it comes to a realistic feel. With the same solid build as its predecessor, the TD-1KV is suitably sturdy and has been built to stand up to whatever punishment you can throw at it. Featuring 15 great sounding kits and a coach function which gives you access to a variety of practice exercises, this is the perfect option for those starting out or for experienced drummers looking for a no-frills practice kit.
Alesis Strike Pro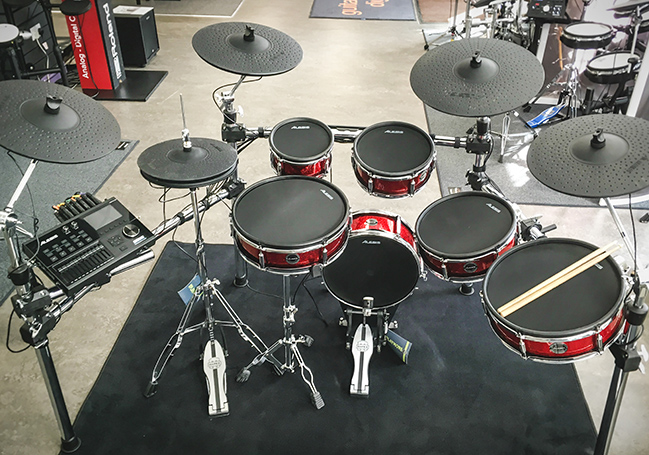 As one of the higher-end kits in our store, we were expecting big things when we tried out the Alesis Strike Pro and even we were blown away a bit. Featuring wood shell drums reminiscent of the appearance of an acoustic kit, you'll feel right at home when you sit down behind this kit. Its dual hoop pads feature mesh heads for a more authentic drumming experience and all the drums themselves have been designed to match their likeness on a standard acoustic kit. While the kit itself is unbelievably engaging and natural, with a realistic sound and feel, the drum module is where this really comes alive. Giving you access to a whopping 100 drum kits made from over 1600 multi-sampled instruments, the Strike Pro has massive potential. Along with that, the module features USB/MIDI connectivity for easy implementation with your DAW of choice, or with the included Strike Software Editor which allows you to customise the kit. As if you needed another selling point, it also has a sampler built in with space for an 8GB storage card, meaning the potential with the Strike Pro really is infinite.
Roland TD-25KV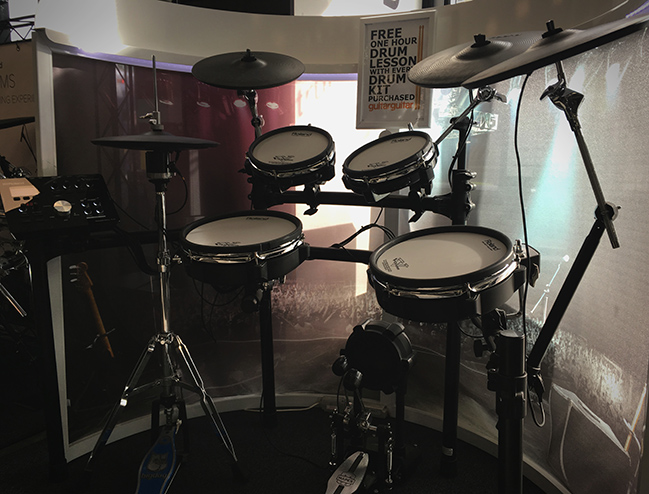 As quite simply the pinnacle of Roland's digital drum range, the flagship TD-25KV is easily one of the most advanced kits that we've ever had the pleasure to play on. Completely dispelling the myth that digital kits can't hold their own next to acoustics, the TD-25 feels unbelievably good to play. Designed to be amazingly sensitive to allow for enhanced expression, they pick up every little knock and ghost note and are perfect for recording. An industry standard for both performance and studio recording, this kit has proven itself with top-level performers time and time again. The snare even features positional sensing to ensure a realistic sound depending on where the pad is hit. On top of this, the TD-25KV's module and user-friendly interface is one of the best that we've ever come across. This allows you to customise kits with ease, load tracks to play along with and even record your playing straight to USB. Dispelling every derogatory myth about digital kits in one fell swoop, the TD-25KV is perfect for top-level players who need an adaptable kit that was built to keep up with their needs.