Martin Week: Martin Factory Trip
Published on 02 September 2019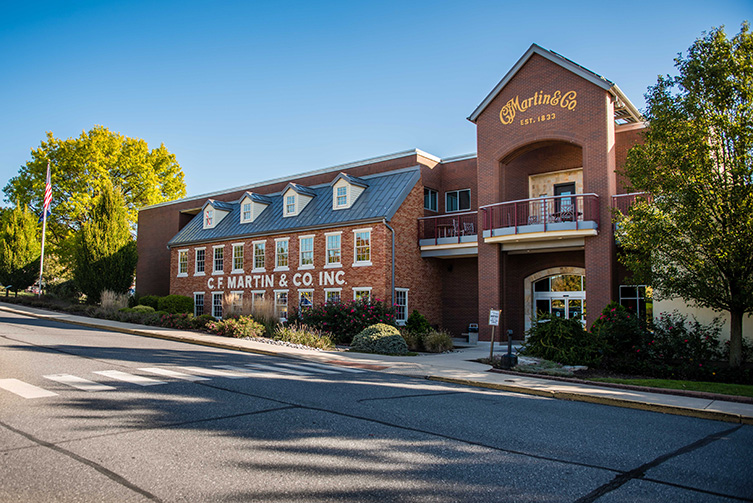 A few hours West from New York City in the rustic, rural green heartland of Pennsylvania lies the town of Nazareth. This small town with a population of less than 6000 is, and always has been, the home of C.F. Martin & Co Guitars. This was the destination for a few lucky guitarguitar staff members! We were kindly invited on this wonderful opportunity by Martin and their UK distributor, Westside, to learn more of the history and working practices of this company, beloved the world over for well over a century.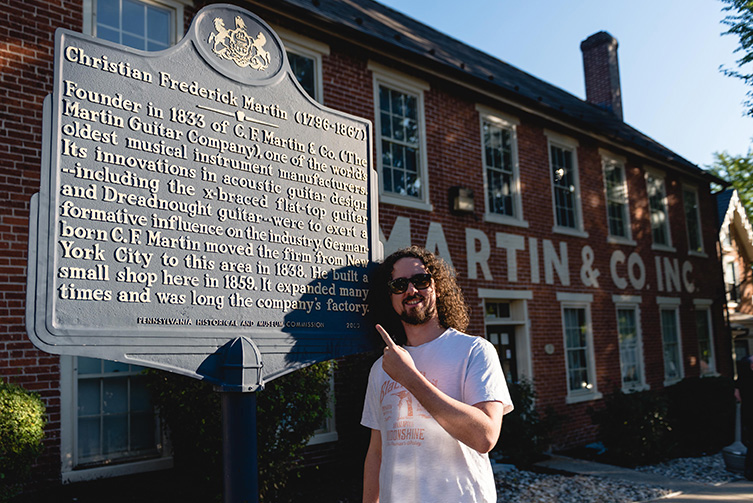 Upon arriving in the Nazareth Visitors Centre & Factory premises, our guys were warmly greeted by Martin's PR man Brendan and shown inside. The original factory and the 'new' one (new in the late 60s, that is) sit only a few streets away from each other and the tour took in both. The actual factory floor in the older building is found on the 3rd floor: the lower floors are store rooms these days, filled with blanks, rejected necks and other ephemera. The group had a good look around and swiftly carried on upstairs to see the meticulously-preserved original factory floor.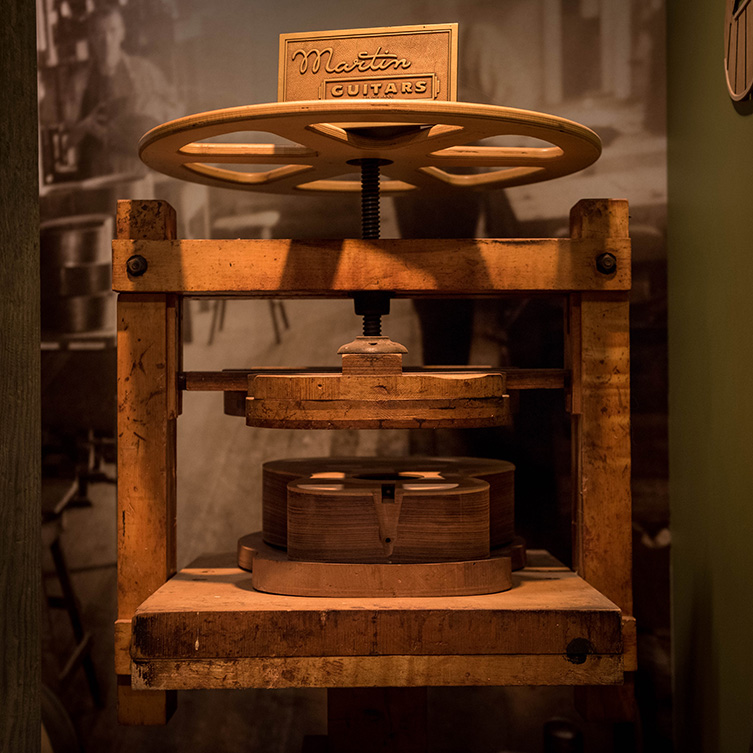 Decades of spring-cleaning and re-decorations have been stripped back carefully to reveal some incredible details on the original bare wood of the benches and surrounding walls. Close inspection revealed pencilled notes for the original specification dimensions of a D-28 written on the side of a table, for example! One bench also had an incredible real-life snapshot: it read "1925 gave up smoking today"! We wonder what guitars that employee worked on and whether he managed to kick the habit for good!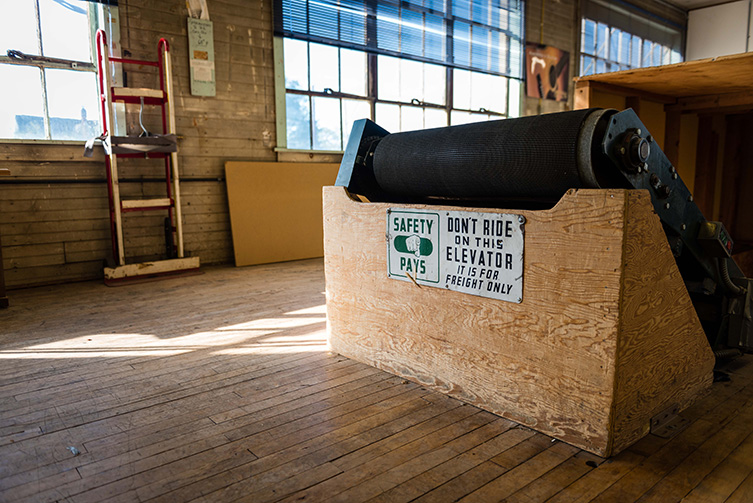 The 'New Factory' on the right hand side houses both the modern day factory and a comprehensive museum of all things Martin. There were displays in glass cases with informational signs explaining the history and evolution of Martin as a major force in the world of not only guitars but of musical history overall.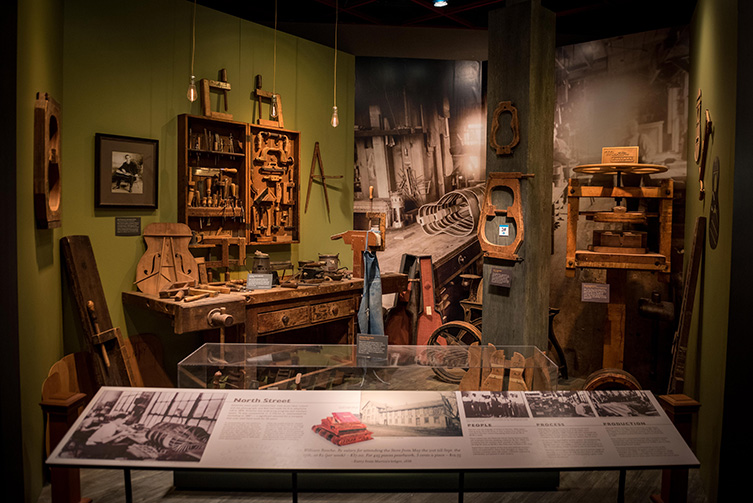 The museum is where you'll find all of the super-rare and extremely special pieces of Martin history. Our guys were shown the 'two millionth' Martin guitar; they not only saw but were encouraged to pick and up play a Martin acoustic from 1830! Unbelievable! Close by was a very early example of an OM-45, complete with (pre-outlawed) Ivory saddles and nut! Again, they were told to go ahead and play it! Other historic jewels were just waiting for the boys: a very early D-45 was present and awaiting attention, too. Incredible.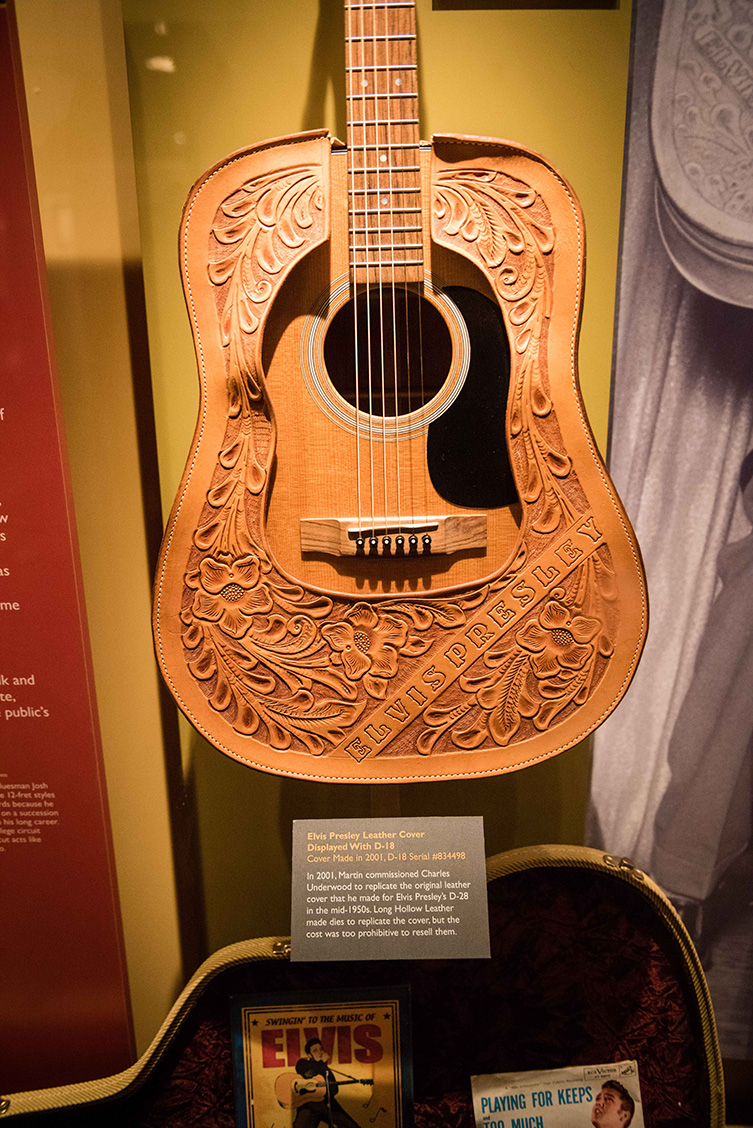 Elvis fan? No problem; here's a leather-swaddled D-18, built in tribute to the King! Even more significant to some players was Kurt Cobain's own 1954 D-18, just waiting for someone to casually strum a bit of "Polly" or "Smells Like Teen Spirit" in tribute to the late Grunge hero. This piece of history is valued at a million dollars!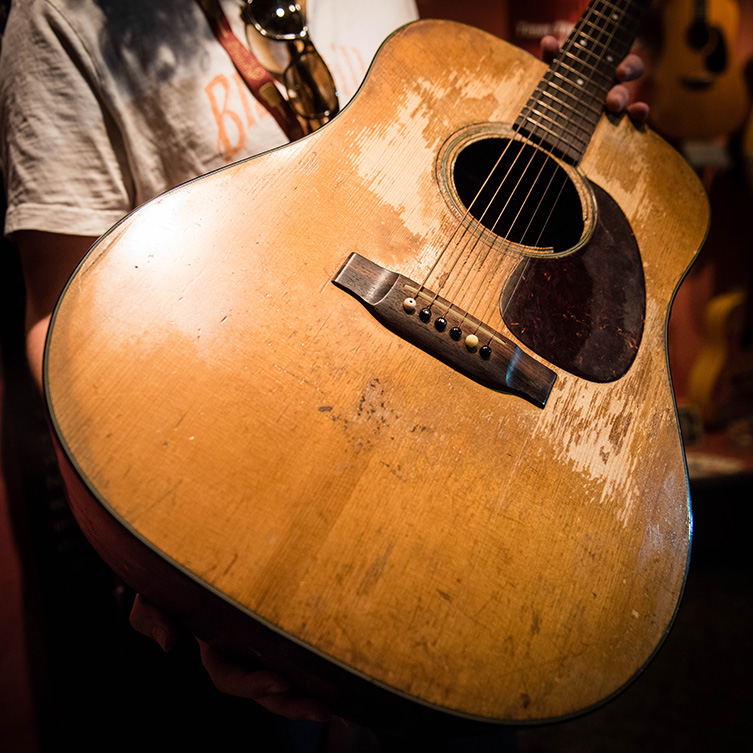 Reluctantly moving on, our chaps were shown by Brendan into the factory. First stop was the Custom Shop, which was so large it took up roughly a third of the vast floor space. Martin's Custom Shop service is something we don't see much of over here but in the States it's a big thing: indeed, the examples shown to us by the artists working were of spectacular quality and craftsmanship! That 'flowers and butterflies' fretboard in the picture below is magnificent enough at a casual glance but gets even more jaw-dropping when you realise that every single segment of every leaf or wing is an individually cut piece of material! It's astonishing!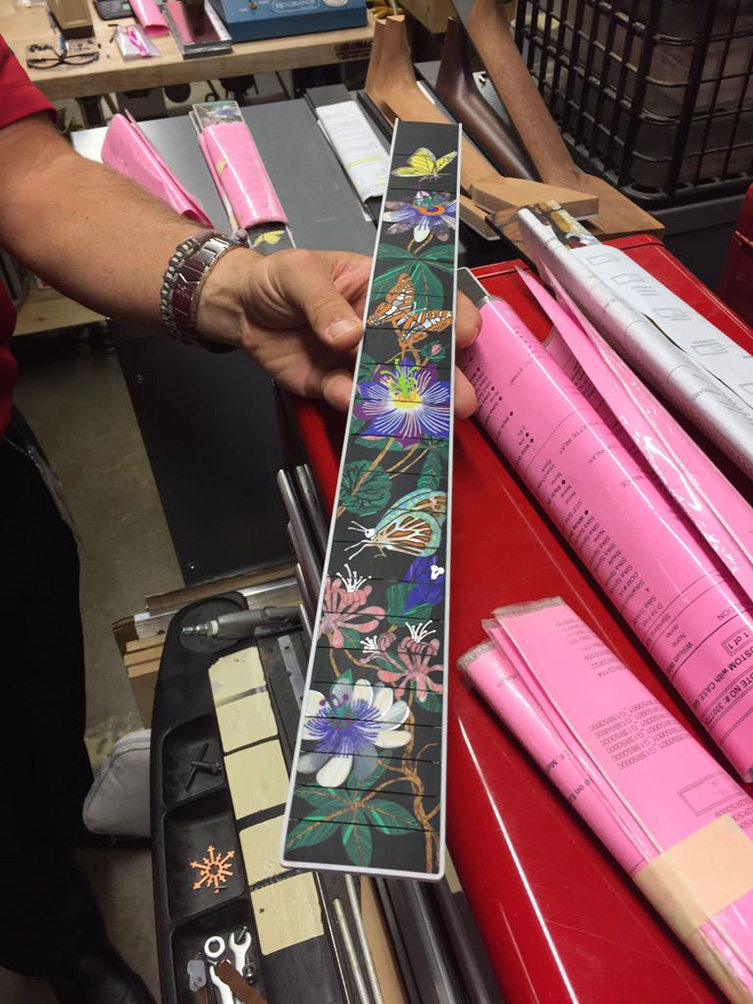 A favourite of our guys' was the 'Hotel California' fretboard: this exquisite piece displays the 'desert highway' narrative of the song with sand dunes and vultures made from heated and charred wood as well as a sky made entirely of pearl. Stunning does not begin to describe this artistry! You can feel the baking hot desert: time to find the hotel and check in: it's such a lovely place...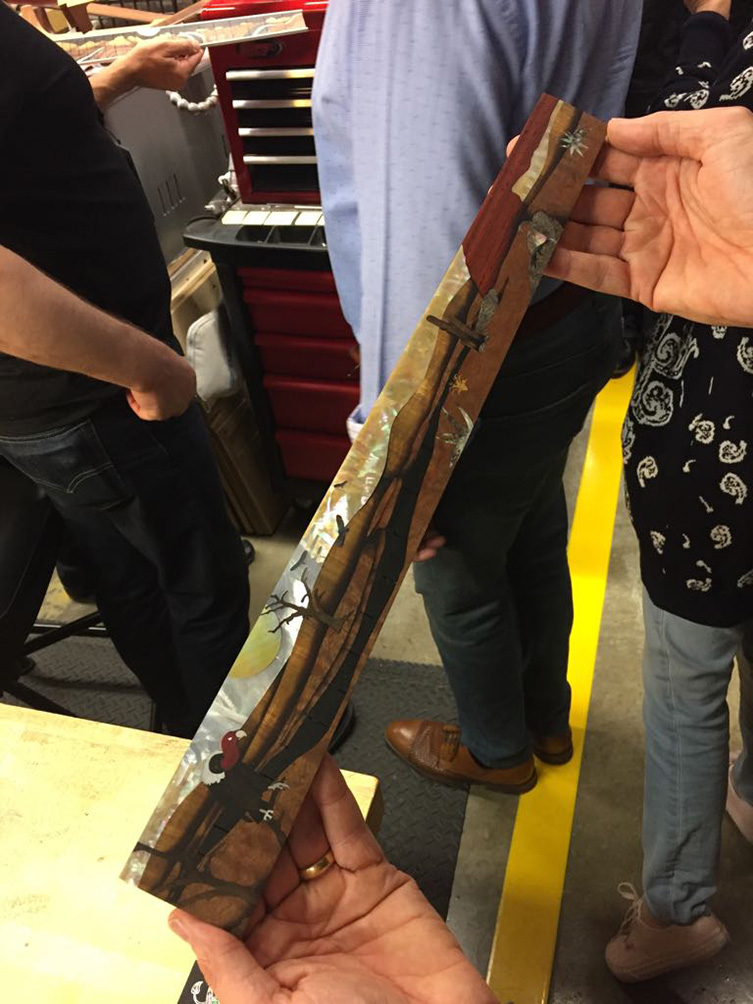 Reluctantly moving on, our boys were given a rare treat when they were shown into the factory proper. Making their way admiringly through the various workbenches and tools of the mid-shift Martin employees hard at work, the guys were invited to pick up a chisel and get their hands dirty themselves! What a treat! Martin guitars are hand-made here and that means no computers and lasers. Our guys found this out first-hand when they tried to shape and glue some X-bracing onto a guitar top! Luke from our Epsom branch laughed as he talked about taking over 10 minutes to sheepishly approximate a task that the Martin craftsman took 30 seconds to perform masterfully! He also noted how happy and motivated the Martin staff all were: they were genuinely loving their work and putting a lot of positive energy and hardworking effort into creating these beautiful instruments.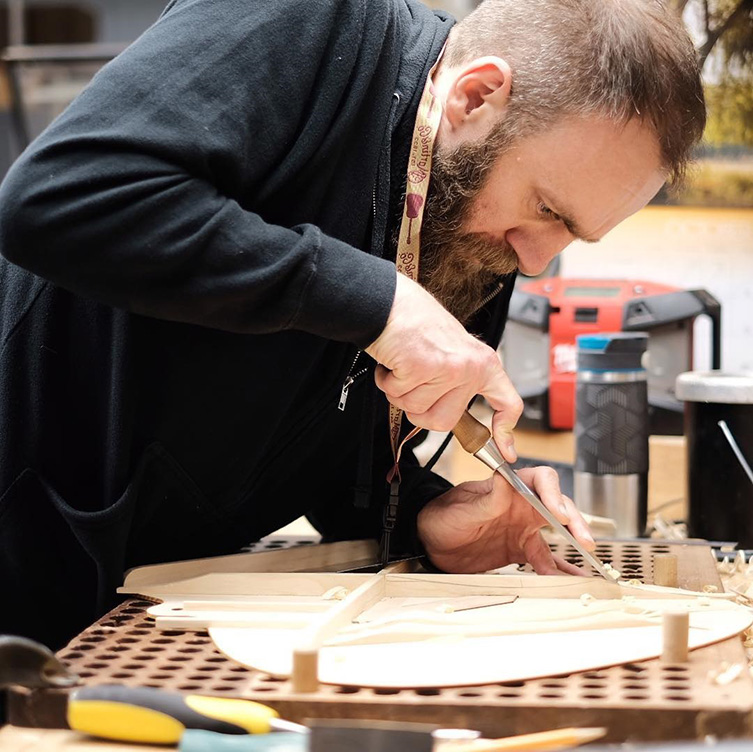 The guys continued with their efforts: necks were shaped by hand (requiring a surprising amount of physical effort!), all the time supervised by veteran staff who could, without referring to anything other than their own minds, carve out a series of different, specific neck carves with unmatched accuracy. These guys had a ton of personality too and made the GG boys' visit a really enjoyable blast from start to finish. One Quality Control staff member, nicknamed 'Cowboy' due to his long-running sartorial habits, even signs his name 'Cowboy' and has done for years! How many companies would be cool enough to allow that?! We love it! Nice work, Cowboy!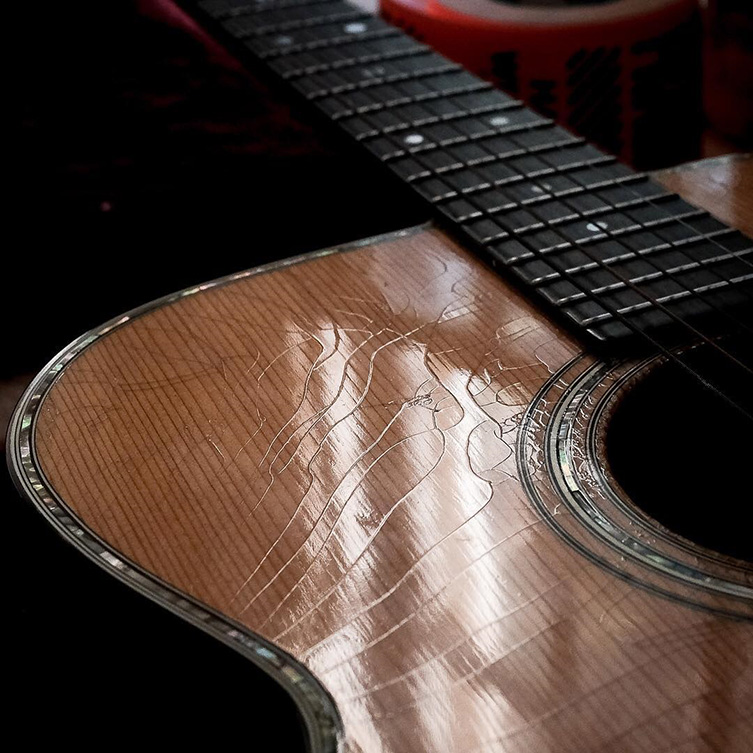 With that, the guitarguitar Martin odyssey came to an end and our guys emerged, blinking into the Pennsylvanian sunlight, every man buzzing with enthusiasm and enlightenment. It's good to know that C.F. Martin & Co continue to do this the old way: that is, with passion, dedication and no small amount of skill. We thank Martin Guitars and Westside for making this wonderful trip of a lifetime happen for us!
Ray McClelland