Guitar For Beginners
Published on 05 December 2017
With the Festive Season careening towards us at a rate of knots, there are a lot of things to consider, not least the stress of buying that perfect gift for your loved ones! If one of your nearest and dearest has expressed an interest in taking up the guitar this Christmas, let us help you navigate through the bewildering choice of instruments on offer and direct you towards a few great choices we think are more than suitable. We are all guitar players here at guitarguitar and we've been through this not only ourselves but with thousands of families over the years so you can feel safe in the knowledge that what you choose will be the best choice to get your family's budding Hendrix making big strides towards guitar heroics in no time!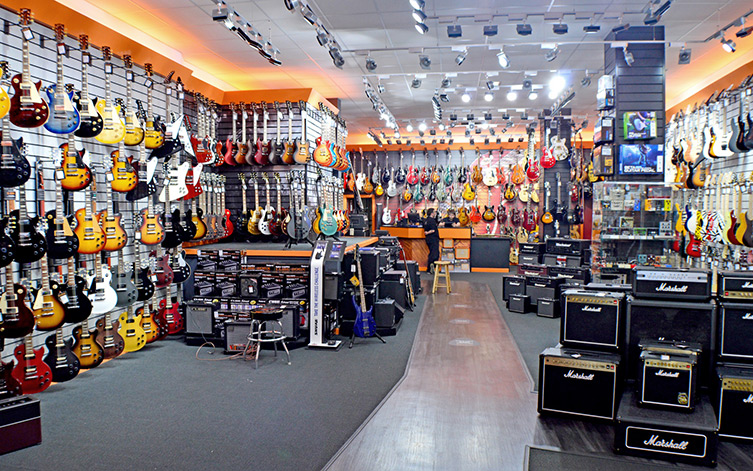 The first question would be: is it going to be an electric guitar or an acoustic? This may depend on factors like whether guitar lessons are going to be had (some teachers prefer acoustics, others electric, most don't mind though!) and whether noise is an issue, though the packs we are recommending for electric guitars all have headphone jack inputs on the amplifiers! The real factor is what the prospective player actually wants! Either choice has its own benefits and potential drawbacks, all of which we'll get to soon.
The second question would be one of size: adults and younger people aged around ten and above should generally go for full sized guitars but smaller people can check out 3/4 sized instruments too. Okay, let's get started!
Electric Guitars
Starting with electric guitars, the benefits are numerous. With generally slimmer necks and thinner bodies, they are actually easier to get to grips with physically compared with bigger acoustics. The strings are not as tight on an electric guitar so they are more forgiving on your fingers. Electric guitars also encourage the player to pick them up more since it feels more like they are playing something special and 'rock star' like! It's a unique and exhilarating feeling to strike a note on an electric guitar and hear it coming out through an amplifier! Nothing else can really replicate that.
With this in mind, we recommend the Squier Affinity HSS Starter Pack. Squier is the little brother of Fender, a brand that everybody recognises whether they play or not! They make the most famous guitars in the world and their most recognisable model is the Stratocaster, a cultural icon that is pretty much the definition of 'electric guitar'! The version you get here has 'humbucking' and 'single coil' pickups (the magnetic devices under the strings that pick up the vibrations) to achieve a variety of sounds. You also get a whammy bar (the official name is either a 'tremolo' or a 'vibrato arm' but nobody calls them that) to make fun dive-bomb sounds but be warned: too much 'whammying' really sends any guitar out of tune!
This guitar is a great platform to learn on and will see the player through many years of enjoyment and learning. Also included in the pack is a small but sturdy Fender Frontman 15 watt amplifier which is plenty loud enough for bedroom use! You can switch on the Overdrive for a great Rock tone and you can also use the auxiliary input to connect any phone/tablet/device for playing through the speaker and jamming along with! You even get a strap, a cable to connect the guitar with the amp and a selection of picks (plectrums) to pluck the strings with. Everything you need!
If the prospective player is on the small side or indeed very young (say six or seven) you may want to consider this Short Scale pack instead. The Squier Short Scale Strat SSS Starter Pack is a slightly downsized version of the above Stratocaster with a scale length (the length of the neck essentially) of 24" rather than the usual 25.5". It may not sound like much but the practical difference is actually quite apparent once you get your hands on one! This may make all the difference between your fledgling guitarist persevering past those difficult first few months and giving up entirely in favour of the PlayStation! The easier to play the better, really, and this one suits smaller frames and hands particularly well.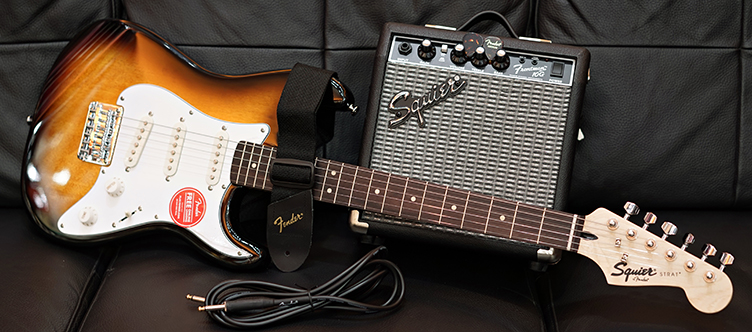 Apart from the scale length, this guitar is similar to the other Stratocasters except it has three 'single coil' pickups and doesn't include the whammy bar. This isn't necessarily a bad thing, though: it means that it'll stay in tune more! This pack contains a 10 watt Fender amplifier, a strap, a cable and plectrums. The quality is high on both of these packs: we recommend starting here as going for cheaper packs can lead to era disappointing and off-putting instruments. A Squier Strat is a badge of honour for any new guitarist coming through the ranks!
Acoustic Guitars
Perhaps you've decided to opt for an acoustic guitar. The benefits of an acoustic guitar include the fact that they do not need any additional equipment to make a sound, so you won't need to have any amps or cables lying around. This also makes them more portable as you can just carry your acoustic guitar into any room (or outside but just don't leave it out there!), sit down and begin to play! Acoustic guitars give relatively loud and percussive sounds so they are satisfying to play, but their larger body size may make initial forays uncomfortable. Along with this, they tend to hold more tension in the strings, meaning the strings are harder to hold down. This is only temporary of course: there is a learning curve to deal with regardless of your choice and it's more about the kind of sound you want to make than anything!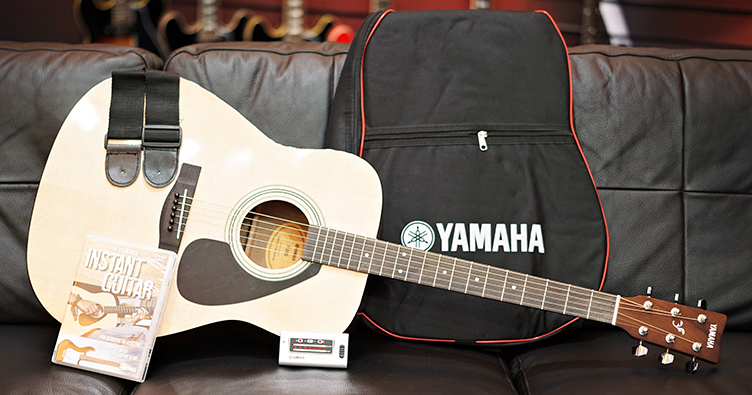 So, for a full sized, steel string acoustic, we will recommend an undisputed beginner's classic: the Yamaha F310. This is where so many players begin their quest to become a guitarist! The F310 is what we call a Dreadnought: it's the typical acoustic guitar shape that everybody recognises. Its relatively large body size helps to make a nicely loud, satisfying tone that projects well and sounds very authentic. Yamaha have always kept the quality levels up to a high standard with the F310 and this is a very pleasant guitar to strum on! Once you've tuned up (the pack includes a tuner) you're pretty much good to go! It's a pleasingly simple affair to get started on. Aside from the tuner, the pack includes a soft case, a stand to put the guitar on, a spare seat of strings for changing after a few months' playing, a strap, plectrums and even an instructional DVD! It's a really comprehensive package with a guitar of quality by a respected brand, all at a great price!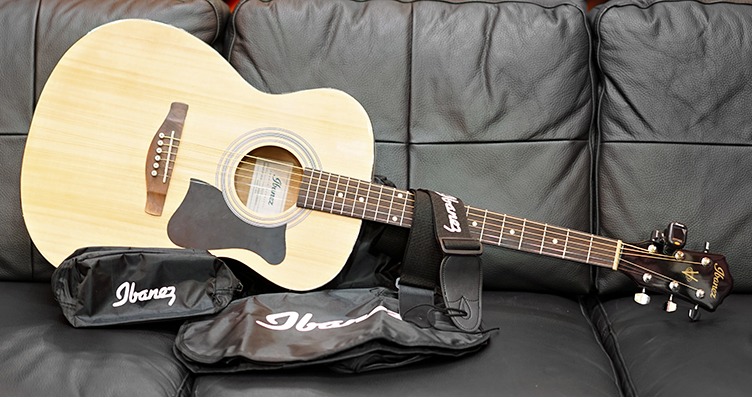 Again, you may find that the Yamaha is a little big in the body for the intended player: that is not a problem! We have a quality alternative with a smaller body size at an equally excellent price! Have a look at this wonderful pack: the Ibanez VC50NJP-NT Concert Jampack in Natural. As the title suggests, this guitar is a Concert sized model which is smaller than the Yamaha's Dreadnought size. Concert guitars have a slightly different sound too but in beginner's terms they are broadly similar and they both sound excellent! This Ibanez is more manageable for smaller people and in fact lots of bigger people prefer this smaller size too! It's all about getting the player's right arm up over the deep body that's the real issue so visiting one of our stores and having the player-in-waiting sit down with both sizes is an advantage if possible. To make it clear, this is still a full-sized guitar, it just has a different body design that happens to be smaller. This excellent package contains a soft case, a tuner that actually clips on to the headstock of the guitar, a strap and some plectrums. It also has a handy little pouch to put all this stuff in! Ibanez are another huge name in guitars: many of the biggest names in the business choose Ibanez and their reputation for quality is something they earned and kept a long time ago. Again, we think it's important that whatever you buy be great value, not just cheap. These are great guitars that will last.
3/4 Acoustics
If the person you're buying for wants to play acoustic but is smaller in stature, we have some options for 3/4 sized acoustics that will save the day!
People picking up guitars for the first time often do it at school and schools tend to go for nylon strung (otherwise known as Classical) guitars. Nylon strings are unquestionably easier on the fingers, especially fingers that are not yet used to holding down chords! Nylon strings have a softer, more delicate sound too and don't require changing as often as steel strings which eventually corrode. We have an excellent 3/4 sized Classical here for you: the Fender ESC80. This neat and delightful guitar bears the Fender logo proudly and is very easy to get to grips with. It's very comfortable to play and will suit younger people who have trouble with full-sized guitar bodies and necks. And just for the record: nylon strung guitars cannot have steel strings fitted onto them! We do get asked that a lot in the stores and it's a big no-no: it would spell complete destruction for the guitar's neck. There you go: definitive advice! Nylon string guitars must be strung with nylon strings only!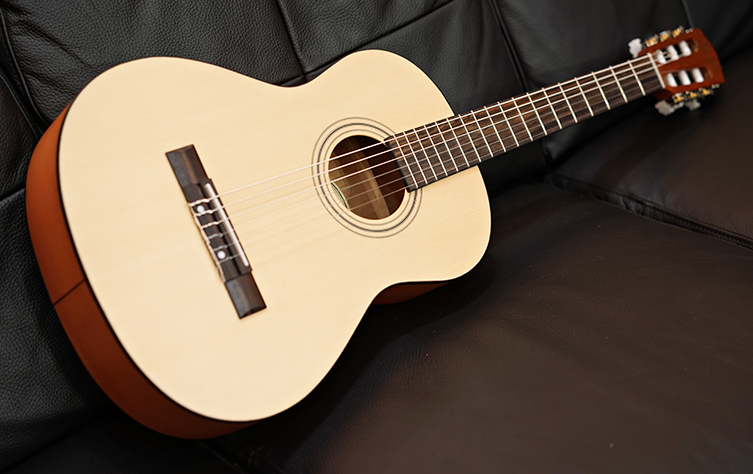 If a smaller acoustic is wanted and steel strings are still the preference, no worries! We have one for you here in the guise of the Fender MA-1! This 3/4 acoustic, again from industry giants Fender, is expressly designed for smaller people to learn and jam on! It's a great size: just big enough to make a pleasant sound but manageable enough for almost anybody to sit down with and get busy! Lots of experienced players actually like this as a 'travel guitar', such is the fun factor and good tone available! The MA-1 comes complete with a soft case for carrying to school, lessons, anywhere!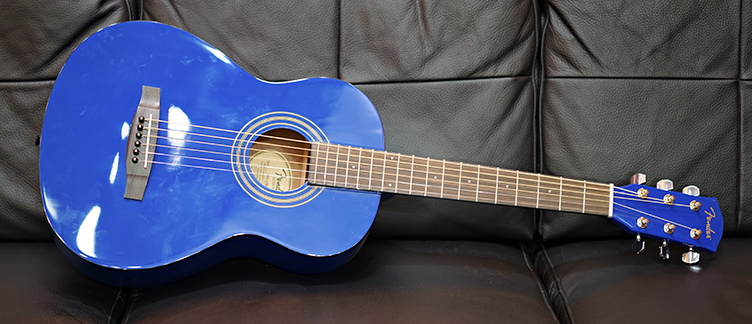 This concludes our basic guide to choosing a first guitar. There are almost endless options and choices but these are all guitars that we genuinely believe are the best in their respective field in terms of quality, sound, playability and value. We want to welcome as many new guitarists into the fold as possible and bad first instruments can put people off for life. We hope this guide has helped clear some trepidation or confusion! Remember, we are always here to listen and advise so don't be shy if you need help: we are here to make this as easy and as fun as possible! This year, make your Christmas a rock 'n' roll Christmas with guitarguitar!