A Closer Look: Circuit Mono Station
Published on 20 December 2017

Recently we gave a rundown of the innovative Circuit Groovebox, a standalone synth and drum machine from the guys at novation. One of our favourite units to pull out and experiment with, the Circuit gives you loads of options for creation and is sure to inspire your creativity in a big way. Today, we're going to have a look at another sibling in the Circuit family, the Circuit Mono Station.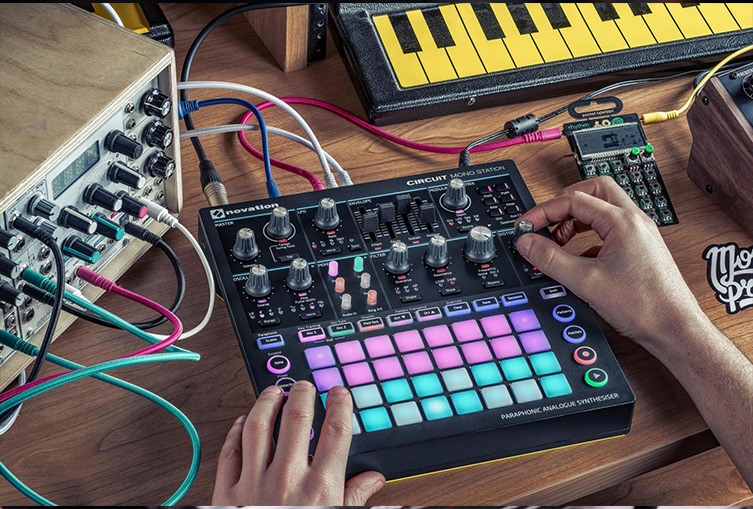 Originating from Novation's popular Bass Station synth, the Circuit Mono Station shares a lot of similarities with it. However, the Mono Station has been adapted into a groovebox format. The result? A very playable piece of kit with a lot of cool features, particularly when it comes to live performance... Intended again as a standalone unit, the Mono Station has effectively been structured around two sequencer controlled oscillator sequencers and one modulation sequencer. Knobs assigned to parameters, filters and effects such as cutoff, ADSR, oscillators and distortion mean you've loads of control over sequences and are where the Mono Station really shines as a tool for performance. A similar layout to the Circuit also contributes to this and its 32 velocity-sensitive RGB pads invite you to just get stuck right in and start experimenting.
Other features such as scale types to help you build up sequences and play out of your comfort zone come in handy when putting together grooves. Along with this, a decent sized memory onboard allows you to load and save up to 64 patches on the device... Which should be enough to get you through your gig! If your a real sound seeker, you can also back up your patches using Novation's Components, a program which allows you to backup patches to your computer.
However, one of the most alluring things about the Mono Station for us, is its potential as a centrepiece in a live setup. Sporting some useful connectivity, including a CV/Gate, CV mod plus MIDI In, Out and Thru; the Mono Station won't just fit in with your other hardware easily, it'll actually compliment it. Giving you the option to modulate and process sounds via the Circuit's audio input as well as a four-by-eight modulation matrix so that you have real-time control over alteration and routing, the guys at Novation have gone all out here and we see the Mono Station as a very worthy addition to their Circuit line.
Tremendously useful to anyone who uses an electronic/digital live setup, the Mono Station is a user-friendly and intuitive groove box that's absolutely crammed with useful and usable features. We'd thoroughly recommend paying us a visit to check one of these out, they're so addictive that you'll be hooked from the first time you try it!