NAMM 2018: Fender Hot Rod IV Series
Published on 23 January 2018
Fender have already started 2018 with a bang following the launch of their American Original Series and with NAMM 2018 kicking off in a couple of days over in California, they're showing no signs of slowing down. Continuing with the theme of reimagined classics, we can now share their latest creations, the Hot Rod IV Amp Series!
Redesigned and reimagined with some exciting upgrades, you can now check out the brand new Hot Rod DeVille 212 IV, Hot Rod Deluxe IV and a couple of our favourites that we managed to get our hands on... The Blues Junior IV and Pro Junior IV!
One of the world's favourite amps, the Blues Jnr is nothing short of a classic. Standing the test of time throughout its various carnations, we couldn't wait to try out the latest in the bloodline, the Blues Jnr. IV. Still faithful to everything that made previous models so successful, the IV appears fairly similar on the face of it. However, closer inspection reveals a sleeker design with a classy aged finish that looks absolutely awesome. This is true throughout the range, with the Hot Rod IV models balancing classic design with modern appointments. This amp's real secrets lie beneath the hood though, with modified circuitry contributing to a fuller sounding preamp. Along with this, a Celestion speaker has replaced the former model's eminence speaker to give you more headroom and help round off the lower end, resulting in a richer, fuller sound with loads of depth. The Blues Jnr. IV also features all of the same controls including a 3 band EQ and modified reverb which sounds even smoother than ever.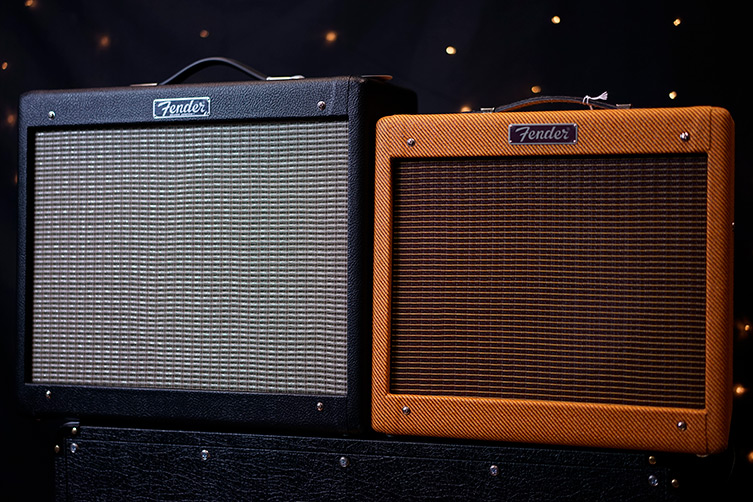 We also managed to try out Fender's brand new Pro Jnr model up their sleeve! Available exclusively in lacquered tweed and absolutely oozing with vintage charm, this is a cool little character! The Pro has undergone similar upgrades such as the addition of a 10inch Jenson P10R speaker to replace the eminence that was in the previous model. This will be right up the street of Fender mod-heads who've been known to switch out for the Jenson and it's great to see the company taking notice! Again, its circuitry has been redesigned and reimagined, this time to provide a more gradual breakup as the amp gets cranked. The result is a lovely, warm tone with just the right amount of bite and loads of clarity. Keeping it simple as ever with volume and tone controls, the Pro Junior IV is a great sounding little amp that's small enough to play anywhere!
With some fantastic upgrades, the rest of the series is just starting to turn up, so make sure that you pay us a visit and try them out for yourself. In the meantime, you can check the range out and pre-order below!