NAMM 2018: Line 6 Helix
Published on 26 January 2018
Up there with the most efficient and useful pieces of kit to grace the soles of your shoes, the Line 6 Helix offers incredible modelling technology in a stylish floor unit. Punching well above its weight in terms of quality, the Helix is powerful enough to compete with top end units and an intuitive user-friendly interface makes it an absolute pleasure to use. Also available in an LT version which is available at a more accessible price, the Helix has up until this point been a pretty high-end addition to your setup. However, that's all about to change and it's with great pleasure and even greater excitement that we can now reveal the latest from Yamaha's NAMM announcements; the HX Effects.
Bringing the frighteningly powerful and often overlooked capabilities of the Helix Pedalboard to a far more accessible price point, the HX Effects is a compact unit absolutely crammed with capabilities taken straight from its pricier counterpart. With over 100 effects compiled from not only the Helix itself, but also the ever-popular M13, M9, M5, DL4TM, MM4 TM, FM4 TM, and DM4 TM pedals, size certainly hasn't restricted what this little beast can do. Genuinely putting almost endless possibilities at your feet, the HX allows you to run up to 9 effects simultaneously and with an unbelievable selection including distortions, delays, reverbs, modulations, pitch/synth/filters, compressors/limiters, EQs, wahs, and even a six switch looper; we can safely say that this is not a stripped down version but an extremely capable and useful unit in its own right! The effects are of an impeccably high standard and have been modelled directly from the Helix in what must've been a painstaking process given how accurate they sound. They're also extremely adaptable and easy to edit thanks to eight capacitive sensing footswitches, six scribble strip LCDs, and colour-coded LED rings. As if that isn't enough, it actually features the same processors found in the Helix and boasting 123dB of dynamic range which means loads of depth and responsiveness to your sound.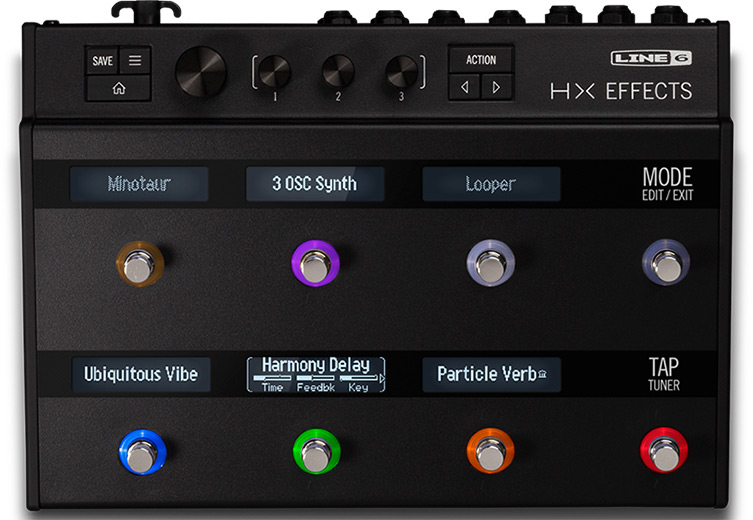 Available at what we think's an absolute bargain for such an adept and capable unit, the HX Effects is the perfect tool for the guitarist who wants a professional standard, no-nonsense effects platform. We've been flying the Helix flag for a while now and the HX Effects is a most welcome addition to the bloodline! These are due to arrive shortly and we'll have them out on demo for you guys to try out, make sure you stop by and dip your toe into the world of Helix.