Competition: Shure - Off the Beaten Track
Published on 29 January 2018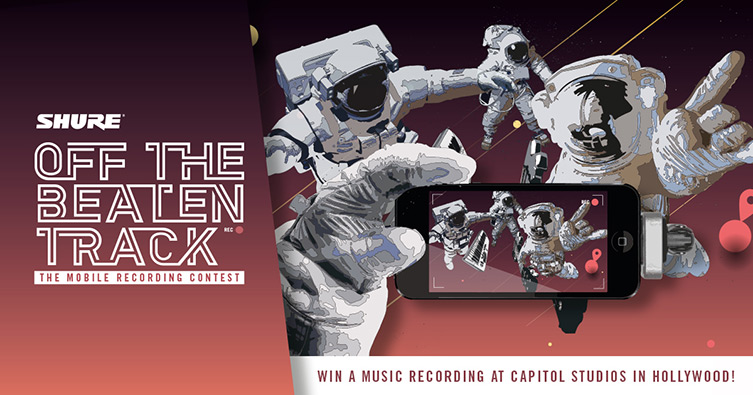 If you're on this site, then we reckon it's not too much of a stretch to imagine that you might have a band of your own... Now, that doesn't mean we're singling out all of you stay at home shredders; we just couldn't pass up the chance to let those who are in bands know about Shure's awesome Off the Beaten Track competition!
Aimed at bands who love to take their sound on the road and try something different, Off the Beaten Track is a fantastic opportunity to get your hands on some unbelievable prizes and get some exposure for your music at the same time! Encouraging you to get out of the studio (or garage) and into the world, Shure want to see examples of great music recorded in original locations. Where you choose to film is completely up to you, but try to make sure it's as interesting, exciting or just plain weird as possible to be in with a chance of winning!
And what a grand prize there is to be won...

The winner of Shure's Off the Beaten Track competition will win not only a whopping $5000 worth of Shure products but also 5 days in Los Angeles with 2 days spent recording in Capitol Studios!
That's right, Shure really are presenting bands with the opportunity of a lifetime with loads of exposure and some massive runner-up prizes to be won even if you don't win first place, including $3,000 worth of Shure gear for 2nd place and $1,000 of equipment for 3rd. With prizes as unbelievable as this we can't recommend getting behind the competition enough, so if you have a band, or someone close to you does, then it's time for action stations!
You can sign up for Shure's newsletter here, where they'll be releasing tips and tricks on mobile recording to help you get started.

To enter, musicians must submit a video of an original song performed in a unique location.
After uploading to the contest website (off-the-beaten-track.shure.com), entries must collect at least 50 votes to be considered for one of 20 spots on the shortlist, which will be determined by Shure.
In the second stage of the competition, all shortlisted acts get a box of Shure MOTIV gear to create their very own MOTIV Session.
One entry receiving the most public votes overall wins a wild card spot – so mobilizing fans is important.

The contest, which will accept submissions from January 25 to March 22, is open to musicians from Austria, Belgium, Canada, China, France, Germany, Hong Kong, Italy, Japan, Mexico, Spain, Switzerland, the Netherlands, the United Kingdom, and the United States. Further information can be found at: www.off-the-beaten-track.shure.com.