Introducing: Moog DFAM
Published on 30 January 2018

With absolutely loads of new gear released at NAMM '18, there's been so much exciting stuff that we've not known where to look! There's been some incredible kit on display and the event is a total sweet shop for any digitally minded individuals with their eye on this year's newest kit. A lot of jaw-dropping stuff has been shown off and we have to say, it looks to be a very good year for synthesis in particular; but there's one model specifically, that was a real stand out for us...
Designed by the guys at Moog, this ingenious creation is the DFAM. Known affectionately as the Drummer From Another Mother, the DFAM is a synth which was built to create hypnotic, intricate and most importantly one of a kind percussion parts. Taking the notion of a traditional drum machine and totally flipping it on its head, the DFAM brings the hands-on playability of a synth to your rhythm track, allowing you to tweak and manipulate parameters as easily and fluently as you're used to with basslines or leads for example.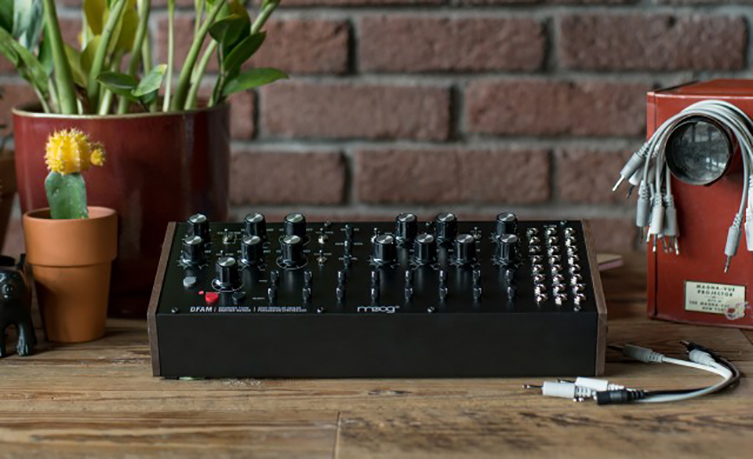 With a fairly straightforward but perfectly adept sequencer at the hub of the DFAM, you can make use of its two analog oscillators along with a white noise generator to build your patterns and sequences. It employs oscillator hard sync and FM cross-modulation to give you seemingly endless scope to shape your sound and move between different tones which range from sharp, aggressive and punchy to low more rounded, unbelievably warm bass sounds and pulses. A Moog ladder filter with high and low pass modes allows for further experimentation with your sound along with 3 dedicated analog envelopes and a 24-point modular patchbay which allows you to hook up to external devices and even integrate into a modular Eurorack setup.
Boasting some of the thickest, most intricate, distinctive and downright different percussive tones that we've heard in a while, the DFAM is a very interesting and forward-thinking take on the drum machine concept and it has to be said, it's a pretty incredible piece of kit. Totally lending itself to a wide variety of genres, we hear touches of everything from ambient to indie to techno in the DFAM and we can't picture many places where the lush, intricate subtleties of this synth wouldn't fit in. Having so much control over your percussion allows for some incredibly powerful layers and it really does inspire ingenuity and a way of working that's completely unique to you. We absolutely cannot wait for these to arrive, but in the meantime, we'd definitely recommend placing an order for your very own DFAM, take it from us, these synths are the real deal.