Introducing: Korg Volca Mix
Published on 01 February 2018
If you're crazy about synths like so many of us at guitarguitar, then you're no doubt all too familiar with Korg's Volca range. Taking powerful synthesis and sampling technology and miraculously containing it in compact units no bigger than a pencil case, these impressive little machines are pretty special and are a great option for the producer or performer on a budget. Designed to sync up together and be used in conjunction with each other, its when you get a few Volca units on the go that the magic really happens. Allowing you to create hypnotising sequences, patterns and melodies, you can structure a full-fat performance on the Volca series when you begin to stack them up. However, once you get into the zone and have a few running it can admittedly get a little hectic and with the Volcas small size, sometimes your hands just can't move as fast or precisely as your brain wants them too.
While the answer to this would generally be to get yourself a mixer to run your setup through, most options available have been quite pricey, particularly in comparison to the Volcas which have all came in below £150 thus far and genuinely do offer a budget series that goes well beyond their size and price. Korg have clearly taken notice and as part of this year's NAMM announcements, have now shared the compact and affordable as ever answer to your problems, the Volca Mix.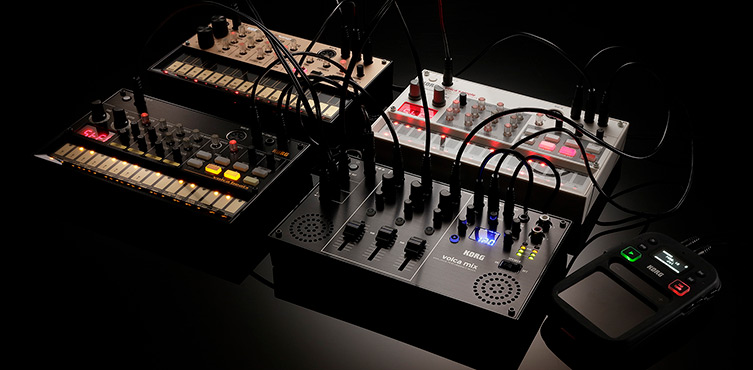 Available at only £145, the Volca Mix is every bit as dainty as the rest of the range and with not too many frills, simply fills in the blanks that so many of us have been waiting for. That said, it never ceases to amaze us how much Korg are able to squeeze into such small pieces of kit and the Volca Mix is no different. A four channel analog mixer, the Volca Mix has the expected volume faders and a LO/HI CUT filter is a welcome feature to assist with transitions and effects. Mute buttons are also handy features along with adjustable gain controls to give you a bit more control over your mix. Its sync function allows you to use it as the master of your setup and a built-in DC out lets you power up to three Volcas at a time so that you don't end up tangled in a web of cables. Other useful features include master effects such as an expander, a dynamic range compressor and a sidechain, which is due to be a total blessing for those making dance music. Also including a Master Volume with an LED VU meter, a headphone output, a stereo mini-jack send out and AUX in jack, send level knobs for each channel, plus output and monitor capabilities; the Volca Mix is a lot of kit for under £150!
If you've ever had your hands on one of Korg's Volca units then you already know how useful an addition to the lineup the Volca Mix is. Giving you the final piece of the puzzle to turn your Volcas into even more capable tools for performance, we're really excited to try this out and really harness the power of our Volca setup!