A Closer Look: Suhr Corso
Published on 20 February 2018
Perhaps most well-known for their incredible guitars, Suhr have amassed a loyal following over the years for their uncompromising craftsmanship, attention to detail and innovative ideas, and we're very much a part of it! However, their expertise does not stop there and with a wide range of outstanding amps and effects favoured by some of the world's most iconic players, there's plenty to get excited about.
One of our favourite products from the Californian company is aimed toward studio dwellers but can also be great for home practice; the Suhr Corso Recording Amp. The Corso is an extremely portable variable wattage amp (up to 5 watts) with a sleek, stylish shell and a powerful, versatile tone that you'd swear came from a full sized amp. Allowing for expressive playing and recording without the hassle of transporting a larger amp, the Corso's all-tube make-up gives you a thick, vibrant sound to work with that's incredibly flexible and dynamic. Built to fit a huge range of genres, styles and applications, there's nothing we've thrown at it so far that hasn't made us stop and appreciate just how fantastic this relatively tiny unit sounds.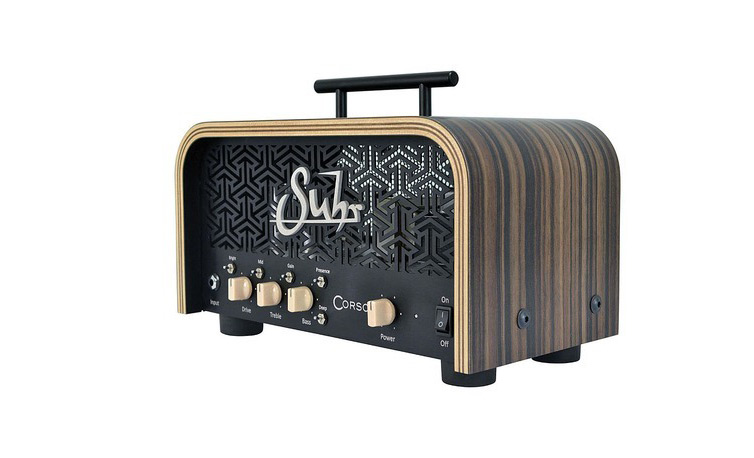 Its unique low-gain input stage means that pedal pushers need not worry, the Corso will still sound every bit as lush when lined up alongside your favourite effects. An on-board attenuator also lets you tweak and adjust the volume without it affecting your tone, which can go from bright, crystal clear clean to a punchy, dirtier more overdriven lead sound with plenty of harmonics. Clean, Classic Crunch, High Gain and Metal/Alternative Tuning drive settings give you loads of scope for shaping your tone and there's a great range of tones available to suit just about every preference. Along with this, the Corso's front panel lets you access a standard bass, mid and treble EQ as well as Bright, Presence and Deep settings which can be used to dial in low-end punch as well as more clarity and definition on across mid and high range frequencies. A switch to add 12dB of gain along with increased sustain and emphasis on harmonics is also a welcome feature and a fully counter-clockwise Power control acts as a Load, allows you to take complete advantage of Corso's Line Out without the need to connect to a speaker cabinet.
Pretty much the ideal sidekick in any studio or bedroom, this portable amp gives you access to absolutely loads of tones and is capable of handling whatever you throw at it. Sporting a handcrafted 7-Ply Multi-Wood Headshell that gives it an awesome vintage vibe, the Corso looks as fantastic as it sounds as well and its small size means that it wont take up too much real estate in your room, certainly much less than the full-sized amps it has the tone and adaptability to compete with. Available with both a Confessional or Esher Grille, the Corso is an absolute joy to plug into and an incredibly handy tool for recording. We'd thoroughly recommend these amps to anyone looking for a more professional recording solution or a practice amp that lets you get all the feel of something larger.