A Closer Look: Roland RP102
Published on 27 February 2018
Modestly priced for such a sleek, stylish instrument, the Roland RP102 has all the feel of a well-finished, high-quality piano. Its elegant black exterior has a distinctly traditional vibe and it's awesome to have all of the functionality and practicality of a modern digital setup inside such a good looking cabinet. The lightweight RP102 goes above and beyond what you'd expect at this price point and we were well impressed with its robust build quality. It features a full-length lid to ensure your keys are protected and really is the type of unit that would fit in anywhere, whether that's in the house or the studio!
The RP102's weighted action PHA-4 keyboard has a comfortable, natural feel to it and with metal pedals to make the unit seem more authentic, it's easy to forget that you're playing a digital piano. Its keys are very responsive and refined sensing technology allows for really expressive playing. The sound itself is every bit as fantastic with a rich, full tone that sounds great through its dynamic built-in speakers.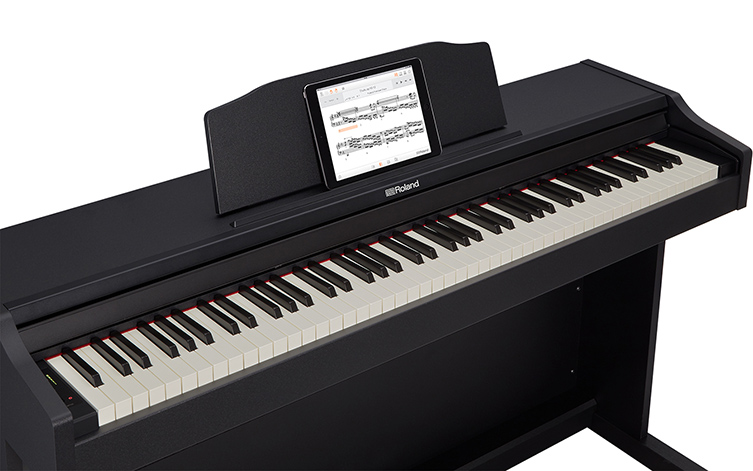 What really makes the RP102 special for us though, is how great a tool it is for learning. With a Twin Piano mode which allows you to split the keyboard into two 44-note pianos, each with their own middle C; those who are new to the instrument have an excellent platform to start their journey. A headphone jack even means you don't need to make your main stage debut until you feel good and ready! Using Bluetooth connectivity, you can even communicate wirelessly with your smartphone or tablet and pair the piano with Roland's free Piano Partner 2 app. The app is awesome and gives you access to tempo controls, digital sheet music, backing rhythms you can play along with and access various features not available from the piano's panel. Not only that, you can also use it to choose from a huge selection of piano and non-piano sounds, and even layer any two sounds together.
A fantastic first piano, but just as suited to more experienced players, Roland's RP102 gives you absolutely loads of bang for your buck. It ticked all the boxes for us delivering on sound, style, playability and practicality while going well beyond our expectations when we hooked it up to the Piano Partner 2 app and really got dug into its features. If you're looking for a piano that can do a bit of everything without overpowering the room, this is a perfect choice. Pay us a visit to try one out now, you'll quickly realise just how great value the RP102 is!