Meet Your Maker: Avi Shabat
Published on 07 September 2018
Avi Shabat is a passionate and engaging man. Talking to him, his infectious enthusiasm gets you excited about guitars all over again! The Israeli born luthier has been making super high quality guitars from his workshop in West Hills, Los Angeles since 2012 and his instruments have found themselves in the hands of many notable names in the industry. This is no surprise: Avi's passion has clearly carried through to his creations, which are made to exhausting levels of detail with top quality tonewoods, Lollar pickups and hand-mixed paint. These are special guitars with the magic of vintage instruments and the precision of modern luthiery. Shabat guitars didn't come out of nowhere, though: he may be based in LA but Avi's story goes back further.
A lifelong music fan, Avi has always been involved with playing and fixing instruments and recording music, even going as far as to set up a small commercial recording studio in his parents' home in Jerusalem! This enterprising attitude saw him enrolling in Jerusalem's first luthiery school (after serving as an Army Drill Instructor for his compulsory National Service!) to learn to ins and outs of instrument making first hand.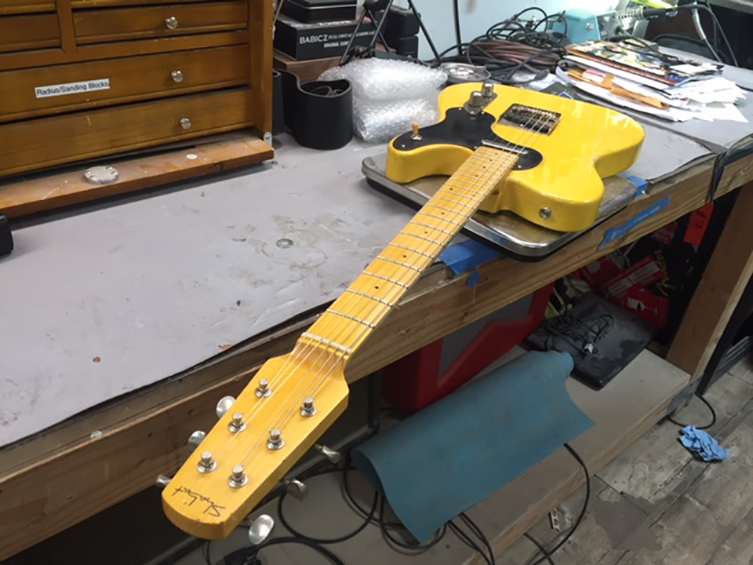 (Photo: Avi Shabat)
His dedication led him to investigate the temperature of the guitar making business in California, where he took his savings and hooked up with some musician friends to begin working on his dream. Sound engineering gigs in the LA area and guitar tech stints with bands like Bush gave Avi a wealth of experience as well as putitng him in touch with lots of LA's guitar players and industry people. Initially opening his business as a repair shop, Avi took the plunge and began making bespoke instruments with a huge degree of hand building. Shabat guitars became a thing in 2012 after 5 years of hard work and Avi hasn't looked back since.
We have recently gotten behind Shabat guitars because we believe these high spec, lovingly made instruments are exceptional. We touched base with Avi himself to get the lowdown on what makes Shabat guitars different. His open and friendly attitude is infectious, as is his all-encompassing love for guitars. Here's how our conversation went:
Avi, after coming to the US from Jerusalem in 2007, you supplemented your luthiery course with sound engineering gigs. Did this type of regular experience with other bands' equipment help distil in your mind certain principles or properties of what you wanted to see in your own guitars?
It surely did! The sound engineering/guitar tech gig started way earlier in Israel. It helped me see and hear what each instrument sounds like and feel like: what types are cool and dominant and what the artist has to say about his instrument.
I still go on tours or small one-offs with the band Bush and it's always a great learning experience for me to meet other techs and musicians and see new gear. I also collaborated with Chris Traynor to design my Puma model.
I feel like it's always important to listen to the players that put these guitars to work.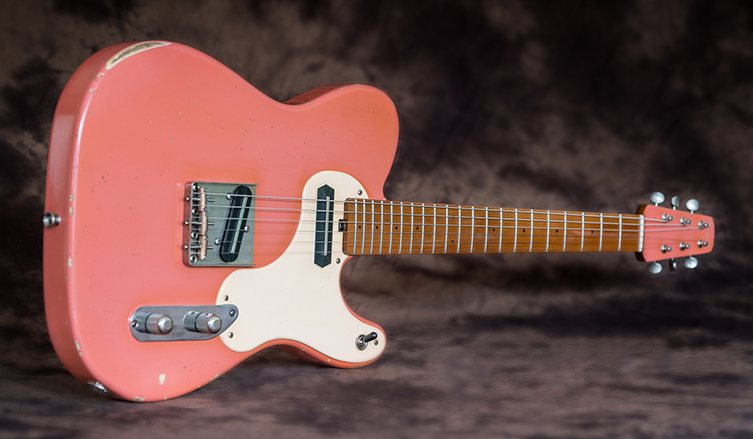 Early adopters of Shabat guitars included Gonzalo Bergera and the aforementioned Chris Traynor: you've also built guitars for guys like Steely Dan's Walter Becker. How did you come to meet these guys and get guitars into their hands?
Gonzalo has been a good friend from the get go and we met through mutual friends. Chris and I met when he came by to LSL to try out some guitars, he also connected me with a lot of great industry people like Doug Mayer from "Mountain Cat Guitars " in New York who's my dealer there and the one who got the late Walter Becker to fall in love with my GB model.
It's all about knowing good people that will tell it to you like it is. I feel blessed to know so many of them, and love how supportive our industry is to one another.
Why do you think guitarists keep coming back to the classic guitar designs from the 50s?
Well, that's an interesting question. After the Gibson bankruptcy deal I read a few articles and it seems to be very true that for the most part most guitar enthusiasts are very traditional and old fashioned and don't like drastic changes to what feels comfortable to them.
Another reason that I might think is what a lot of top sound engineers are used to working with and know how to fit into the mix. From my point of view, I still listen to all the classics like Pink Floyd, Led Zeppelin, AC/DC… these tones are to date pretty much at the top. Unless I missed out on something, which is possible... But when you turn on the radio these songs are always playing and always working.
That being said we're living in times where a lot of builders, mostly with acoustic instruments but not only, are pushing the old designs to new levels and trying different construction approaches and that's pretty cool to me. Also, a lot of great players are pushing the standard designs to fit the new styles they're creating, and I do think it's really cool too.
But I do believe that the classic designs are here to stay.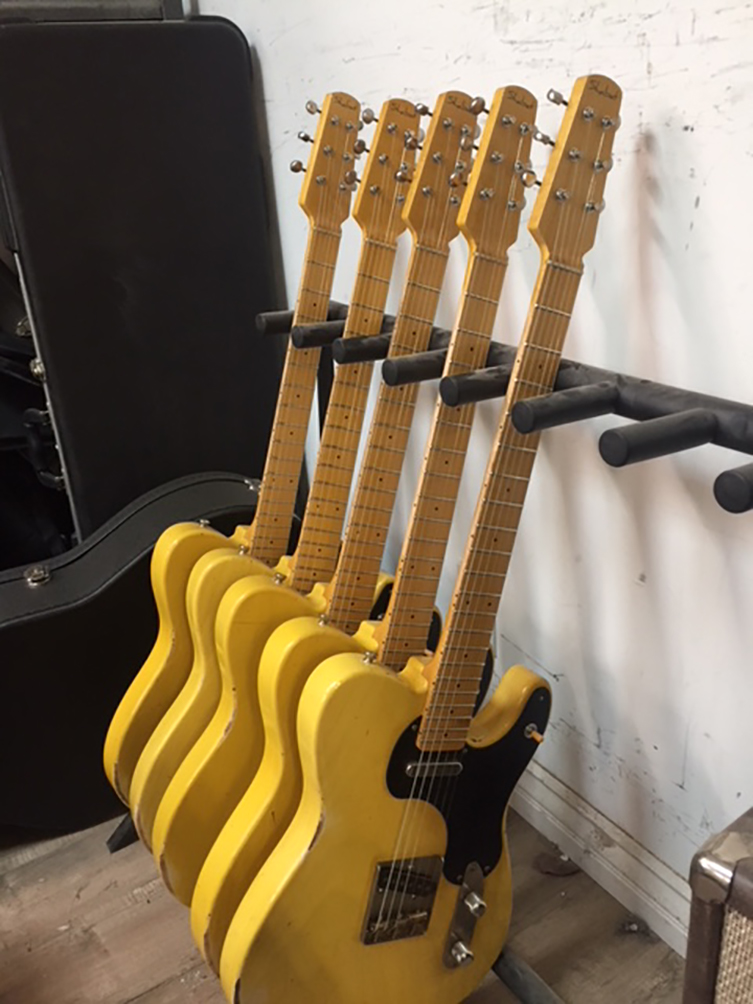 (Photo: Avi Shabat)
You've mentioned before that part of the modus operandi of Shabat guitars is to make stable, roadworthy, timeless guitars. Is this timelessness a part of why the classic guitar designs have endured when other, more esoteric designs have fallen by the wayside over the years?
I think it's a big part of it and I also think it's a fashion thing. Some people are still driving VW beetle because the car refuses to die. That's why I find it extremely important to use the best and most stable materials out there combined with solid construction.
The minute your guitar can't keep in tune on stage - that's when you get rid of it.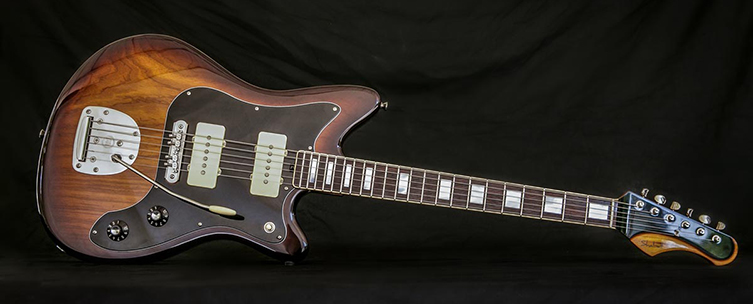 Do you see Shabat guitars as taking the classics and improving on them? I'm thinking of features like the truss rod adjuster wheel being at the heel of the neck like on modern guitars…
Yes, that's what we try to do. The truss rod is one example. I don't feel right taking the neck on and off a guitar since it weakens the joint: it can create the alignment issues that you can find on vintage bolt on Guitars. I also think the magical bond of neck and body can be lost by removing the neck but you can call me crazy for that one!
We tend to go with a slightly flatter compound radius 9.5-12 which to me feels easier to play and bend but I know john Mayer would disagree! Also, like our modern tremolo bridge by Gotoh is used for better tuning, again some might say they never had issues with the vintage bridges.
Bottom line is, we're not going to constrict ourselves to the vintage specs but rather to what we feel works better for us for tone and strength.
Your website features a comprehensive Custom section where customers can spec up their own guitar: how many of your guitars are custom builds compared with 'stock' models?
At this point, most of our guitars are custom to players specs, which is cool because everyone wants to feel special and unique and we love to deliver it!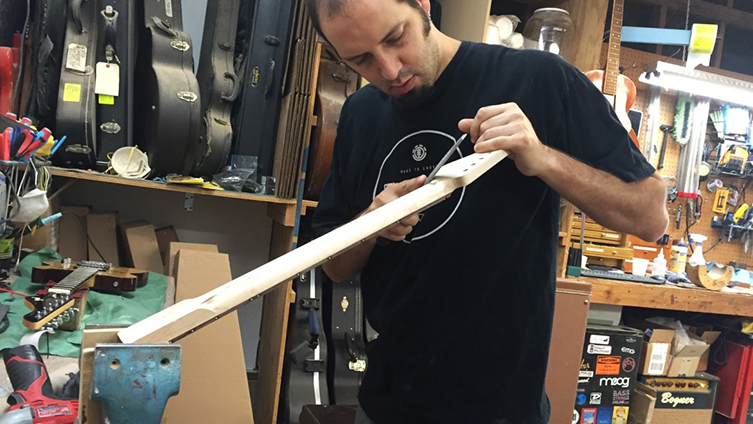 (Photo: Stacey Shabat)
How many guys do you have working for you now?
At this point ,it's a small but growing operation. I have two more guys working with me.
We do everything ourselves in house.
And how many guitars does Shabat guitars make every month?
Our numbers are about 3-5 Guitars a month.
You use Jason Lollar pickups exclusively: what is it about his pickups that you don't hear or feel in other pickups?
Well, it starts with the man himself. You look at him and you can tell he's a guru! You see by the craftsmanship that he took the time to nail it just right and when you meet the Lollar team of artists that make these amazing pickups: you can smell their passion for that perfect tone.
To me it was love at first chord: it's all there from well balanced and pleasant pickups that translate the acoustic qualities of the instrument, not trying to over compensate, extremely consistent and always musical and punchy. That's all aside from the fact that they're very professional and friendly to work with.
There's a lot of great pickup makers out there for sure, and there's a lot of magic in it but to me these pickups are super true and do bring the real player out of you.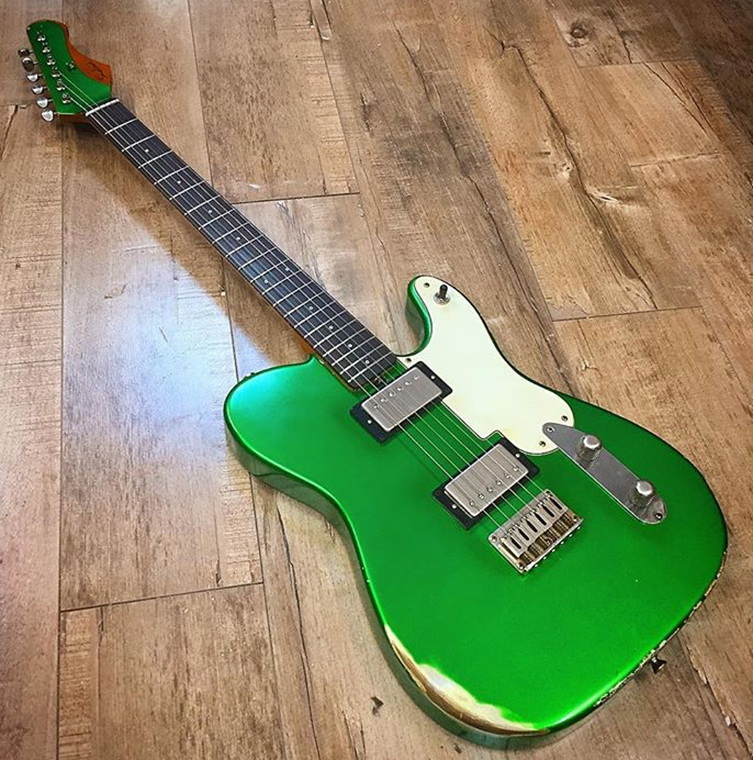 (Photo: Avi Shabat)
Your guitars feature some incredible colours (the Candy Apple Green is awesome!) How do you go around choosing the colours?
We do mix all of our colours in-house, so they do vary slightly. If you see a crazy colour it's because it was requested by the customer.
It's a lot of fun!
How important are pots and wiring to tone in comparison to pickups?
As a guy who started as an audio engineer, I know that any bad component in the signal chain can affect the tone drastically. I also run a fully equipped repair shop and every time I do a rewire on a low budget guitar you can hear and feel it right away.
So, no shortcuts here: that being said, you can also drive yourself crazy going too overboard.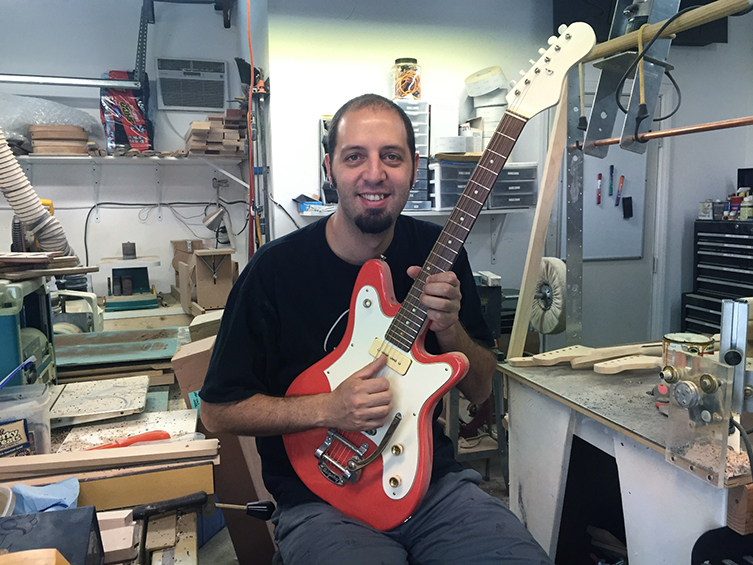 (Photo: Stacey Shabat)
There we have it: some wisdom and perspective from a man who has truly earned it. We are super impressed by Avi's passion and dedication to providing top quality tools for guitarists to use, love and cherish. We are excited to bring Shabat guitars across to the UK and encourage you to have a closer look at your earliest possible opportunity!
Thanks to Avi for talking to us!