Meet Your Maker: Kauer Guitars
Published on 03 May 2019
Kauer guitars make stunningly beautiful custom guitars that resolutely do not look like familiar designs from the 1950s! This fantastic custom guitar shop from Elk Grove, California is dedicated to providing musicians with top quality, hand-made guitars with a ton of character and individual identity. With names like the Super Chief, the Banshee and the Starliner, you can be sure that this most charismatic of brands deliver the goods with style, panache and a real freshness of intent. In short, we love them!
Recently, we ordered a few one-off pieces and grabbed a rare opportunity to shoot the breeze with founder Doug Kauer. As cool, stylish and full of character as his creations, Doug was a pleasure to speak to. Read on to learn more about this exciting brand of American guitars.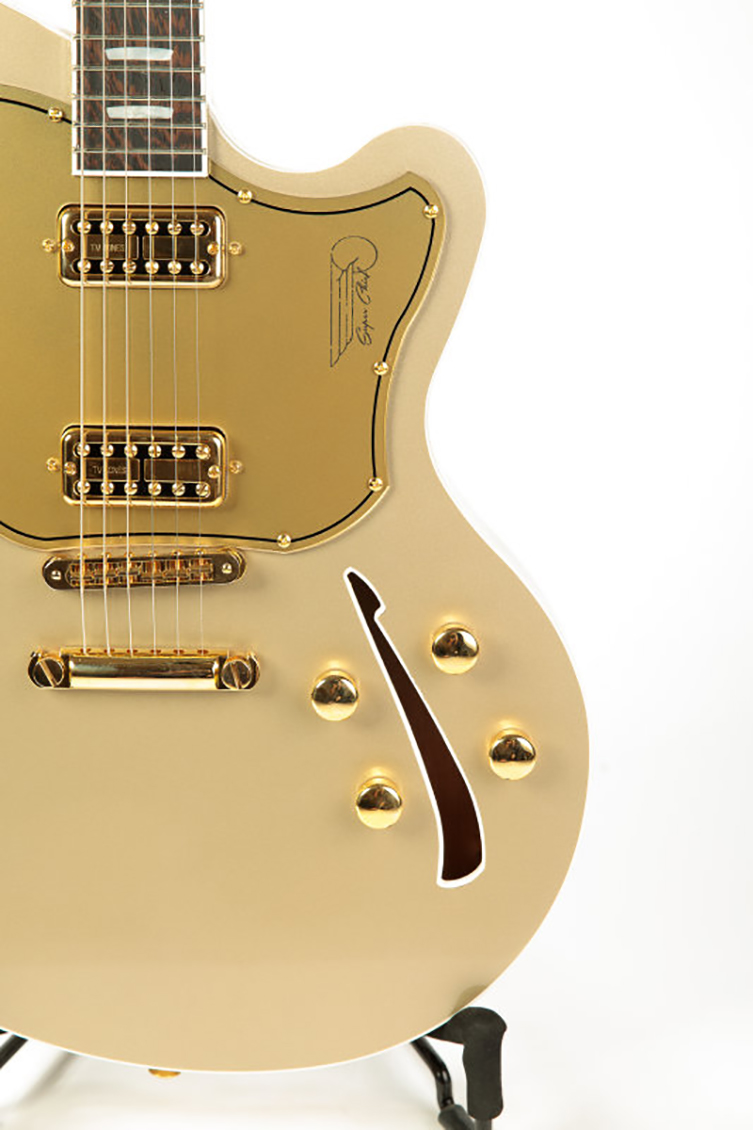 Hi Doug! Doug your guitars look unbelievable. What is your background? What brought you this far to having your own guitar company?
I grew up woodworking as my dad started building furniture then cabinets when I was young. Apparently "child labour laws only apply if it's other peoples kids" so I've been doing it forever. I actually had zero intentions of becoming self employed having lived through it as a kid but one day just decided to take a stab at building a guitar. That led to the next one, then the next one etc. Eventually I designed the Daylighter and people started asking to buy them. I just jumped in with both feet and a lot of encouragement and support from my wife and family about 13 years ago.
What was your original mission what you started Kauer guitars?
To make it to the end of each month! Honestly, I just wanted to build something that was unique. The Daylighter was a mash up of a Jazzmaster and a Les Paul: things I both liked independently but I thought combining them would make the best of both worlds with none of the draw backs. I still love the original Daylighter. It's been my drive to build things that I would want to play but isn't just a copy of an S/T/LP type. If I never saw another strat in my life I'd be ok with that.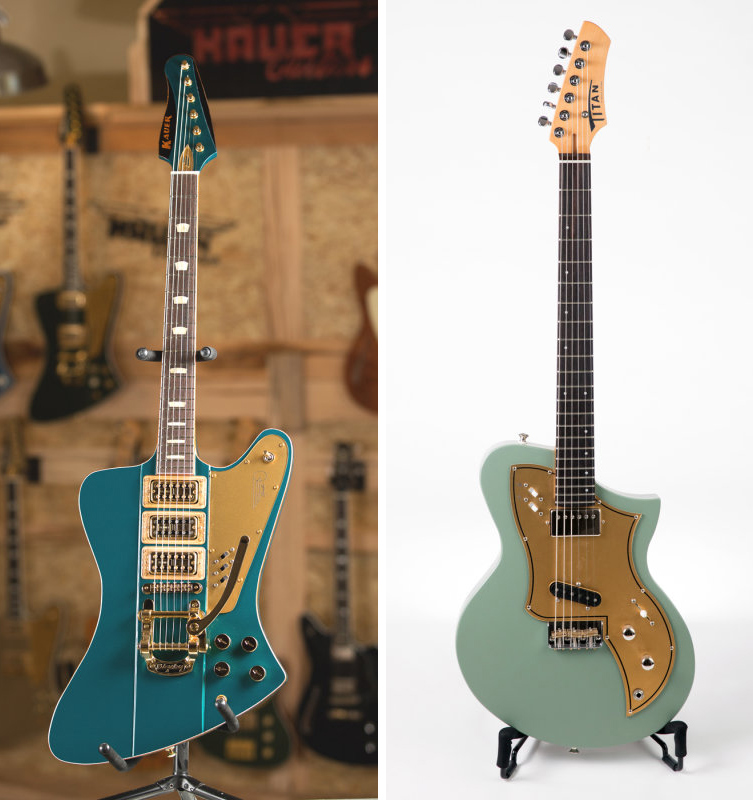 Haha, yes, you difinitely bring some original visions to the table! You have some incredible looking guitars: what was the inspiration behind guitars like, say, the Super Chief or the Daylighter?
Daylighter and Banshee really are where I began. The original Banshee actually predates Kauer Guitars, it's a guitar with obvious inspiration but a model that I thought I could make numerous improvements on. I actually was very opposed to ever making it as a Kauer Guitar but we eventually evolved it into something uniquely ours.
Same with Super Chief. Seems like my best designs take about 10 minutes to draw. Sometimes I have designs I've aggravated myself about over days or weeks… when that happens it's just not right. The Super Chief literally started as an idea on the drive to work and by the time the guys got here it was designed and programmed. I LOVE it, it's the accumulation of 10+ years of designing and tinkering with semi-hollows and it does everything I want.
You use unusual wood choices like Spanish Cedar for the bodies: what do these timbers give you?
I absolutely swear by Spanish Cedar, though we call it Spanish Mahogany because it's not Spanish and it's not Cedar! It's actually a close Honduran relative. I've honestly come the conclusion that you can not build a bad sounding guitar from it. It's light (sometimes extremely so), sounds amazing and just does that classic Mahogany thing so well. We've even built basses and "strat style" variants of our Arcturus from it and it's great. It does have a pretty prominent midrange though so you have to be a bit careful what pickups you pair them with. That's the origin behind the Wolfetone "KauerBuckers (KB)" and "Kauer90's (k90's)". TV Jones Powertrons and a bunch of other pickups also pair extremely well with it.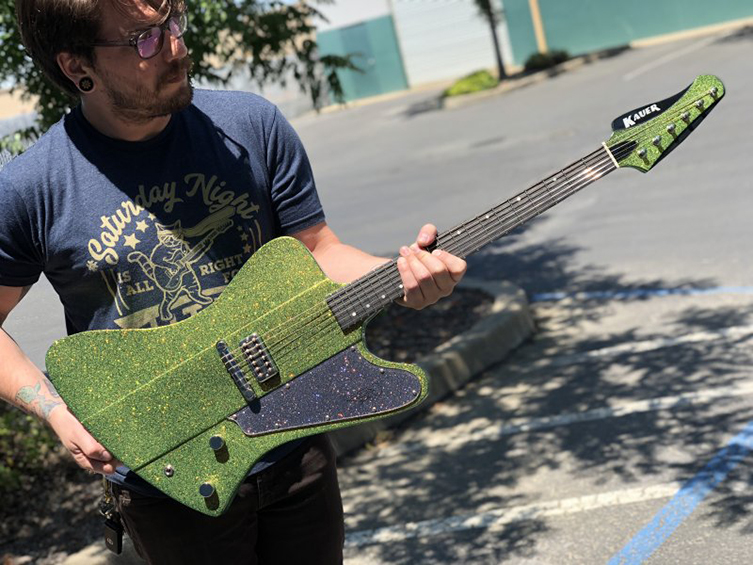 There is a good roster of famous talent using your guitars including Tom Dumont, Walter Becker and Scott Holiday: how did you get involved with these players?
We're really lucky to have so many great artists playing Kauers. From our first artist Michael Burks up thru guys like Scott and Tom, Dennis Casey, the late Walter Becker etc. We're a small company (4 people) and live from sale to sale so we just don't give guitars away like larger companies can. Personally, the fact that that even our biggest artists have paid for their Kauers is the best endorsement you can ask for (ok...I won't lie: after their first Kauers, some of our artists get a heck of a deal on the next ones!).
Tom is actually a really funny story. Maybe once a year we'll get a custom order through the website with zero contact ahead of time. Most orders, people email first with a few questions (as they should). I didn't think anything of the name (it wasn't like his email is thatdudefromnodoubt@nodoubt.com or something!) at the time. We were about half way through the build when Tom bought a second Banshee right off our Reverb account that we had just posted. Again, I didn't think about it, we just shipped it out. About a month later I get a text from one of the guys who spotted Tom playing that Banshee on Instagram and we flipped out! I actually was really embarrassed I didn't connect the name and Tom thought it was really funny when we told him.
He's been a great artist for us and like everyone we work with, just a great person. The reality of it is, while artists are important for the brand, our bills get paid by normal people with normal jobs so we really are picky about who we consider Kauer artists. We want to work with people we actually like dealing with. (hint- if you're reading this at home and are looking for an endorsement deal, don't be a dick.)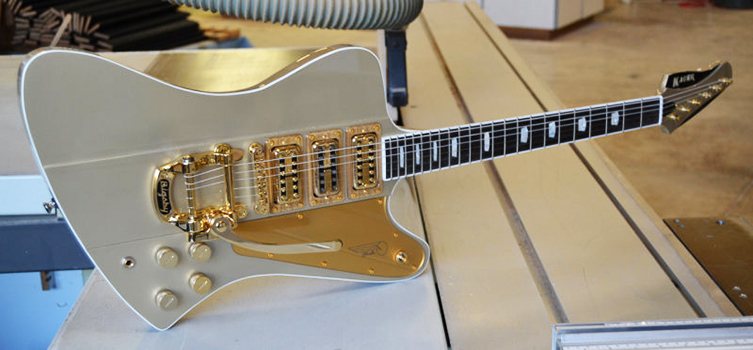 How did you come to select the various pickup types (Lollar, Wolfetone, TV Jones etc) you use with your guitars?
We like working with companies that are great at winding a consistent pickup and Wolfe, TV Jones and Lollar are all good at this. If we don't have to worry from pick up to pickup, then we know if we change the formula on our end, we'll be able to hear it. Absolutely love pickups from all three companies.
What is it about Kauer guitars that stands out from other US custom guitar builders?
Our brand name is harder to spell than most! Honestly, I think we just have a unique design approach and aesthetic and I'm someone who gets bored of the status quo quickly. That's good for keeping things unique and interesting.
Do you have different types of players in mind when you design a new guitar model?
Yes and no. I've designed guitars that I thought would be good for a certain genre of music and for some reason it becomes a big hit in an entirely different genre. I've almost learned to take the other approach, try to make something that can appeal to as wide an audience with out being watered down. Our "budget line" Titan Guitars is a great example of this. It's really a "chassis builders" approach to guitars where the body, neck and hardware are very solid but the pickup choices are near unlimited. We've had Titan KR1's on stage with Brad Paisley's guitar player to guys like Josh Scoggin of the '68 being riffed in crazy drop tuning.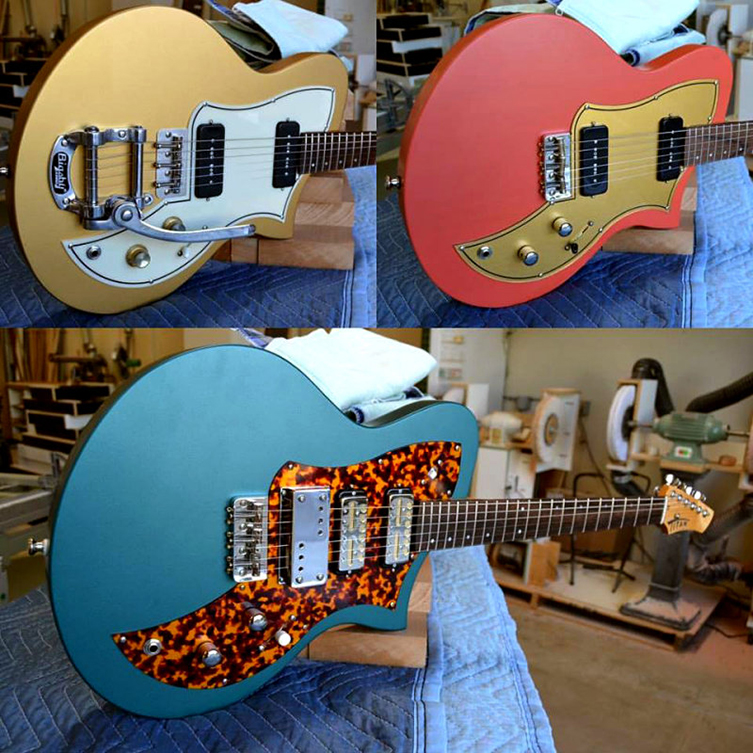 Sometimes I think people get hung up too much on what a guitar is supposed to be and write it off before giving it a try. It makes me happy to see ours played across such diverse lines.
How many staff do you have working on Kauer guitars and how many guitars do you guys make in a typical month?
We vary a bit between 3-4 employees (Ben Jacob our assembly guy also techs for the Wallflowers and has his own band that tours a couple times a year). I think our peak was 125 Kauer's in one year but now we're averaging about 60-70 Kauers and 60-70 Titans a year. That's a lot of guitars from so few people!
What type of finish are you guys using?
UV Cure urethanes.
What is your own particular favourite Kauer custom spec?
I have a few "never part with" guitars. Starliner Semi Hollow with 2x KB's, my cherry Super Chief (#1) with KB's, a Banshee with Powertrons, a really run of the mill Titan KR1 with Lollar J-street bridge and Imperial neck and a "Straturus" strat version of our Arcturus model. Probably the best two are the Starliner and Super Chief.
Oddly enough, they all have different necks LOL. Most of my personal guitars are prototypes or blems but they've all been just amazing instruments.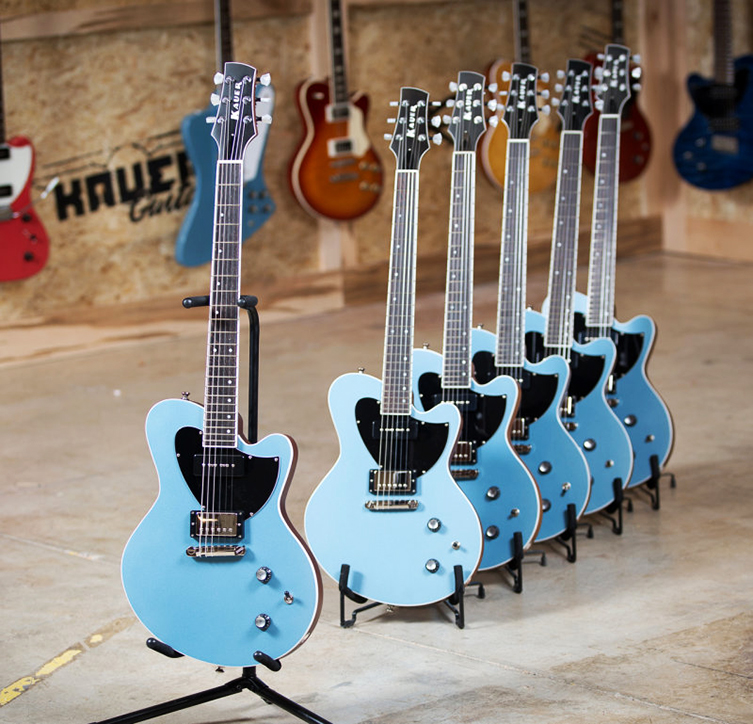 Awesome Doug, thank you for talking to us!
We are really excited to be bringing our customers these masterpieces! Check out Kauer guitars on our website here.
We'd like to thanks Doug Kauer for his time and good humour!
Interview by Ray McClelland