Offer: Free Universal Audio Satellite with Classic Apollo Rackmount
Published on 02 October 2018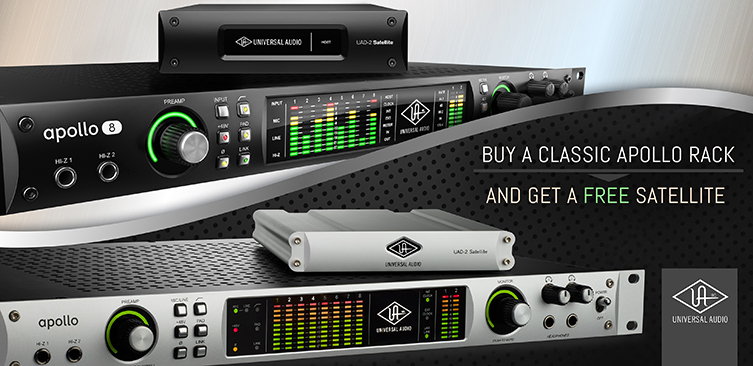 Is your studio setup due some much needed TLC? Well, if like many, you've simply gotten a little behind the times and are working with a system that's outdated, or simply can't keep up with you these days, it's time to bite the bullet and go for an upgrade.
As the heart of your recording equipment, your choice of interface is potentially the most important element to consider, particularly if you're constantly making adjustments to compensate for poor audio quality. Undebatably at the top of their game when it comes to professional quality interfaces, Universal Audio are always a first choice of ours for new tech and with a wide range of interfaces suited to almost every application you could possibly think of, they're bound to have something that'll fit in with your other gear. Not only that - they're also offering some pretty impressive savings throughout the rest of 2018...

Right now, Universal Audio are giving you the chance to save some huge money on their range of Satellite interfaces! We absolutely love these for home or studio recording and see them as among the most advanced pieces of kit on the market within the price range. Running on the Satellite and Apollo, these won't eat up your CPU either, giving you an advanced platform to work from that should fit into your existing setup without any hassle.
From October 1st through December 31st, purchase and register an Apollo 8 QUAD or Apollo FireWire Audio rackmount audio interface through our site or in one of our stores and you'll get a UAD-2 Satellite (Thunderbolt QUAD or FireWire QUAD) DSP Accelerator with the included Analog Classics Plus Plug-In Bundle — absolutely FREE!
You won't get a better opportunity than this to save money on some seriously powerful new studio equipment and we'd thoroughly recommend taking advantage of it. Simply register your purchase online via a redemption form on the Universal Audio website to take home your new freebies!