Offers: Get 2 FREE synths in ROLI's latest offer!
Published on 08 October 2018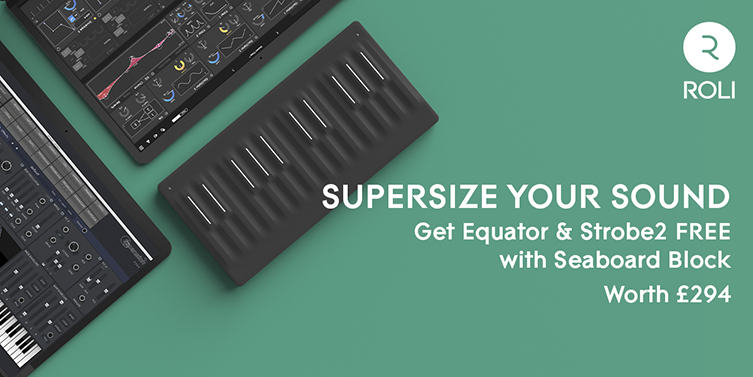 Here at guitarguitar, we love any brands that dare to think out of the box and do things differently. With so much competition and so much new tech constantly coming to market, it takes a lot to get our attention but it's safe to say that ROLI have done just that, not once, but time and time again. With a seemingly unstoppable imagination, ROLI are responsible for some of the most exciting and most innovative controllers that we stock and we're always looking for an excuse to show off their awesome products to you guys. However, it's not just the capabilities of ROLI's gear that we've fallen in love with and their prices are equally attractive. Despite how advanced ROLI's equipment is, their full range consistently offer tons of bang for your buck and right now, they're better value than ever...

From now (08/10/18) until October 22nd (22/10/18) if you buy an award-winning Seaboard Block from us, you'll receive two phenomenal desktop synthesizers worth £294 - the Equator and Strobe2 - completely FREE. With hundreds of included presets, all optimized for the Seaboard's touch responsive surface, this is a fantastic opportunity to get your hands on a fully equipped new setup. There's nothing that inspires creativity quite like some new studio toys, so we'd thoroughly recommend taking advantage of this offer and bagging yourself some new gear at a huge bargain!

Step 1 - Purchase: Purchase a Seaboard Block from us between October 8th and October 22nd 2018.

Step 2 - Register: Visit my.roli.com to create or log in to your user account and register your Seaboard Block.

Step 3 - Download Equator: Upon registration, a full Equator licence will be available in your account.

Step 4 - Download Strobe2: Redeem your serial number in your My ROLI account. Login or create and activate an FXpansion account here. Once logged in, click "Register a product" on the account overview page. Enter your serial number. After registering, you can download Strobe2 from the "Product Downloads" page. Click on "View all available downloads" and download the latest version for your platform.