Offers: Free tote bag with QSC K.2 Speakers
Published on 21 November 2018
Ever fancied yourself a set of those lovely sounding QSC K.2 series speakers? There's never been a better time to go for it! From Friday 23rd November 2018 to 31st January 2019, when you buy a QSC K.2 speaker you'll receive the official tote bag to lug it around in, totally free!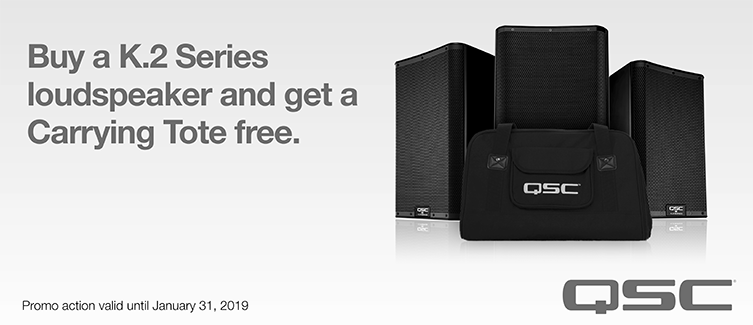 QSC K.2 series are some of the best lightweight powered loudspeakers we've heard. They boast an impressive 2000 Watt amplifier, on board DSP and an in-built 3-Channel Mixer with Gain control. You can also save your settings such as EQ, delay and crossover for quick recall later. This will save you so much time and energy during set up!
They can be mounted in a variety of applications. You can place them on speaker poles at a straight-firing position or 7.5 degree tilt. They can also be wall / truss mounted, suspended or even used as a floor monitor!
Not only do these speakers sounds absolutely amazing, they make your life that much simpler!

All you need to do is buy a single unit or pair of QSC K.2 speakers between 23rd November and 31st January, and they will be shipped to you with the free tote bags!
What are you waiting for?