Offers: ROLI Cashback Promotion
Published on 29 November 2018
Great news! When you buy a ROLI instrument between 29th November and 31st January 2018, you may be eligible to claim a cashback reward of up to £115. This is the perfect time to grab yourself a bargain on some of the most expressive instruments around!
You can find the full list of eligible products and their values at the bottom of this article.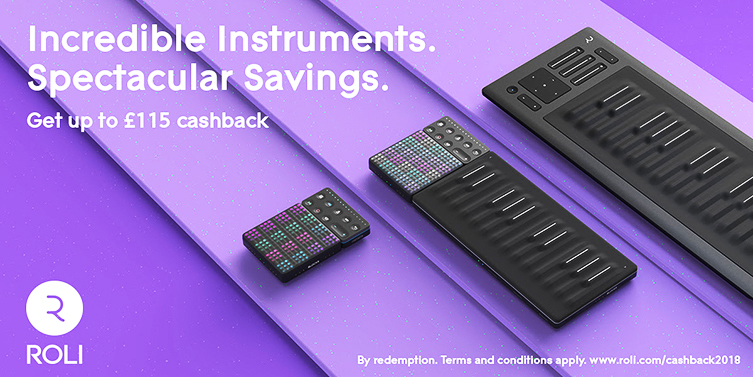 The ROLI Seaboard is considered to be the most expressive keyboard available. They feature a silicone-based keyboard, that captures 5 dimensions of your playing, and interact with extremely powerful software to give you easy access to sounds and timbres just by moving your fingers around the keyboard. Have a listen for yourself in the below video:
ROLI Blocks expand on what they managed to achieve with the Seaboard. They are a collection of smaller format modular controllers. You can use these in a variety of ways to inspire creativity and create very expressive music!
Check out the below video to see and hear for yourself just what these things can do:

Buy a ROLI instrument between November 29th 2018 and January 31st 2019 to claim up to £115 cashback reward.

4 easy steps to receive your cashback reward:
Step 1 Purchase a qualifying product from a participating retailer in an
eligible country between November 29th 2018 and January 31st 2019.
Step 2 Wait 30 days from your date of purchase before claiming your
reward voucher, as the ROLI return period is 30 days. This promotion is not
valid for returned items.
Step 3 Complete the claim form between 30 and 60 days from your date
of purchase by visiting roli.com/cashback2018. Have your proof of
purchase and serial number ready.
Step 4 Once your claim has been validated, you will be sent your
cashback reward within 20 working days via bank transfer. The reward will
only be transferred to a bank account registered in the country where the
qualifying Promotion Product has been bought (for in-store purchases) or
shipped to (for online purchases).
Qualifying ROLI Instruments:
Lightpad Block M - £25
Seaboard Block - £40
Beatmaker Kit - £40
Songmaker Kit - £60
Seaboard RISE 25 - £75
Seaboard RISE 49 - £115
For more information, view full Terms & Conditions and FAQs on roli.com/cashback2018