A Closer Look: guitarguitar Gift Packs
Published on 19 December 2018
Christmas shopping is all about the details: the large gestures are important of course, but small additional gifts can really show how thoughtful, caring and basically excellent you are!
This year, our team have put together not one but TWO bespoke gift packs to help make things easy for you as you shop. We have a Standard Gift Pack and a Premium Gift Pack: both are crammed with top quality products that will prove useful to - and welcomed by - all guitarists. Let's see what you can expect to find in each...
guitarguitar Standard Gift Pack
Our Standard Gift Pack arrives in a custom-made card gift bag in matte black with a silver foil logo. It's a classy affair and is ready-made to give as a present.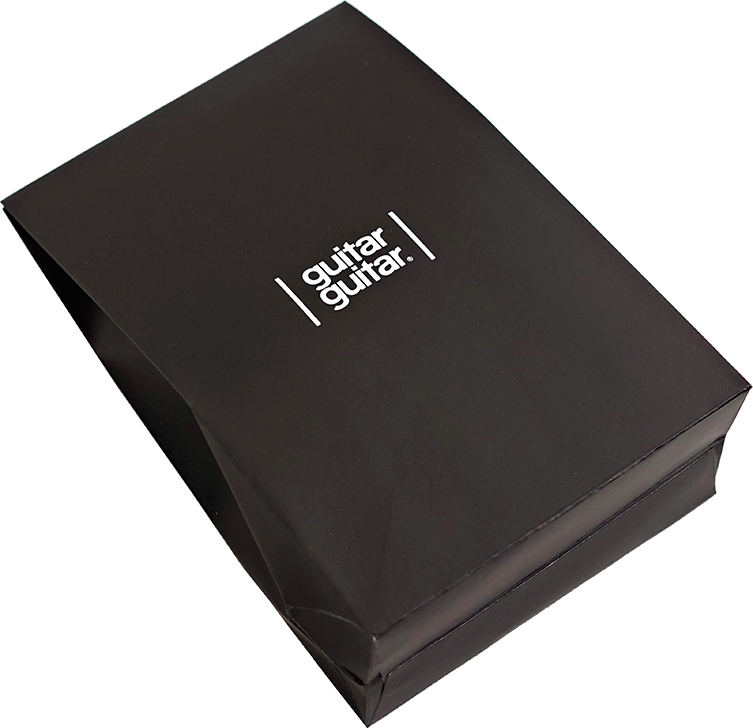 Inside, we have great collection of goodies. First up is a guitarguitar branded black webbing guitar strap with adjustable length to suit most every player. Black goes with everything! Straps are universal so this will attach to literally any guitar or bass.
You'll also come across a Tourtech TTA-T02 clip on tuner. This is chromatic, so it'll handle altered tunings and is remarkably simple to use. It clips onto the headstock of any guitar, bass, 12 string…you name it! Having a handy (and accurate) tuner available right where you need it is one of the great advances of the 21st century!
Labour-saving is the order of the day here with our next slice of Gift Pack goodness. The less time we spend messing around tuning up, the more we can play! With that in mind, we have included a Stagg String Winder with this Gift Pack. Speed up your restringing (it almost becomes fun after a while…) and get back to playing far more quickly with this handy tool. Good news!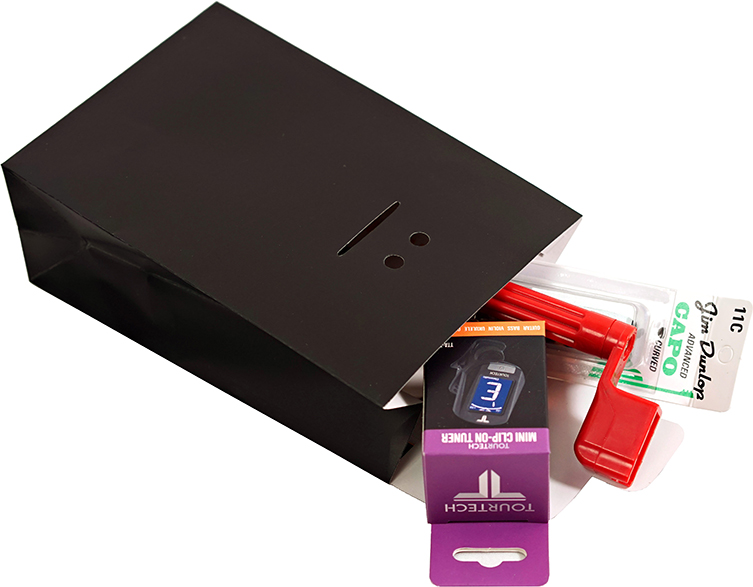 Delving further in, we come across an excellent Jim Dunlop 11CD capo. This is a classic wraparound capo design and is simple, effective and just the trick for keeping in a gig bag. We've included a handful of specially made guitarguitar branded plectrums too: keep a pick in your back pocket at all times!
All of this comes to you at only £14.99! If you have guitar playing friends or loved ones, this little bag o' goodies is a total no-brainer!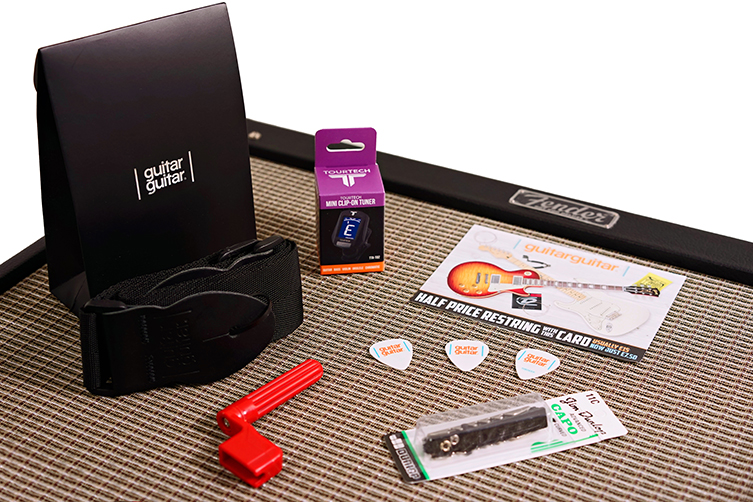 guitarguitar Premium Gift Pack
If you want to push the boat out a little more and get something really special, we think our guitarguitar Premium Gift Pack will make a beautiful gift. It's also fantastic value, coming in at only £29.99! That's a lot less than the combined cost of buying the contents separately, not to mention the inclusion of a classy matte black presentation box with its silver foil logo! So far, so good. But what is inside? Let's find out…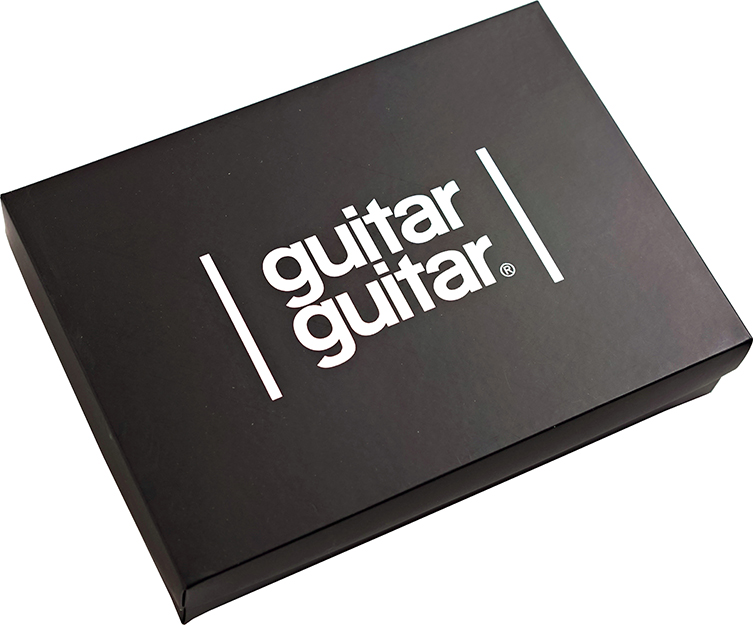 The Premium Gift Pack is stuffed to the brim with great products. To begin with, we have that excellent black guitarguitar branded strap which will go with any guitar and any outfit. Nice! If you know that the person you're buying for has just received a new guitar for Christmas, this whole box is the same price as many straps on their own and it makes for a decidedly more special gift.
Moving on, a Tourtech clip on tuner is included here, too but this is the upgraded TTA-T01 model with a colour screen and long battery life! It's big enough to be useful and small enough to be subtle. Perfect.
There is a capo in here too and this is a fantastic Quick Release model from Tourtech. It's sleek, black and can be operated with one hand. Tip: this can also 'bite' the headstock of a guitar when not in use. This keeps it handy and available for when one needs it.
There are some choice pieces from Jim Dunlop in here too. We've upgraded the string winder from the Standard pack to this Dunlop Gel Winder model for the Premium pack. The Dunlop Gel Winder has a bridge pin removal tool built into the design so it's especially good for using with acoustic guitars.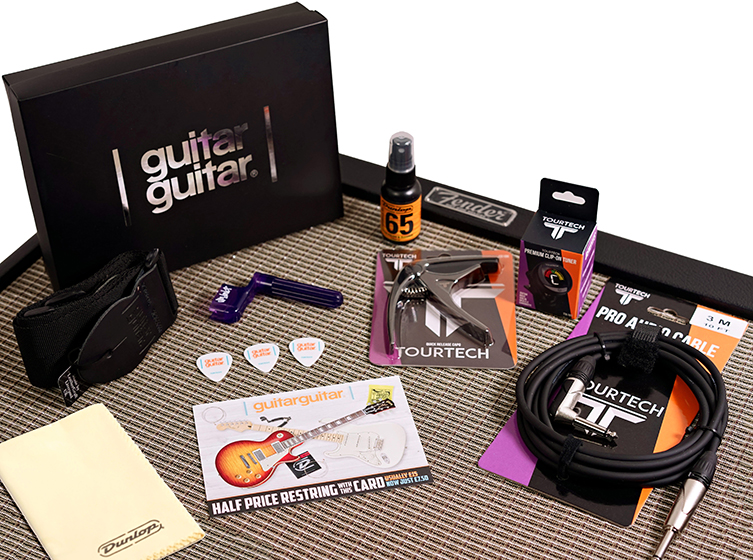 We've also put in a bottle of genuine Dunlop Formula 65 guitar polish and an accompanying Dunlop logo polishing cloth. Formula 65 polish leaves no nasty residue and smells absolutely AMAZING. We can predict a need for daily guitar polishing with this stuff…
Lastly, we have a brilliant 3m (ten feet, roughly) Tourtech instrument cable! The TTIC-N3PLR has an angled jack for added versatility. You can't have too many cables and this is a super-handy length: not too long to trip over in the house, not so short it's useless. Perfect again!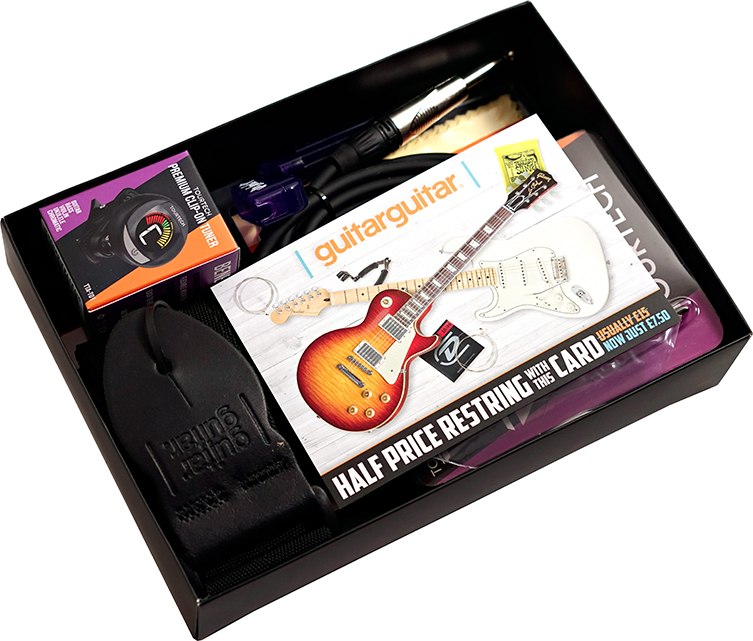 There we have it: two specially prepared packs of guitary goodness for you to buy and give to the guitarist in your life. Regardless of the level of experience, this is all stuff that guitarists need so you can be confident that your gift of a guitarguitar Gift Pack will be most appreciated by the recipient! These packs are available online and in every guitarguitar store. Merry Christmas!