The guitarguitar Guide to PA for Solo Performers
Published on 05 December 2018
Something we get asked about a lot here at guitarguitar is how to set up an effective PA system. In this particular article we will be focusing on how to put together and use a portable PA system for Solo Performers. You could be an acoustic singer-songwriter playing the local pubs and clubs, a busker or a Cher tribute using backing tracks! Whichever one may apply, there's something to take away from this article.
Amplification
First off, let's talk about probably the most important part - AMPLIFICATION! If you don't have any, nobody will be able to hear your excellent music! There are plenty of great portable PA systems available at many price points. Portable PA systems have become increasingly popular over the years with solo performers and mobile DJs. This is all thanks to the systems being really lightweight while still packing a punch in terms of power and sound quality.
Portable PA systems generally feature a microphone input and instrument input, accomodating a guitar and vocal microphone. This can vary from unit to unit though, and they each have their own benefits to offer.
Let's take a look at some of the best options available to you as a solo performer!
Roland Cube Street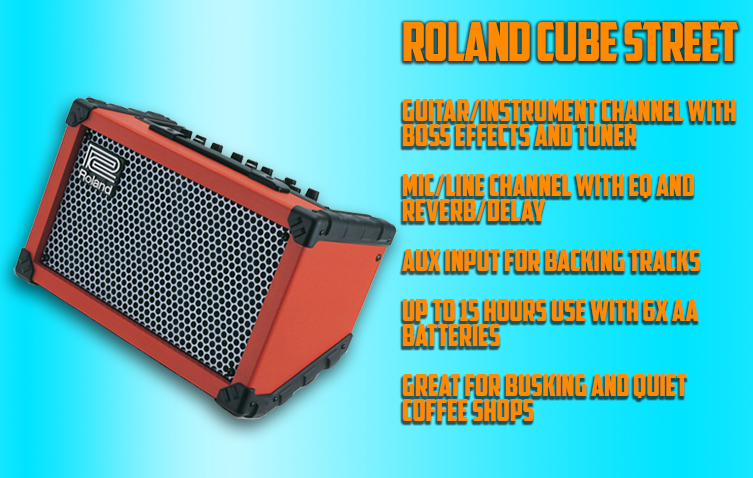 A popular option amongst buskers is the Roland Cube Street. It's very affordable and has inputs for a guitar, microphone and mp3 player. The Cube Street features a 3 Band EQ and Reverb / Delay on the microphone channel, allowing you to easily sweeten those vocals up. The guitar channel is probably the most interesting part on this busking amp. It features a multitude of Boss Amps and Effects and a built in chromatic tuner. If you happen to use electric guitar, you can leave the pedal board at home with this amp!
The Cube Street can also run on 6x AA Batteries or mains power making it very portable, with a long battery life of up to 15 hours. This is one of our favourite small portable systems for busking due to it's features for guitar and excellent value for money!
Bose S1 Pro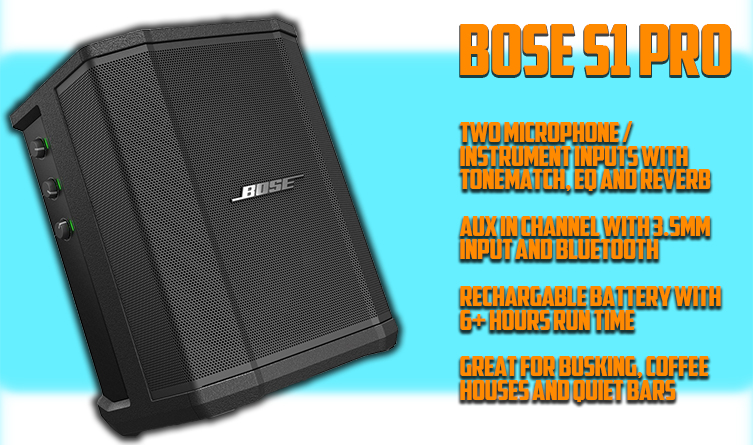 Next up is the Bose S1 Pro. The S1 Pro is a high quality portable PA system, featuring an on board 3-Channel mixer with ToneMatch, EQ and Reverb on 2 of the channels. ToneMatch is Bose's patented technology that does a bit of magic and automatically optimises the sound of your guitar or microphone. The first 2 Channels are great for connecting microphones or instruments to all of this. The 3rd channel is great for playing backing music, as it features an Aux In and Bluetooth connectivity. The Bluetooth feature is super handy as it lets you take your playback device around with you or keep it in your pocket. No need to leave it laying around!
The Bose S1 Pro can be angled in multiple positions, or mounted on a speaker stand and can get surprisingly loud! Our favourite part about it, is that you can plug in your equipment and get a great sound within a matter of seconds. The S1 Pro also features a built in rechargeable battery that can last up to over 6 hours. This is an excellent option for busking and performing in venues such as coffee shops and small bars.
Bose L1 Compact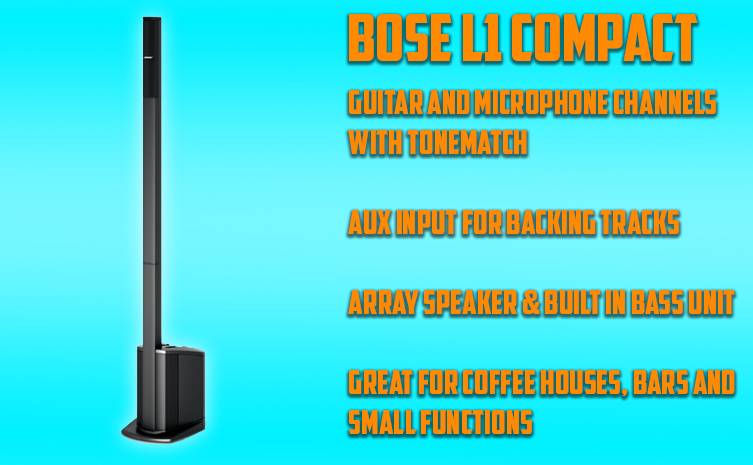 If you need a bit more power, the Bose L1 Compact is one of our most popular systems. This is still a very portable system, and will give you enough power for larger venues up to around 100 people. Featuring a microphone channel and an instrument channel both with ToneMatch, as well as an Aux Input for playing backing tracks, it has plenty of connectivity options.
Due to it's array speaker and built in bass unit, the L1 Compact will give you an even spread of sound across the room and a solid amount of volume. With this system you would need access to a mains power outlet, but that's because it's too powerful to run off a battery. This particular system is great for coffee houses, bars and small functions.
FAQ
Q: How can I monitor myself while performing?
A: The easiest way to do this is to position your speaker so that it is behind you in some capacity. Although, you don't want to stand directly in front of it, as this will affect the sound your audience hears and potentially damage your ears! A suitable minimum distance to stand in front of the speaker would be around 3-5ft, depending on how loud you're turned up.
Microphones
You're going to need a microphone for picking up the sound of those angelic vocal cords you have at your disposal. Most portable systems have a microphone preamp built in, and you can run a dynamic microphone directly in with a standard XLR-XLR Microphone Cable. Simples!
There are plenty of great choices available. Here are a couple of our favourites:
Shure SM58
Long hailed as the industry standard vocal microphone, the Shure SM58 is always a solid pick. They sound great and are pretty much indestructible. If you're after something a bit more substantial, check out the Beta 58A!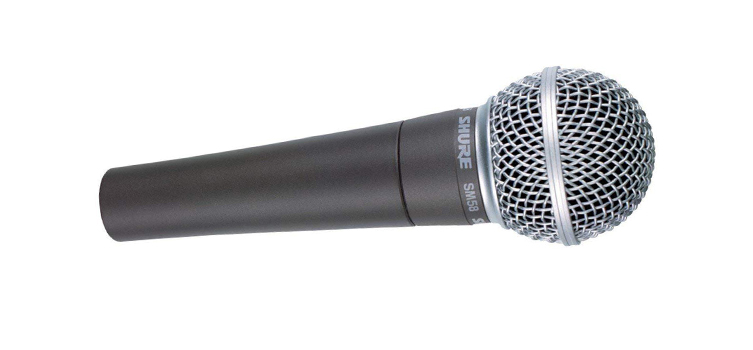 Sontronics Solo
Sontronics microphones are something we like to think of as somewhat of a hidden gem. They are very high quality microphones that sound fantastic, look the part and include a lifetime warranty! The Solo is a great choice, featuring a super-cardioid pattern and not really requiring much EQ. We're big fans of this microphone here at guitarguitar!
Vocal Effects
Vocal effects can be a very handy tool to have at your disposal as a solo performer. Pedals these days can provide effects like reverb and delay, pitch correction/autotune and backing harmonies at the press of a button. Some can even read the song key automatically by playing your guitar through it. These can really beef up the production quality of a solo performance.
Here are a couple of our favourite picks:
BOSS VE-2 Vocal Harmonist Pedal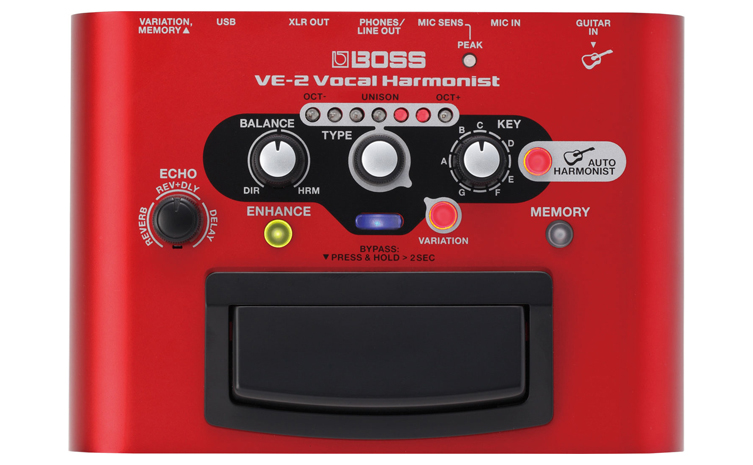 The BOSS VE-2 is a great compact vocal pedal. It can add two backing harmonies to your voice and a mix of reverb and delay. You can set the key you're in manually, or it can read the key by running your guitar through it. Using the auto harmonist feature is recommended if you play guitar, as some songs might have key changes and it also stops you having to bend down to change key between songs.
BOSS VE-500 Vocal Performer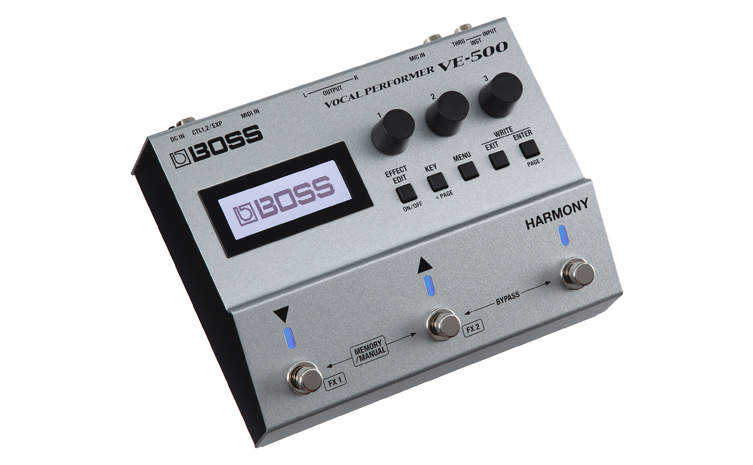 The BOSS VE-500 is perfect if you really want to kick the production quality of your performance up a notch. It offers pitch correction and harmonies, as well as other effects like distortion and filtering. The on board reverbs and delays are also top class. You can go for subtly sweetening your voice to changing the sound of it completely! This is optimised for use with a guitar, but still provides a ton of options for those who don't perform with one.
Connecting it all together!
Lastly, we've just got to put it all together. Cabling in this type of setup is extremely simple. All you need is an XLR-XLR cable for the microphone to the speaker, an instrument cable to connect your instrument of choice and a minijack to minijack cable to connect an MP3 player, phone etc for playing any backing music.
In the case you are using vocal effects, you would simply run an XLR-XLR cable from your microphone to the pedal, then another XLR-XLR cable from the pedal to speaker.

We hope this guide helps you to understand how to put together a PA setup for Solo Performance. If there's anything you're unsure of, please don't hesitate to get in touch with our helpful team!