Offer: Blackstar HT-5R only £299!
Published on 07 January 2019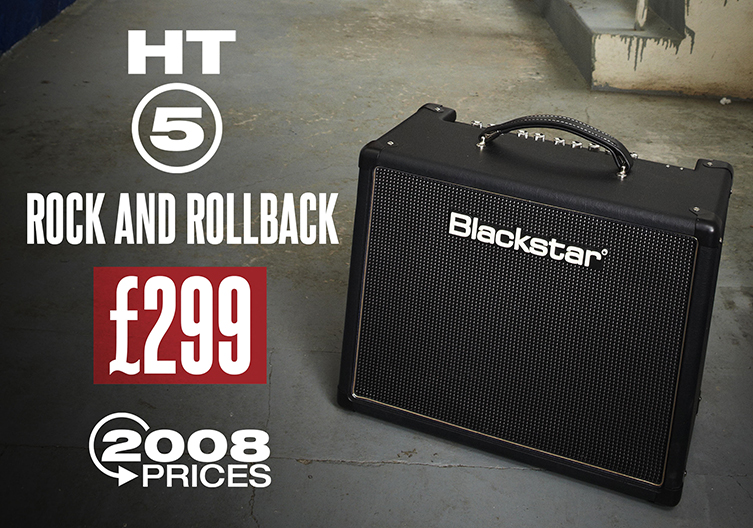 Up there with our most popular amp brands, Blackstar's timeless tones often provide the soundtrack to our stores. Bringing a huge range of products to the table, covering pretty much every price range and taking absolutely no prisoners while they're at it, Blackstar's loyal army of players will accept so no substitute for a reason... These amps really are that good. Covering everything from blues to metal, we love nothing more than showing off our selection and hearing you guys try them out, so we'd thought we'd draw your attention to a particularly unmissable bargain!

Right now, as part of Blackstar's Rock and Rollback promo, we're giving you the chance to save £160 and take home a Blackstar HT-5R for only £299! Providing a seriously impressive tonal range, these two channel, footswitchable 5w valve amps are an excellent option for either practice or studio use. The clean channel on the HT-5R offers a lovely voice with loads of clarity and of course, we all know about the signature Blackstar overdrive which will see you from a light breakup right through to a scorching lead tone. On top of this, the push-pull design of this amp even allows you to tap into the crunch and break up you're used to hearing live without forcing you to deafen yourself or your neighbours! Also featuring an effects loop with an effects level switch and a lovely sounding stereo reverb, this is a fantastic option for anyone looking to tap into the perfect tone at home or for recording. You can even use it to play along to backing tracks via its stereo MP3 / Line Input!
If you've plugged into a Blackstar before, we've no doubt that you already know what they can do but if not, take it from us, these amps pack a punch. No matter your taste or playing style, we'd very much encourage you to get down to your local store and plug into an HT-5R. We see this as an excellent price for a really solid piece of kit at an even more excellent price so don't miss your chance to bag one for yourself!