Events: Bill Kelliher Meet and Greet
Published on 10 January 2019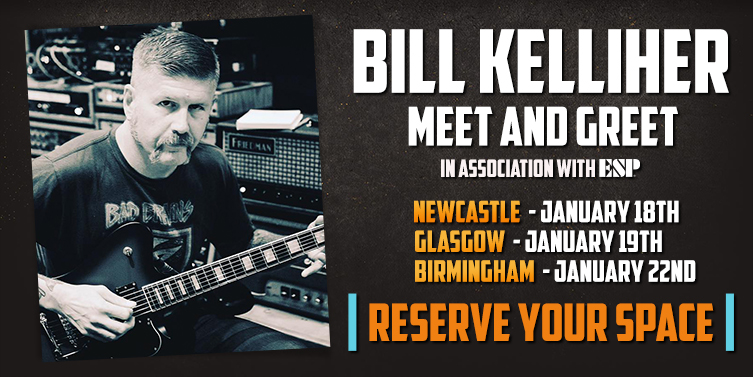 Among the most mammoth names in metal, we're sure you guys will need no introduction to Mastodon or their mighty guitarist Bill Kelliher. Dishing out frighteningly tight riffs (and rocking one of the finest moustaches in the game while he's at it), Bill's influence on the scene is absolutely undeniable. Never failing to do things his own way, his playing takes no prisoners with an extremely intricate yet fierce style that's pretty incredible to witness. We're massive fans of both Mastodon and Bill himself and since he's recently teamed up with ESP and released some seriously cool signature models, such as his LTD Sparrowhawk, we thought it was only right that we asked him along to a couple of our stores!

We're very pleased to announce that Bill Kelliher himself is going to be dropping by our Newcastle (18/01/19, 4:15PM - 5:15PM), Glasgow (19/01/19, 5:00PM - 6:00PM) and Birmingham (22/01/19, 5:00PM -6:30PM) stores for exclusive meet and greet/signing sessions before the band's gigs. If you're heading along to the shows or even if you weren't lucky enough to bag yourself tickets, this is the perfect opportunity to hang out with a truly legendary figure in modern metal. Let's face it, it's not every day you get to meet a guitarist who has made quite the same impact as Bill so why not join us to see what he has to say and get your favourite album signed while you're at it?

Reserve your FREE space for Newcastle now by clicking HERE.
Reserve your FREE space for Glasgow now by clicking HERE.
Reserve your FREE space for Birmingham now by clicking HERE.

Check out Bill chatting about his ESP LTD Sparrowhawk below!