Events: Live Stream with Björn Gelotte at guitarguitar Camden
Published on 11 January 2019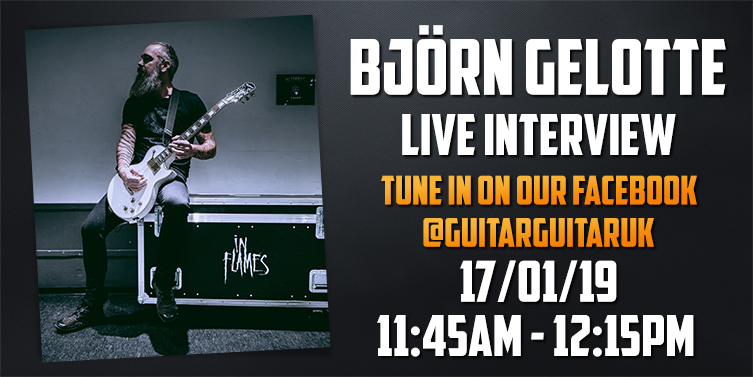 Selling over 2 million albums worldwide and boasting a huge back catalogue packed with more tasty lead riffs than we'd care to count, we're big In flames fans at guitarguitar! Their signature style is driven by guitarist and songwriter Björn Gelotte's killer playing and their heavy, yet melodic sound is instantly recognisable, earning them an army of fans across the globe. Enough of a rocker to incorporate a bottle opener into his ltd edition Epiphone signature, Björn has always been up there with our favourite modern players and was even featured in Guitar World's Greatest Heavy Metal Guitarists of all time. So, when we heard that the band had a new album coming out, we jumped at the opportunity to bring in Björn for a chat!

On the 17th of January at 11:45AM (17/01/19), Björn Gelotte will be stopping by our Camden store for an exclusive interview in association with Nuclear Blast! Discussing the band's brand new album The Mask, his playing techniques, his gear and much more, we really can't wait to hear what he's got to say. So, if you love the band and can't get enough of Björn's playing then make sure you don't miss the stream!
To tune in to the interview, head over to our Facebook page @guitarguitaruk

Check out the latest single from In Flames below:
To keep up with all of the latest news, music and more from In Flames, check out their Facebook: facebook.com/inflames/
In Flames new album 'I, The Mask' will be released on 1st March via Nuclear Blast. They will be touring the UK in April and you can pre-order the new album by clicking here.