Offers: 24 Months 0% Finance on Taylor Guitars Over £999!
Published on 01 April 2019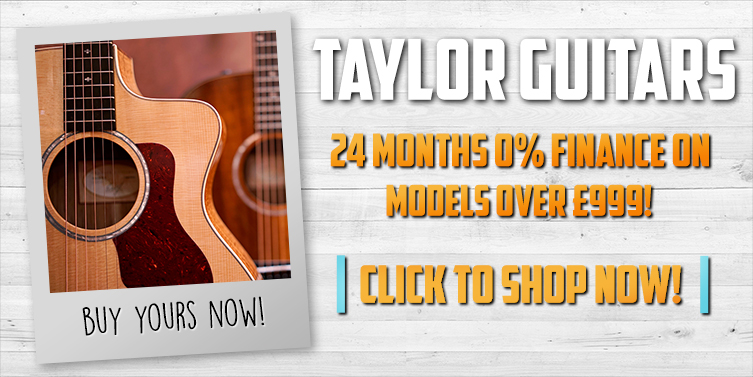 There aren't too many brands that can boast the consistency and influence that Taylor Guitars can. Their instruments are renowned worldwide for their quality and every single model to come out of their factory is of such an incredible standard that we consider them to be one of the most reliable manufacturers in the market. With their own unique sound and feel, along with a desire to constantly push boundaries and come up with new ideas, Taylor's name has been marked in the history books and will remain there for years to come. We're always eagerly awaiting their latest arrivals and right now, we have a pretty fantastic promotion for anyone who fancies being part of Taylor's legacy.

Throughout the month of April, all new Taylor guitars priced at £999 or above are eligible for 24 months finance at 0%! If you've been saving up and simply can't wait any longer, this is the perfect opportunity to take home your dream guitar straight away.
To take advantage of this promo, simply select the guitar you've been eyeing up and click the blue 'View Monthly Finance Offer' tab on the black Finance box which sits to the right of the guitar's main picture. Once you've done so, read over the details and then fill out the section at the bottom. After that, click the 'Apply for Finance' button and you'll be on your way!
You can also take advantage of this offer in store: simply talk to a member of staff about it and let them guide you through the process.
Taylor really do make some of the best acoustics on the planet, so don't hang about - grab your next favourite guitar with 0% over the next two years!