Events: Taylor New Model Showcase in Glasgow and Birmingham
Published on 04 March 2019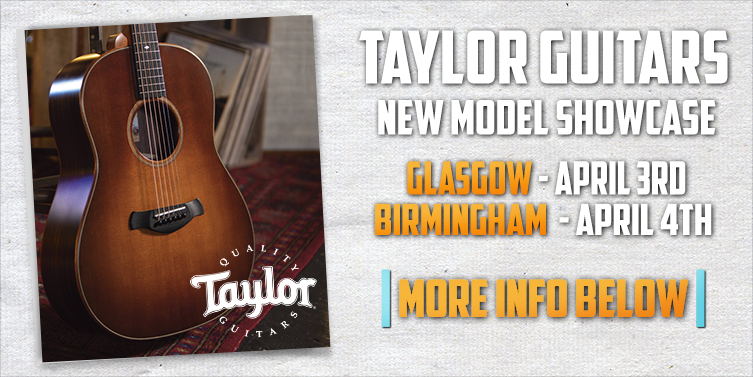 As you may have noticed by our jaw-dropping range of acoustics, we're pretty big Taylor fans here at guitarguitar! No matter what your preference, we've got a model to meet your needs and budget but, to be honest, it's Taylor who deserve full credit for that. With a huge lineup of gorgeous guitars for every type of player, Taylor may have started their journey in 1974 but as their 2019 NAMM offerings have proved, they don't plan on slowing down anytime soon.
Rather than shying away from new designs and playing it safe, the guys at Taylor were hard at work on a new body shape to release at this year's show. The result was the innovative Grand Pacific range - a lineup which adapted the classic dreadnought shape to provide additional clarity and an even fuller sound. Given that they'd already taken the bold step of redesigning some of their most classic shapes with the recent V-Class series, Taylor certainly don't seem to have run out of ideas and we absolutely love the fact that their builders are still pushing themselves to produce some of the most cutting edge gear on the market.
In fact, we've been so impressed with the latest arrivals from Taylor that we thought it was only right to invite you guys along to try them out!

We're very pleased to share that the Taylor Experts are visiting our Birmingham and Glasgow stores for two New Model Showcase events! Bringing along the most exciting models from their all of their latest ranges, including the Grand Pacific, V-Class, Grand Concert, Builder's Edition and more, this is the ultimate opportunity to geek out over all things Taylor.
We'll be getting hands-on, giving you all the chance to play their instruments and hear the difference between each model. If you'd like to go a step further, you can even join us for a personal consultation with a Taylor factory expert who'll spend some time finding the perfect guitar for your playing. On top of that, the guys will be armed with some free goodies to give away, so make sure you don't miss out on some free Taylor swag! We always have a blast at these events and with such an impressive lineup this year to check out and so many exciting new models, we truly cannot wait to get stuck into these - why not come along and have a jam with us?

You can reserve your FREE tickets now by clicking here!