Events: Taylor Takeover Day at guitarguitar Newcastle - WIN a Taylor Academy 10e!
Published on 21 February 2019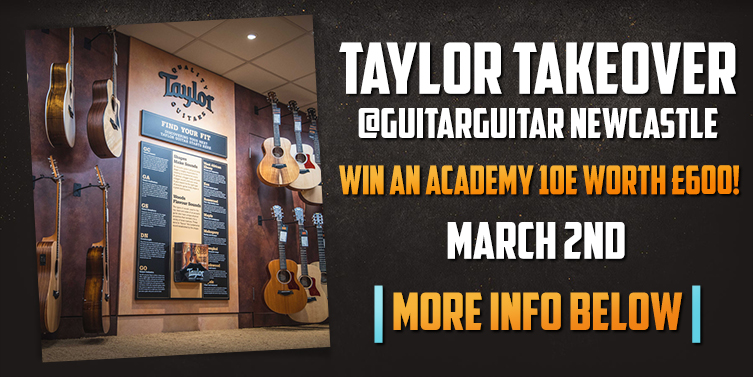 Now fully equipped with a dedicated Taylor section, visiting the acoustic floor of our Newcastle store is a pretty breathtaking experience, even if we do say so ourselves! Not only is there a huge selection of their tremendously crafted instruments for you to try out but you can also learn about the brand's rich history and the design process behind each model. With plenty of their latest innovations and releases on display, along with all of your old favourites, we have an unrivalled range of stunning guitars from the brand, all ready to be picked up and played.
With such a stunning lineup, the team in Newcastle are always desperate to show them off, so we thought we'd bring the guys from Taylor along to help them do it right...

We're pleased to announce that on the 2nd of March (02/03/19, 10:00 AM - 5:00 PM), we're welcoming Taylor experts Paul Chalder and Dan Boreham to our Newcastle store for a Taylor Takeover! They'll be bringing along all of their latest models for you to try out, including some very exciting pieces fresh from NAMM 2019 and this is a fantastic opportunity to hear them side by side. If you've always wanted to try out one of the brand's fantastic guitars, this is the time to do it and get some advice from the specialists when you're at it.
That's not all though... Not only will Paul and Dan be bringing along an astounding selection of guitars and plenty of Taylor goodies for you to get your hands on, we're also giving you the chance to WIN a Taylor Academy 10e guitar! Normally worth £599, these are excellent acoustics and all you need to do is pop into the store on the 2nd to enter.
Simply let one a member of staff in the store know if you want to get involved - they'll take a note of your email address and you could end up with a brand new guitar! It doesn't matter if you're a lifelong Taylor player or have just always fancied playing one, we'd love to see you, so come and join us for what we already know is going to be an awesome day.

There's no need to reserve your place, just turn up between 10:00 AM and 5:00 PM and start playing!

Learn more about the Taylor Academy series and the 10e that's up for grabs below: