A Closer Look: Martin 17 Series
Published on 22 February 2019
Martin guitars are one of those aspirational brands. Full of heritage and legitimate innovation, the story of Martin guitars is, in many ways, the story of acoustic guitars themselves. We've all grown up watching legends like Neil Young, Eric Clapton and Bob Dylan carve out unsurpassed career paths wielding their favourite Martin & Co acoustic guitars. Martins have been around since before the dawn of modern music, to the age of Rock 'v' Roll, the hippy revolution, Nashville's dominance of Country music and Grunge's 'Unplugged' years. Through all stages of modern history, Martin guitars have been there to document and pay testament to life through music and songwriting. Their significance cannot be underestimated.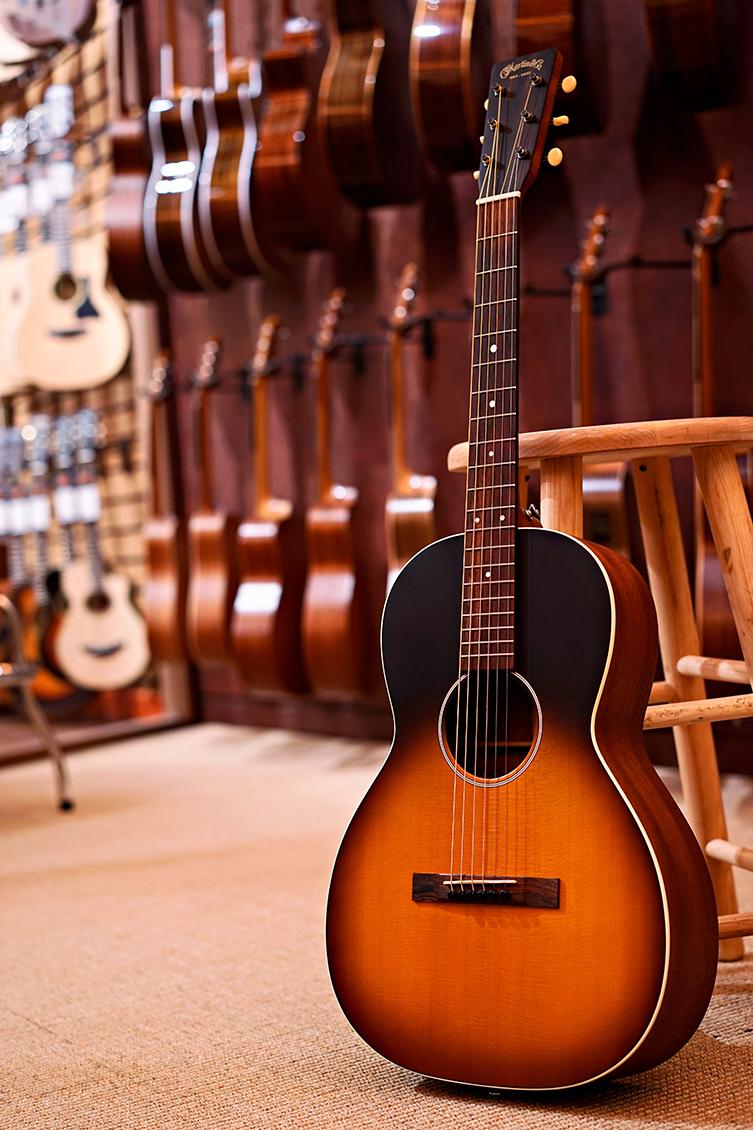 We all have our favourite models from the classic years, whether it be the D-28, the HD-35 or the 000-42. Martin are not a company to rest on their considerable laurels, though. Recent guitars like the DRS-1, the D-45 Re-imagined, the LX-1 and the Ed Sheeran Signature models show that Martin are as innovative and as popular as ever.
One such range that has gotten us excited is the 17 Series. At first glance, this group of stunning guitars look like reissues from some semi-mythical golden age. Slope-shouldered 00 models, Grand Concert body shapes, finishes like 'Whiskey Sunset', old-world styling...all of these elements bring a pre-war, Prohibition-era vibe to the 17 range. This fits in extremely well with Martin's heritage as a dominant force in the early stages of the guitar's development as an instrument.
As a range, the 17 series all have smaller bodies and shorter 24.9" scale lengths. There are no Dreadnoughts here! This is to help establish them with their own identity and invoke that time when well-dressed musicians carried their guitars with them everywhere, opening their case wherever they found themselves and playing on the dusty streets of Depression-era America. It's a rich and heady image for sure, one that Martin ably back up with their usual levels of build quality and finishing. These are simply superb guitars!
Let's take a little look at one or two of these. First up, let's pass a glance at the 00-17SE in Whisky Sunset. The 00-17SE is a Grand Concert model made with Solid Spruce and Mahogany. This guitar has a considerable amount of charm, not least with that 12th fret neck joint which puts the sound-hole relatively far from the guitar's shoulders. It's a really 'vintage' design, and we can imagine people like Tom Waits sitting in the back of an old Ford pickup truck with one of these, playing a slow and slightly unorthodox Blues!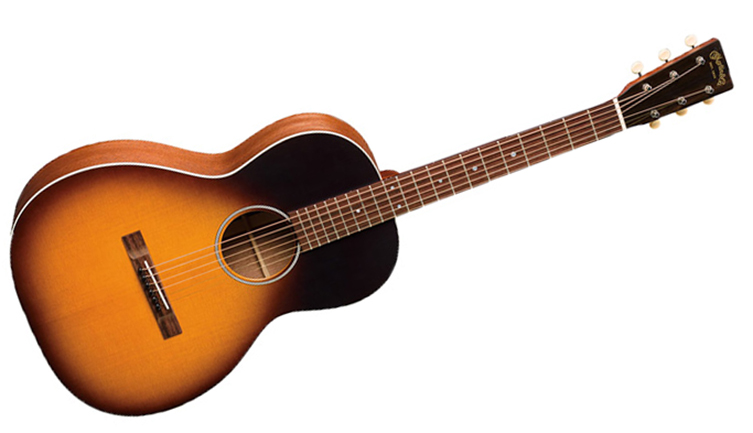 We've chosen to check out the Whiskey Sunset model to highlight that finish: It's a deep and rich Tobacco-style sunburst that's applied to the top only, leaving the guitar's Mahogany back, sides & neck with a natural stained lacquer. We love this! There is so much character to this guitar: it looks and feels like it's been brought to us in a time machine!
The neck has an agreeable oval profile that tapers out in Martin's 'High Performance' manner. Also included, discreetly we might add, is a Fishman VT Enhance NT1 pickup system. We probably don't need to say that Fishman are one of the best in the business when it comes to acoustic pickups so you can be assured that you'll sound as good as you look when you bring this onto your stage.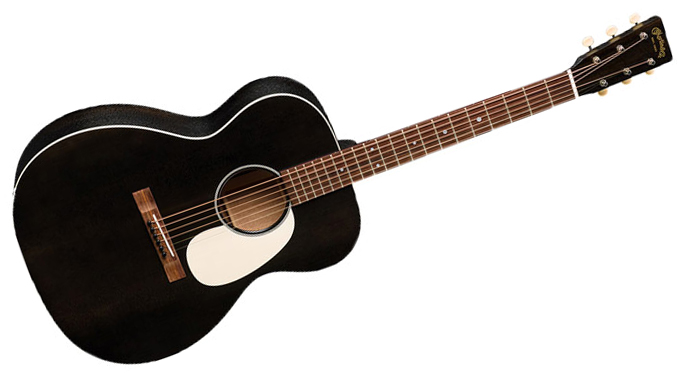 The other guitar we'd like to peruse briefly with you is the 000-17 in Black Smoke. The 000, or 'Triple-Oh', is one of Martin's most widely used body designs. It's smaller than a dreadnought with a tighter waist but has a surprising level of volume and projection. Blues players and fingerpickers love the 000.
This model, like the rest of the 17 Series, is made with solid Sitka Spruce and Mahogany. This combination gives you a powerful blend of top end sparkle and mid frequency strength. There is a balance to the tone here that will definitely satisfy.
'Black Smoke' is a matte Black and it looks terrific with the accompanying white binding and pickguard! The same type of neck we encountered on the 00-17SE is here, though you get more fretboard clearance with this model since it joins the body at the 12th fret.
There is no pickup in this model: it's a true acoustic for those who want pure vintage verisimilitude.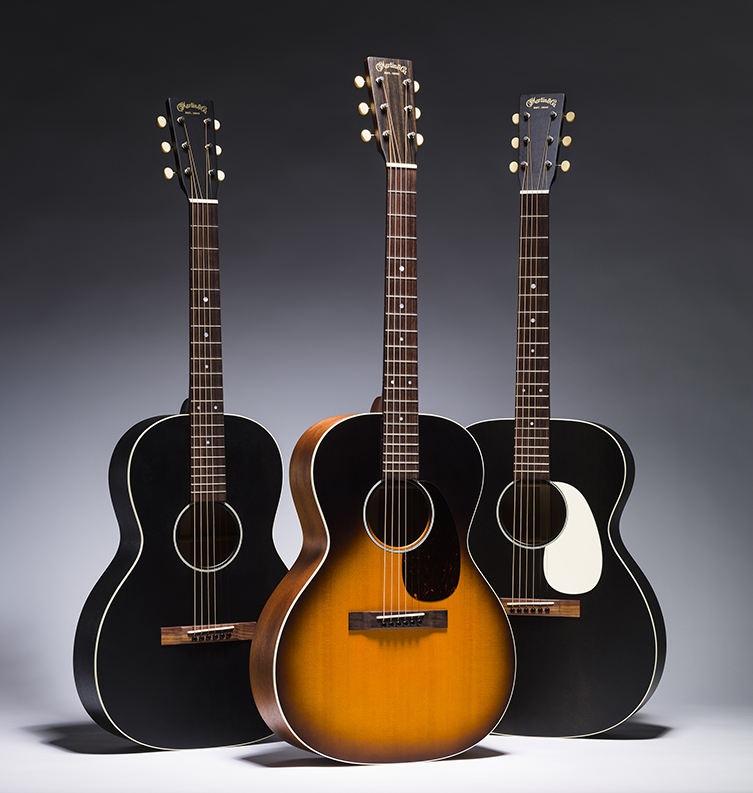 Of course, these are not vintage reissues: they are contemporary models bringing together many of the best features we love and covet about Pre-War Martin acoustics, putting them carefully together and preparing a feast for fans of acoustic guitars.
We currently have stock of several guitars in the illustrious 17 Series, available at very special prices! We think they are worth their weight in gold already, so we are very excited to bring these guitars to you at the kinds of prices they are currently sitting at. We invite you to check them out today! Browse the range online here or, better still, adjust your trilby to the most rakish angle possible, dust down your walking shoes and head to your nearest guitarguitar store to try these out in person! We daresay you'll be likely to walk home with a spring in your step and a Martin guitar case in your hand!