Events: An Evening Of Martin Guitar History at guitarguitar Camden
Published on 06 March 2019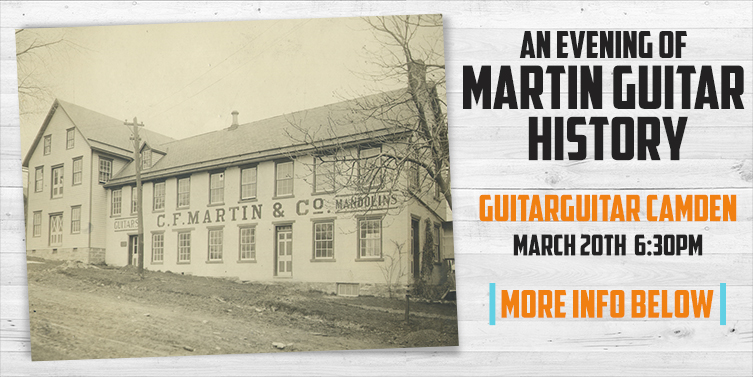 When it comes to acoustic guitars, there aren't too many companies who can rival Martin's contribution to the industry. Constantly innovating and pushing limits, their guitars have become an integral part of music history and remain a first choice for countless recording and touring artists across the globe. Several of our stores feature dedicated Martin areas where you can try out a wide range of models and if you haven't done so already, we'd thoroughly recommend stopping by your local guitarguitar to check out their selection. The beauty of Martin's instruments is their individuality and each model really does have its own distinctive voice, tone and aesthetic that you have to experience for yourself.
With a legacy as impressive as their guitars, Martin began their journey in 1833, so it maybe shouldn't come as a surprise that they're such masters of their craft. The company is family owned to this day and six generations later, their sublime instruments are even more impressive than ever. Combining their traditional building methods with modern techniques, Martin have never been anything less than cutting edge and a look into their factory is all the evidence you'll ever need of their builder's dedication to their craft. We always end up chatting to our customers about the story behind their guitars and we were keen to learn more about this truly legendary manufacturer, so we've decided we'd invite you along to do the same.

On the 20th of March (20/03/19, 6:30 PM), we're taking a voyage into the fascinating history of one of our favourite manufacturers, Martin Guitar. We'll be joined in our Camden store by Martin experts Greig Dunning and Tommy McGinley, who'll be exploring the companies humble beginnings, greatest achievements and everything in between with an entertaining evening of facts, anecdotes and all the guitar chat you can handle. That's not all though, there'll also be a massive selection of guitars for you to get stuck into after the store has closed. With all of your favourite models along with loads of brand new beauties, including the latest Sinker Mahogany arrivals from Martin's Custom shop, this is the perfect chance to try out a huge range of these outstanding guitars in a chilled out, relaxed environment. You can even chat with the experts about them while you're at it!
We know that you guys love these incredible instruments just as much as us and can't wait to spend the evening discovering more about what makes them so special and unique. If you own one of their guitars, or just grew up watching your favourite musicians playing them like so many of us did, make sure you don't miss what promises to be a really special evening for Martin lovers!
Tickets are limited to this event so make sure that you sign up early to avoid disappointment.

Click here to reserve your space now!


Can't wait for the event? Take a look at Martin's Ballad of the Dreadnought documentary below!