A Closer Look: Squier LIMITED EDITION Vintage Modified 70s Stratocaster in 'Smashed Avocado'
Published on 11 March 2019
Squier. A brand known to almost every guitarist on the planet. So many of us began our journey on a Squier guitar, or perhaps dreamt of a Squier as we mangled our fingers on something somewhat lesser. Squier have always been the first and best choice for players looking to score some authentic Fender attitude without sinking a significant amount of cash. We love Squier for that!
Clued up players of experience will also love Squier. It's a fact that the quality levels of the components and workmanship has never been better, meaning that current Squier guitars are now legitimate choices for the stage and studio, not a mere budget option. With funkier designs, more interesting colours and combinations of features unavailable elsewhere, Squier have long since been a brand to watch in their own right.
Squier's official status as Fender's younger sibling allows them to use authentic body and headstock designs, meaning for example that a Squier Telecaster is a bona fide Telecaster and not a Tele copy. This currency goes a long way in the world of guitars.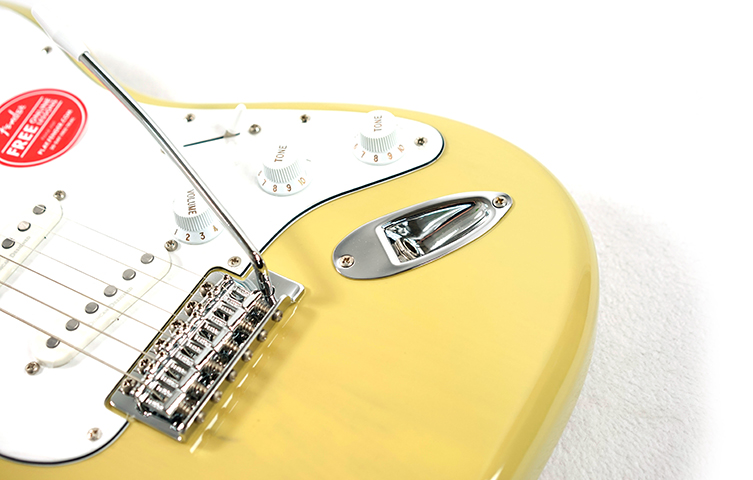 Nowadays, Squier have various ranges available to the guitarist, depending on the type of instruments required. Classic Vibe guitars seek to roughly emulate specific vintage period Fender guitars. The Affinity series and the Bullet series are the most affordable entry-level Squiers. Vintage Modified plays on the habit guitarists have of taking older guitars and modding them to have different pickups and finishes. The Contemporary Active range has high-output active pickups and flatter fingerboards for modern metal players, and there are even signature model Squiers for the likes of Rob Zombie's John 5 and Dinosaur Jr's J Mascis! These are definitely different days for Squier.
The one we'd like to look at today with you is from the Vintage Modified range. We currently have EXCLUSIVE stock of a special 70s-style Stratocaster with a VERY limited-edition colour! Called 'Smashed Avocado', this finish sits somewhere between Vintage Blonde and something slightly darker like Fender's Desert Sand colour. It stands out from the crowd, yes, but in a way that looks appropriate for a vintage-style Strat. The finish is slightly translucent so you can see the wood grain of the Basswood body underneath. It's a beauty indeed, with a very appealing uniqueness to match.
This Strat in this particular colour is a guitarguitar exclusive: it is not available anywhere else on the planet! This is the only time this run will happen too, so once they're gone, they are really gone!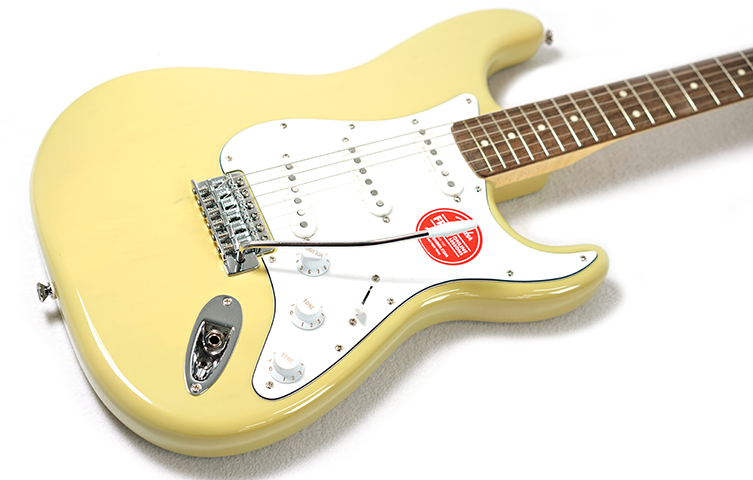 Okay, so the colour is great. But what else sits this particular Vintage Modified Strat apart from Squier's more standard Stratocasters? Let's have a brief look.
In terms of style, this Strat has the large 70s 'CBS'-style headstock with the appropriate type of logo decal. The truss rod is (thankfully in our opinion) the standard hex key style, as opposed to the more vintage-correct but hassle-worthy 'bullet' truss rod. Access is from the headstock so that's nice and straightforward, too.
Squier have also opted for a 4-screw neck join over the less secure 70's style 3 bolt method. Again, sense prevails! The neck itself is Maple, cut to a comfortable C profile and topped with a 21 fret fingerboard made from Indian Laurel. This wood is gradually becoming the de facto choice for affordable guitars that once would have used Rosewood.
Medium jumbo frets and a 9.5" fingerboard radius again defy historicity in favour of playability, something we are more than happy to see on a Squier instrument. This is a retro-flavoured guitar to be put in the hands of a large number of players, not a museum piece for aficionados. In our opinion, Squier have the balance right. This guitar brings results.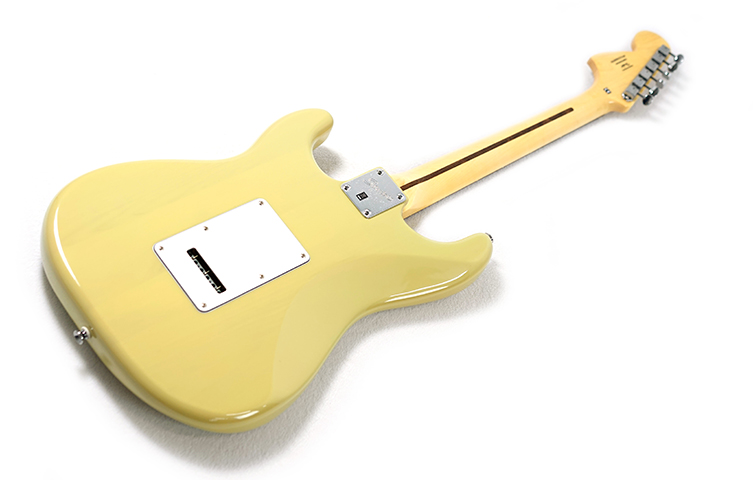 Elsewhere, we are treated to some high-quality pickups. These single coils are 'Duncan-Designed'. This means that Seymour Duncan have licensed specific pickup designs of theirs to the Squier factory to build for themselves. Though these are not Seymour Duncan pickups (the difference in the quality of magnets and other components mean these are not quite the same standard as the hand-made USA Seymour Duncan pickups), they are a significant step up from standard 'stock' pickups you'd find on most East Asian guitars from this price range.
To be specific, these pickups are Duncan Designed SC-101 single coils. They are made with proper Alnico 5 magnets and are individually calibrated for bridge, middle and neck positions. The pole pieces are all flat. We think these units deliver plenty of the Strat's desirable snap and glassy tone, making this a guitar with a much more mature tonal palette than the price would suggest. You also get that great 'quacky' in-between pickup sound so beloved by funk meisters like Nile Rodgers.
So, this Limited-Edition Stratocaster is very affordable, very playable and sounds excellent. The looks are classic 'Fender' with just a little twist, and they are completely exclusive to us here at guitarguitar. We are always happy to bring you special runs of guitars that no-one else has, but it isn't often that we can do this with such low-priced instruments, especially of such obvious quality! We love these Strats and suggest that, if you do too, get stuck in quickly! All of our guitarguitar stores should have stock as this blog goes online, plus of course, you can order directly from the site. Check out the Squier Vintage Modified 70s Strat in Smashed Avocado here!