Events: Greg Koch Clinic at guitarguitar Newcastle
Published on 12 March 2019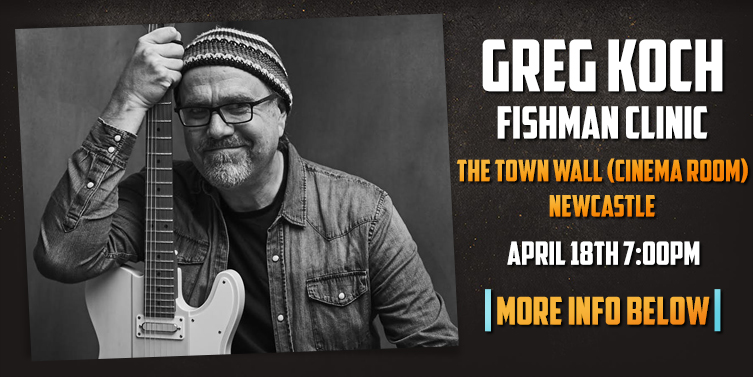 Exceptionally talented and forging a name for himself online through his playing, Greg Koch has become something of a modern-day guitar hero. There aren't too many guitarists who can turn their hand to such a variety of styles and do so convincingly but then, Greg's knowledge runs deeper than most. With an arsenal of techniques that would drop the jaws of the most seasoned players, we're massive fans at guitarguitar and find him not just incredible to watch but a fantastic guitarist to learn from. Getting props from legends such as Joe Bonamassa and even making Fender's "Top Ten Unsung Guitarists" list, his playing videos, guitar demos and appearances have rightfully amassed him a loyal following of guitarists and we consider Greg to be among the most versatile and captivating players in the game.
Not just satisfied with blowing minds on the guitar either, he's a contributing columnist for a variety of magazines including Premier Guitar and Guitar Player Magazine, which actually listed Greg's "Chief's Blues" in their "40 Badass Blues Solos You Must Hear". Also known for his work with Fishman, one of our favourite pickup brands, Greg's clinics have always been pretty incredible to check out, so when we got the chance to have him pay us a visit, we absolutely jumped at it.

On the 18th of April, we're very excited to share that Greg Koch is visiting The Town Wall (Cinema Room), Newcastle, for a guitar clinic in association with Fishman! Showcasing Fishman's acoustic amplification products and Fluence® Multi-VoiceTM Pickups for electric guitar, this is an excellent opportunity to see what the brand's innovative gear can do. Greg will, of course, be doing plenty of playing while also chatting about his techniques and setup, so this is the perfect chance to observe and learn from a true master of his craft. If you've been thinking about adding a Fishman pickup to your setup or simply fancy checking out an unspeakably talented guitarist in the flesh, join us for what we already know is going to be an incredible night of music!

Click HERE to book your FREE tickets now!

The Town Wall (Cinema Room), Pink Lane, Newcastle upon Tyne, NE1 5HX

Can't wait for the event? Check out Greg rocking out the Fishman area at NAMM 2019 below!