Events: D'Addario Restring Day at guitarguitar Edinburgh
Published on 13 March 2019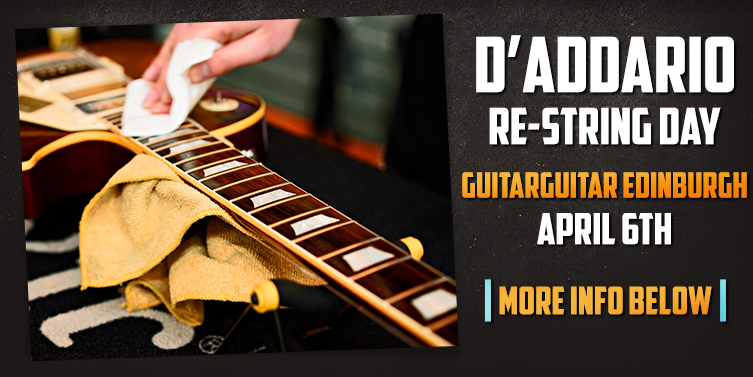 There's nothing that quite beats a brand new set of strings on your guitar and pulling off an old worn out set is a truly refreshing feeling. Now, everyone has their preference when it comes to their preferred gauge and brand, but we'd like to draw your attention to one of our favourite manufacturers, it is, of course, the fantastic D'Addario. With artists as legendary as Joe Satriani, Mark Knopfler and Lenny Kravitz all on board with D'Addario's strings, it's no secret that these are among the best on the market and we thought we'd give you guys the chance to try them out.

Between 10:30 AM and 5:00 PM on 06/04/19, we'll be joined in our Edinburgh store by D'Addario specialist Adam Ironside to let you guys experience what the brand has to offer. He'll be answering questions, running through their range of products, giving out some free goodies and pretty much chatting about all things D'Addario. But, that's not all...
We're also giving you the chance to have your guitar restrung with a set of D'Addario EXP, NYXL or Nickel Bronze strings for free! We rate these as some of the hardest wearing, best playing strings on the market and would thoroughly recommend taking advantage of this opportunity to have your guitar kitted out by an expert. Whether you have an electric, bass or acoustic guitar, you're more than welcome to come along but be warned, places are expected to fill up pretty fast, so reserve yours now to avoid disappointment!

You can reserve your restring appointment now by clicking here! Once you've booked up, you'll receive an email confirming your place.


PLEASE NOTE THAT FLOYD ROSE, BIGSBY AND OTHER 'FLOATING BRIDGE' GUITARS ARE NOT PERMITTED.
This is a restring and cleaning service: setups and repairs cannot be performed on the day.
Limited to one guitar per person.