Events: PRS VIP Weekend at guitarguitar Glasgow
Published on 24 April 2019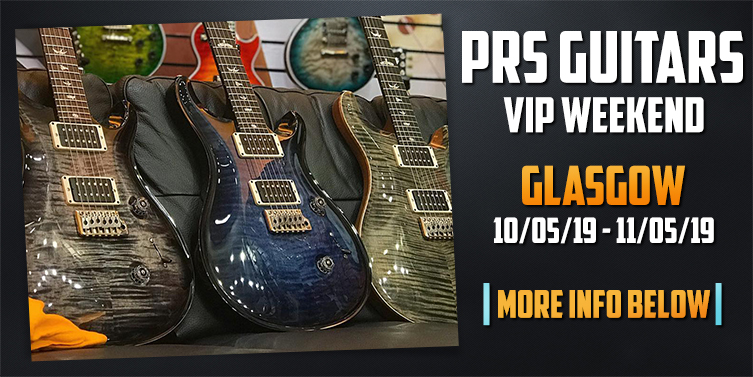 Impeccably crafted, versatile and frankly stunning to look at, it sure is hard to top a PRS. Let's be honest, there aren't many brands who can cater to everything from chilled out blues, to bone-crunching metal, but PRS have done exactly that. No matter what style you play, they always have something special to offer and their dedication and commitment to crafting excellent guitars is second to none. We absolutely love checking out their latest innovations which never fail to sound, look and feel great and a quick wander through any of our stores will be enough to convince you of the majesty of their guitars. With players such as John Mayer and Mark Tremonti on board with their stunning instruments, we firmly believe that every player should take the time to try one out for themselves. So, we're giving you the chance to do just that...

On the 10th and 11th of May (10/05/19 - 11/05/19), we're hosting a PRS VIP Weekend at our Glasgow store where you can join us in celebrating the brand's incredible range of guitars. PRS expert Jez Ayscough will be in store alongside an arsenal of rare, exotic and exciting models including pieces from the coveted Wood Library, Private Stock and more.
We're Scotland's only PRS USA stockist, so this is a pretty unique opportunity to experience what they've got to offer and play a wide range of their guitars side by side. With 24-month interest-free finance available exclusively for these two days and at the event in-store, this just may be the weekend you take home your dream guitar.
That's not all though, we're also offering exclusive event-only deals on all PRS USA stock and if you already own an SE model, you can even upgrade to a USA with special trade-in prices over the course of the weekend! This is the perfect chance to drop by and check out some of the most impressive guitars on the market, chat to the experts and maybe even nab yourself a bargain while you're at it. Come and join us, we'd love to see you!
Exclusive interest-free finance offers all weekend
Exclusive event-only deals on all PRS USA
Special trade-in prices on PRS SE models all weekend
An amazing selection of rare PRS USE, Private Stock, Wood Library and more

There's no need to reserve your space, simply head along to the store over the weekend (10/05/19 - 11/05/19) to get involved.


Can't wait for the event? Take a look below to see what Paul Reed Smith himself had to say when he visited guitarguitar Camden!