Events: Robben Ford Masterclass at the Caves Edinburgh
Published on 17 April 2019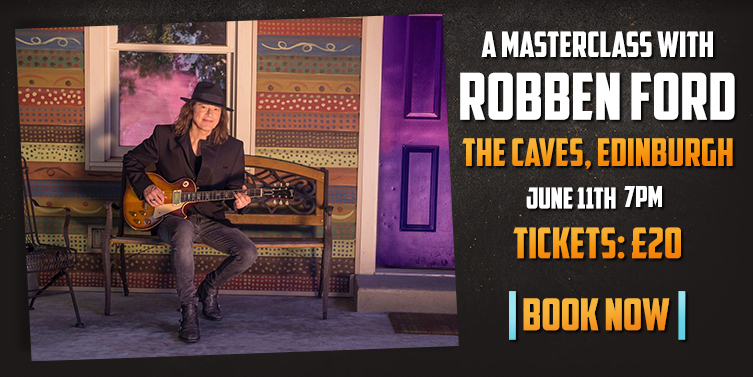 A master of not only blues guitar, but also jazz and rock, Robben Ford truly is a living legend. Known for his stunning melodic solos, Robben has shared stages with everyone from Bob Dylan to Miles Davis and was even named one of the "100 best guitarists of the twentieth century" by Musician Magazine. His style is utterly iconic and still sounds as fresh today as it did when he first burst onto the scene. Hailing from Woodlake, California, Robben's journey started on a high when he was discovered by legendary blues singer, Jimmy Witherspoon. Since then, his career has been simply staggering and the sheer amount of incredible artists he's worked with are a testament to his unique style and talent. Still not showing any signs of slowing down despite 40 years in the industry, Robben's creativity is unmatched and he's still releasing inspiring new music that shows why his name is held in such high regard. We've been huge fans of Robben's for as long as we can remember, so we got the opportunity to get him along for a masterclass, how could we say no!?

On the 11th of June (11/06/19), we're very pleased to share that the one and only Robben Ford is joining us at the Caves, Edinburgh for a Masterclass! If you're a fan of Robben's music, then we won't need to tell you how special an opportunity this is but if not, trust us when we say that this is not to be missed. Robben's knowledge of his instrument is second to none and we cannot wait to see what tricks he has up his sleeve for the event. Breaking down some of his favourite tracks and techniques, chatting about his gear and of course, doing plenty of playing, this promises to be an incredible night and we expect tickets to go pretty quickly. Bag yours now to avoid disappointment!
Please note, this event is for over 18's only. Doors at 7pm.

Tickets for this event are £20 and are limited, CLICK HERE TO RESERVE YOUR PLACE!

The Masterclass will be held at The Caves, 8-10 Niddry Street South, Edinburgh, EH1 1NS (Click for venue website) (View map)

Can't wait for the event? Check out a blues lesson that Robben filmed for Guitarist Magazine!