Events: Jared James Nichols Clinics in Camden, Birmingham and Glasgow
Published on 25 April 2019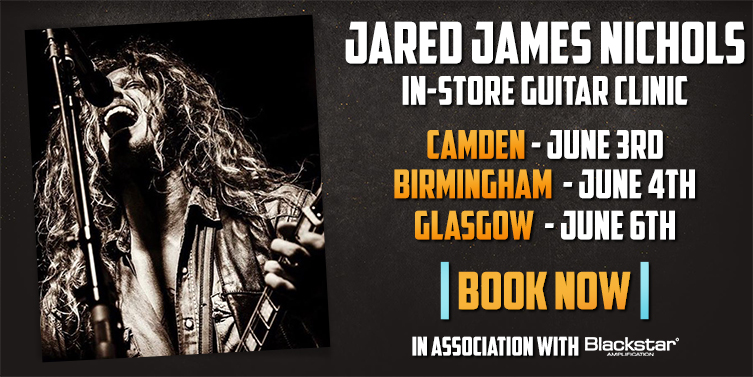 If you're not familiar with the Les Paul slinging, blues playing rocker that is Jared James Nichols, then trust us when we say that you're missing out. Capable of conjuring up tones most of us could only dream of with only one pickup, his fingers and a Blackstar amp, he's a modern-day guitar hero and a great inspiration to all of us at guitarguitar. Jared has been to visit us a few times now and every time he does he has a few new tricks up his sleeve to make our jaws collectively drop. He's a blues and classic rock man through and through with fingers of steel, a great DIY ethos and an incredibly positive personality that just gets you totally vibed up! The last year has been absolutely huge for Jared too with plenty of gigs, new music, a signature model from Epiphone and even his own signature Blackstar head and cab. We absolutely love getting the chance to hang out and catch up with him, so when we found out he was heading back over to the UK we knew we absolutely must have him stop by. Read on for all the details and how to get involved...

Jared James Nichols is visiting our Camden (03/06/19), Birmingham (04/06/19) and Glasgow (06/06/19) stores for guitar clinics in association with Blackstar this June! If you've made it along to any of his previous events then you'll already know just how much you can learn from him but if not, you seriously don't want to miss this. Running through his gigging setup and techniques, taking questions and doing plenty of playing, we fully expect these events to be even more epic than last years and we can't wait to see what Jared has got in store for us. With a new tone monster of a signature amp from Blackstar to show off, we already know this is going to get loud and we cannot wait to rock out with him again.
Bag your tickets now for what we already know is going to be an awesome evening... Blues Power!!!!!

Click here to book your FREE tickets for Camden
Click here to book your FREE tickets for Birmingham
Click here to book your FREE tickets for Glasgow


Can't wait for the events? Check out Jared's last appearance at guitarguitar below!