A Closer Look: Gibson 2019 Electrics and Basses
Published on 03 May 2019
Gibson's 2019 range of guitars and basses has been highly anticipated, to say the least. Since their well-publicised financial problems last year, talk about the brand's future had reached fever pitch. Everybody weighed in with their opinion on the company's status and their decisions in recent years. Many felt that self-tuning guitars were a strange step for them, whilst others believed guitars like the maligned Firebird-X were proof that Gibson had taken a good few steps in the wrong direction.
The temperature of the guitar-loving public was that Gibson owned the rights to some of the greatest guitar designs in history but were straying too far from the path. Gibson were buying into technology companies, investing in entertainment, and trying to become a 'lifestyle' brand. The public didn't quite see things that way. Trouble ensued, and the rest is a matter of Googling. The upshot is, Gibson did not disappear into obscurity, we are thankful to say! Anyone who loves guitars, no matter what their brand preference, loves Gibson. They are such a significant part of the instrument's history, and of 20th-century music at large, that their appeal is indelible. Everyone wanted Gibson to succeed.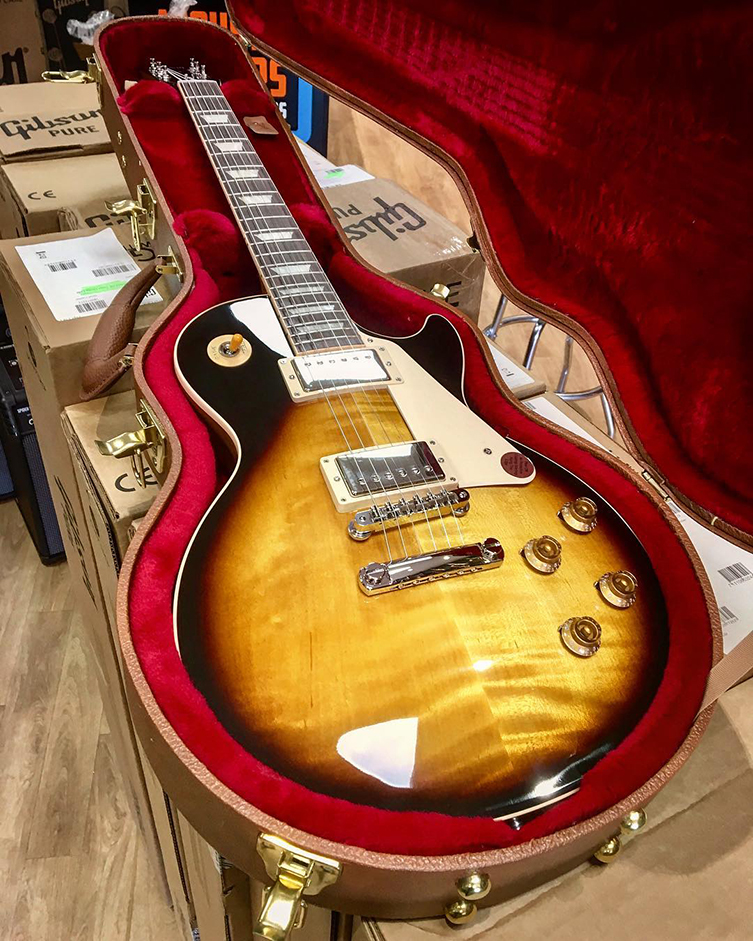 2019 brings us the first new update on the Gibson guitar and bass product line since all of those hyperbolic headlines, and nobody was quite sure what to expect. Would Gibson listen to what their endless fans were saying, see sense and head down 'classic' roads for their instrument designs, or would they defiantly continue to bring us unusual instruments that polarize opinion and dent sales? Would the doom-sayers have the final say or would Gibson concede that the 'good old days' were, after all, the way to go?
After a relatively long wait, the product emails started coming through, followed by the guitars themselves. You'll now be able to go into your nearest guitarguitar showroom and see the new range for yourself! And what do we make of them? It's no secret that we are obsessive fans of all things Gibson. It's also no secret that we were not overly keen on the Firebird-X either! So, for us, this new 2019 range is a total slam dunk! The doomsayers have been proved resolutely wrong: Gibson are back and are cleverly playing their strong suit in terms of the classic nature of their guitars.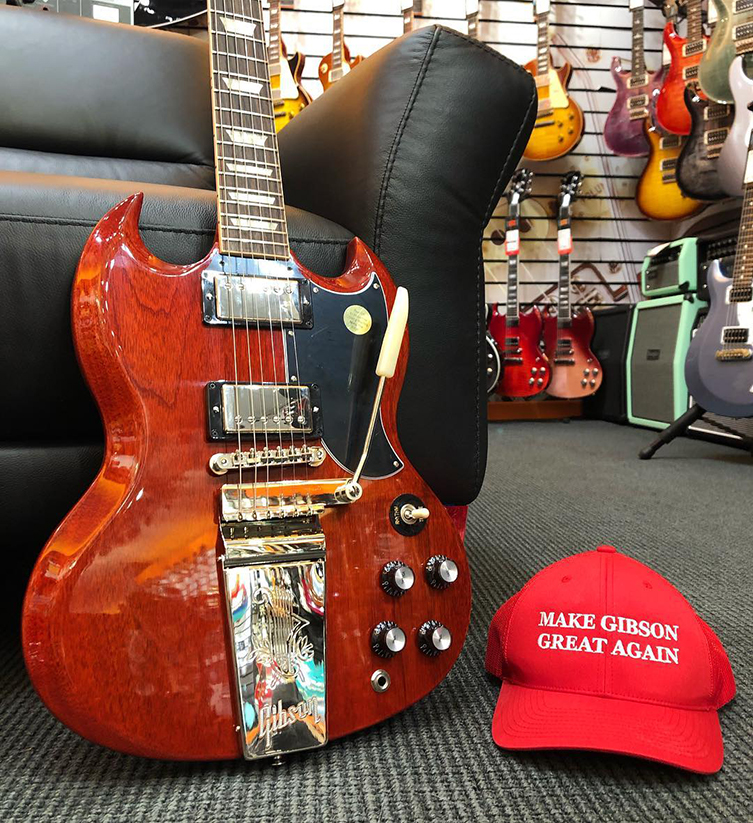 The 2019 range bring us all of the favourites, from Les Pauls with no weight relief (check out the Standard 50s) to cult favourites like the single pickup SG Jr. Gibson have rounded up the most loved instruments of the last 50 years and injected the timeless style and appeal of those into these new Gibson guitars and basses. We've eyed up at least 6 that we obviously can't live without, but before we get to that, we have to explain how the new range works...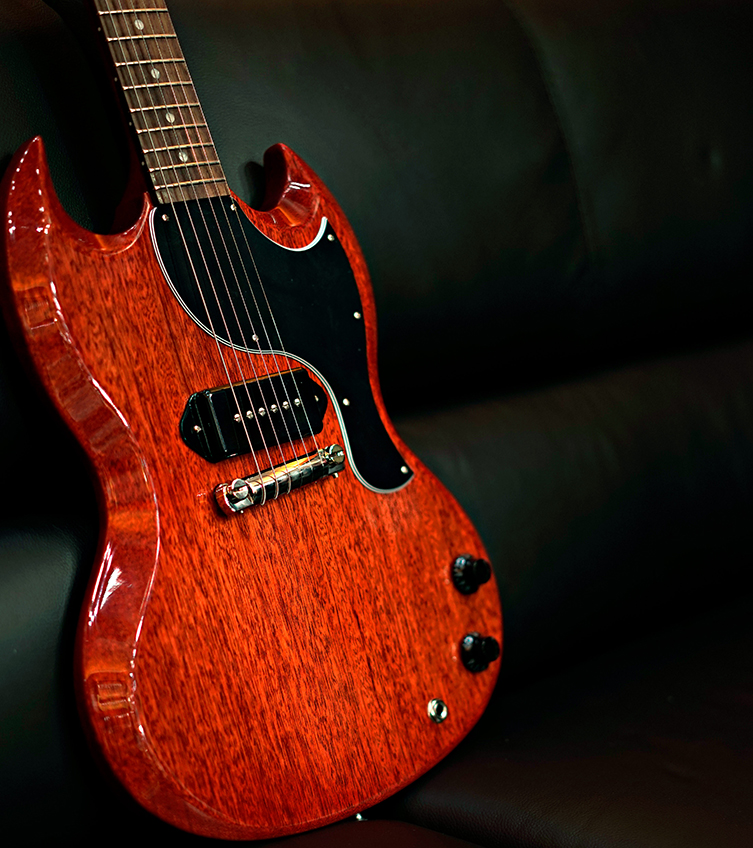 Gibson's 2019 guitar line is, in fact, two distinct ranges: the Original Collection and the Modern Collection. The Original Collection is, as you would have guessed, the home of the more historically appropriated guitars. Les Paul Juniors, 50s Les Paul Standards and '61 SGs (equipped with a Maestro Vibrola, a Sideways Vibrola, or indeed no Vibrola!) all live here. All models that directly reference Gibson's historical past belong in the Original Collection. For instance, there are Flying V's in both Collections, but the one here in the Original Collection has an 'Antique Natural' nitro finish that looks an awful lot like a 'Korina V' to us! Bonus points to Gibson for that!
This collection is all about satisfying the old-school fans, and those who appreciate the classic lines of a great Gibson guitar along with its heritage. P90s abound, as do Burstbuckers with less windings around their Alnico II magnets. Classic finishes like Heritage Cherry, Tobacco Sunburst and Gold are the dress code for the Gibson Original Collection. Weight relief is a bad word here and PAF is the law! If this sounds like your idea of Rock heaven, get yourself involved in tonal nirvana with the Gibson Original Collection.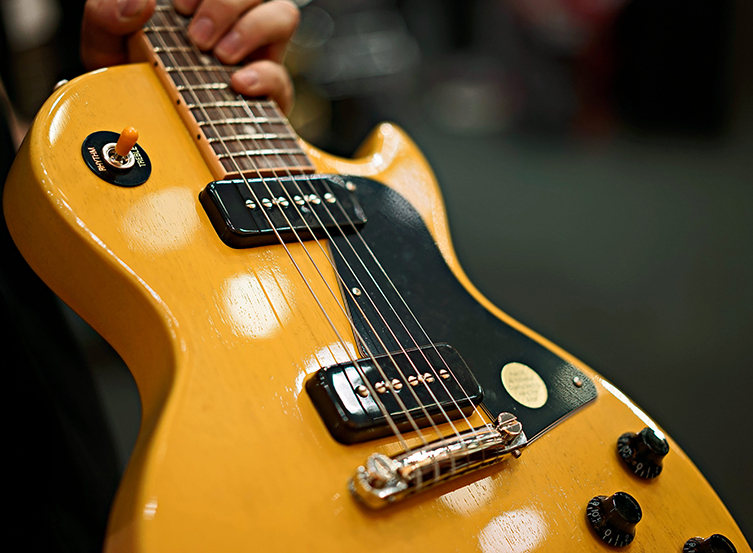 In particular, we were impressed by the inclusion of a 50s style Gold Top Les Paul Standard with cream P90 soapbar pickups! The amazing Firebird is back to having its proper raised centre and reversed body, with the mini humbuckers and trapezoid inlays, which we feel is nothing less than this great guitar deserves!
It's not just guitars, of course. Gibson's legendary bass models are present and correct in the Original Collection too. Both the Thunderbird and SG Standard Basses are back, in forms that you'd recognise and happily strap around your body to play! Gibson have kept the SG Bass's shorter scale length of 30.5" (as opposed to the standard 34") in order to preserve that instrument's specific style and feel.
On the other side of the fence is the Modern collection. This is where you'll find models like the Les Paul Studio, Les Paul Modern and, surprisingly, SG Standard. The Modern Collection does not reference any particular historical point in the past, even though designs like the LP Studio have been around for over 30 years now. It may be too broad a statement to say that the Modern collection all have thinner neck and higher output pickups, but that is not far from the truth! These instruments are aimed primarily at the gigging player: Slim Taper necks are used frequently within the Modern Collection, and these are largely similar to what Gibson once called the '60s' neck profile, with a flattening of the profile as the neck heads towards the body.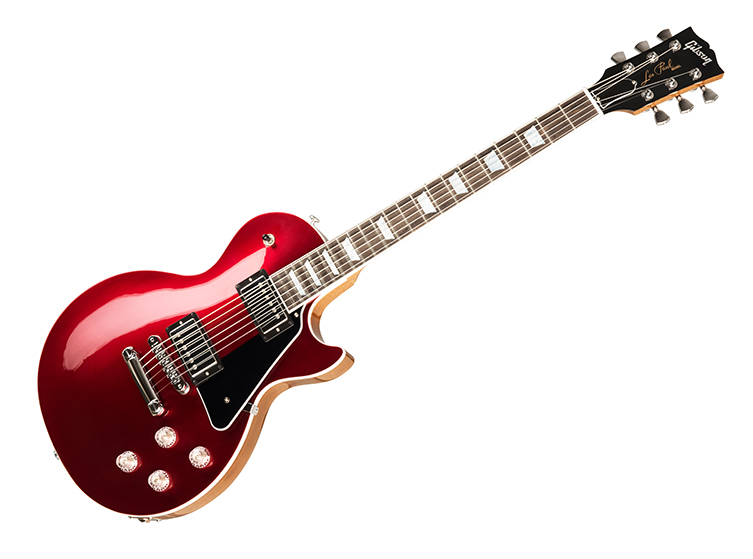 These are still largely 'traditional' Gibsons; they just have a modern twist and flavour. Fans of Gibson's classic lines and shapes will be more than satisfied by these contemporary models!
On many of the Modern Collection SG models, you'll find higher output humbuckers like the 490R & 498T, bright and lively sounding units that have often been used on Les Paul Customs over the years. Other Modern Collection models are equipped with super-high output Dirty Fingers humbuckers. On top of this, many of these guitars have push/pull capability on the control knobs. Gibson introduced this a few years ago and, in the context of 'Modern' guitars, it's a very welcome idea indeed! Several functions can be implemented via this simple switching technology: coil taps for single coil tones, phase inversion and even Pure-bypass functionality for removing the tone circuit from the signal path completely and sending the signal straight to the guitar's output. Check individual models for specific functions.

The Les Paul and the SG both have new 'Modern' models now, too. These feature those push/pull switches as well as Ebony fingerboards, compound radius fingerboards and locking tuners. The SG Modern has 24 frets, unusual for Gibson, and a AA+ Figured Maple top. The Les Paul Modern has Ultra Weight Relief and some beautifully bold Metallic finishes. We like!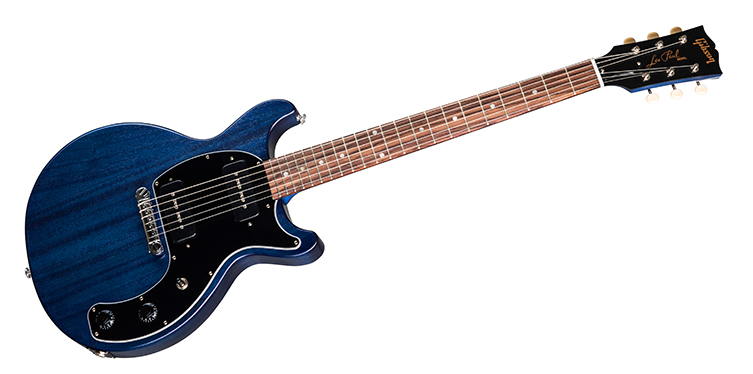 The Modern Collection also contains a pair of essentially new models, taking notes from the past and using them to build fresh designs. These are the Les Paul Special Tribute DC and the Les Paul Junior Tribute DC. The inspiration of the original doublecut Junior is pretty clear, and the addition of a new pickguard design, along with some new colours like 'Blue Stain', make these affordable new models well worth paying attention to! Excellently, there is a bass version too!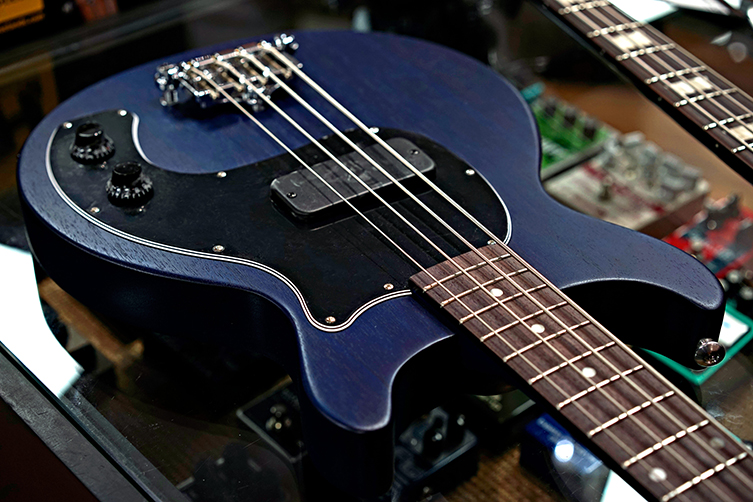 There are many new Gibson Collection guitars to get excited by, too many to go through here! Our staff are impressed, the naysayers have been silenced and everyone can breathe a sigh of relief, because Gibson are BACK! Pay us a visit at your nearest guitarguitar store, check out the Gibson 2019 line up in person and try out your favourite models for yourself! You'll be glad you did!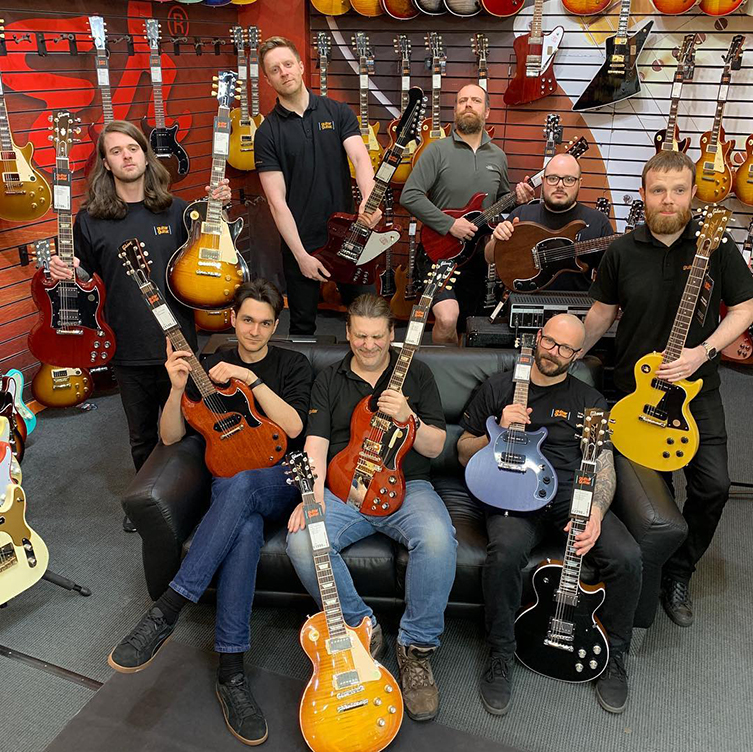 Ray McClelland