Events: Gibson Demo Day at guitarguitar Newcastle
Published on 03 May 2019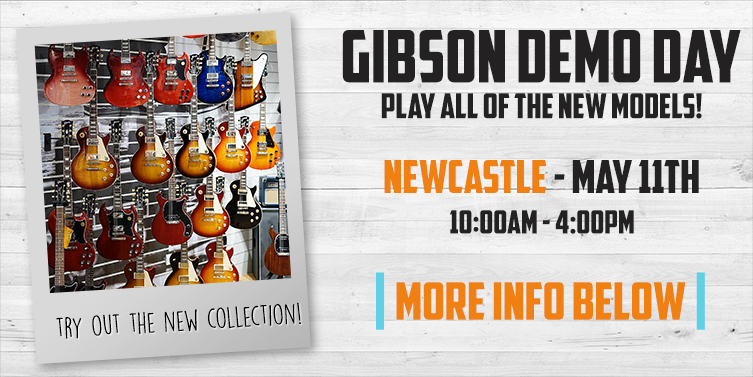 The wait is over and the latest run from Gibson have finally arrived! With a recently appointed Director spearheading a new direction for the brand, we knew there were some big changes in store for the company and the hype was at an all-time high for this run of guitars. We're very happy to report that they've not only lived up to but exceeded our high expectations and we've been well impressed with the new collection. No matter what your vision of the ideal Gibson range looks like, there's something for everyone in this lot and with all sorts of classic designs available with some excellent features, we think the brand has knocked it out of the park here. We're really excited to celebrate the future of one of the guitar industries biggest hitters, so, what better way to commemorate the occasion than to ask you along to try the new models out!

On the 11th May (11/05/19, 10:00AM - 4:00PM) we invite you to come along to guitarguitar Newcastle to check out all of the latest models from Gibson's brand new Collection. We'll be joined by Gibson representatives who'll be happy to answer any questions you have and there'll even be plenty of FREE Gibson swag that you can get your hands on just for showing up! With an unbelievable range of models, all ready to be plugged in and played, you won't get a better opportunity than this to find out what the new series is all about!
We also have loads of guitars from Gibson's previous runs, including plenty of 2018 models so that you can play them side by side and really get a feel for the latest updates and features. Our team are total Gibson heads who will be on hand all day to chat with you about the updates and give you a full rundown on their favourite models. So, if you fancy checking out one of the most impressive Collections we've seen from the brand in a while, pay us a visit and find out what all of the fuss is about!

There's no need to book your place, simply turn up between 10:00AM and 4:00PM ready to rock and get plugged in!


Read more about the brand new Gibson Collection in our latest blog!