Events: Home Recording Demo Day at guitarguitar Glasgow Digital
Published on 06 May 2019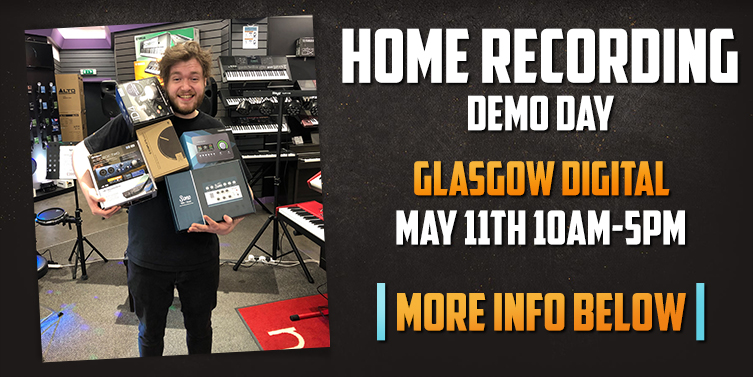 While we meet incredible players every single day in our stores, we're often surprised by how many great musicians struggle to wrap their heads around the basics of home recording. With such an incredible and affordable range of gear now available to the bedroom player, there really is no reason why you can't lay down some great sounding tracks from the comfort of your own home. However, we do understand that it can be a daunting prospect to begin setting up your own home studio and that many guitarists just never take that step. Recording at home can be a fantastic way to work on ideas and we firmly believe that every player should have the option of running through to their side room to get plugged in the second inspiration hits them. That's why we've decided to show you the ropes!

This Saturday (11/05/19) we're hosting a Home Recording Demo Day at guitarguitar Digital (Glasgow) where you can learn all about a whole range of recording solutions! We'll have a wide selection of audio interfaces and other recording gear set up and ready to use, with our in-store recording expert Davey on hand to show you how it works and figure out the best option to meet your needs. Along with this, we'll also be breaking down tons of the latest processing software such as Guitar Rig and Positive Grid Bias, along with tools from Universal Audio and more. We'll even be rolling out the fantastic BOSS Katana amps which can record audio via USB without an interface and are ideal for those looking for something as simple as it gets. Whatever your skill level, knowledge of recording, or budget, we'll have loads of gear for you to get stuck into and this is the perfect chance to learn how to use it. Why don't you come along and take a step into the world of music production?


There's no need to book your place, simply come along and get plugged in!