Events: Martin Restring Days in Epsom and Camden
Published on 08 May 2019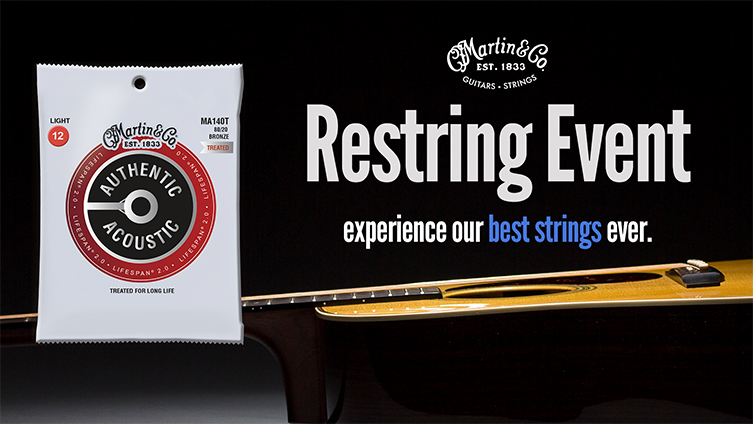 We're sure all of you are familiar with Martin Guitar's legendary acoustics. Famed for their sublime tones, outstanding build quality and stunning aesthetics, Martin really are in a league of their own and we're huge fans of their instruments at guitarguitar. No matter what your style or price range, they're sure to have a model perfect for you and we're constantly recommending their guitars to our customers. That's not where their expertise ends though and they also manufacture some extremely high-quality strings that we've grown pretty fond of! Great feeling, long lasting and giving you a bright, rich sound, their Authentic Acoustic range are one of our first choices for restringing acoustics, so we thought we'd invite you all along to try them out for yourself!

guitarguitar Epsom (16/05/19) and guitarguitar Camden (15/06/19) are hosting a Martin Restring Days where you can try out their Authentic Acoustic Phosphor Bronze strings! We'll be joined by Martin specialist Greig Dunning who'll restring your guitar for free and talk you through the brand's selection of strings and instruments while he's at it. With a number of options available (MA530, MA535, MA540, MA550), this is a fantastic opportunity to see what Martin's Authentic Acoustic range is all about and get a feel for the strings yourself. Every one of us has a guitar that's due a restring so why not stop by the store and let Greig take care of it for you? You can even check out some guitars while you wait!

To reserve your space for guitarguitar Epsom (16/05/19), please contact the team on 01372 730578 or epsom@guitarguitar.co.uk.
To reserve your space for guitarguitar Camden (15/06/19), please contact the team on 0203 675 9100 or camden@guitarguitar.co.uk.

Want to learn more about the range? Check out Martin's overview of their Authentic Acoustic series below!