Events: Jeorge Tripps Pedal Clinic at guitarguitar Glasgow
Published on 03 June 2019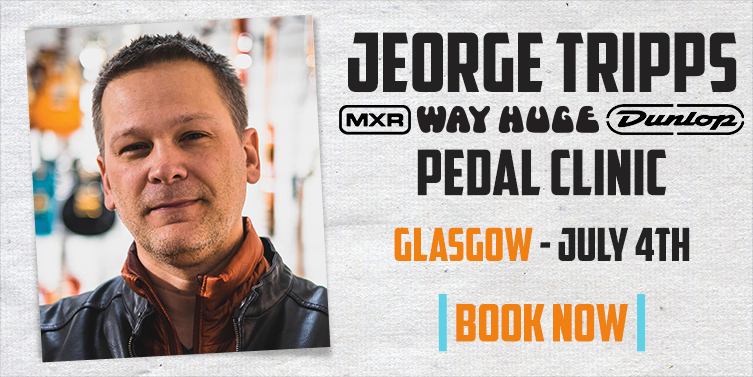 When it comes to guitar effects, there aren't many people on this planet with quite the same level of knowledge as Way Huge Electronics founder Jeorge Tripps. Beginning his journey as a guitarist who simply wanted more from his effects, Joerge's early tinkering became the foundation of a long and fruitful career building pedals. His gear quickly became sought after by players who loved his unique stompboxes and as a result, he found himself at the forefront of the boutique era of pedals. Not content in only dishing out his own creations, he's since spent time working alongside some of the most well-regarded brands on the planet and has become a true aficionado of tone. Now a proud member of Dunlop's army of engineers, Jeorge has been a big part of their, and of course, MXR's seriously impressive output over the last few years. Still releasing innovative Way Huge gear on top of that and rubbing shoulders with rock royalty all the way, Jeorge is essentially a human pedal circuit so when we got the chance to spend some time with him, we knew we couldn't pass it up...

On the 4th of July (04/07/19), we invite you to join us at guitarguitar Glasgow for a clinic with the man himself, Jeorge Tripps. After our event in guitarguitar Birmingham last year, we've been desperate to have Jeorge back and we can't wait to see what he's got in store for us this time around. Armed to the teeth with not only a slew of as-yet-unreleased models, along with loads of never-to-be-seen prototype designs and all of the crazy rock 'n' roll anecdotes that go along with them, we expect this to be a seriously interesting and amusing evening! On top of that, Jeorge is planning on showcasing Dunlop's 2019 range along with all of the latest from MXR and Way Huge, so if you fancy being one of the first to check them out side by side then reserve your space now to join us. Mr Tripps is nothing if not an entertaining character with a thirst for tone and we're really excited to see and hear what he's been working on!

Click here to book your FREE ticket now!

Can't wait for the event? See what Jeorge has to say about it below!