Events: Neumann Diamond Day at Glasgow Digital - WIN a pair of NDH 20 Studio Headphones!
Published on 30 June 2019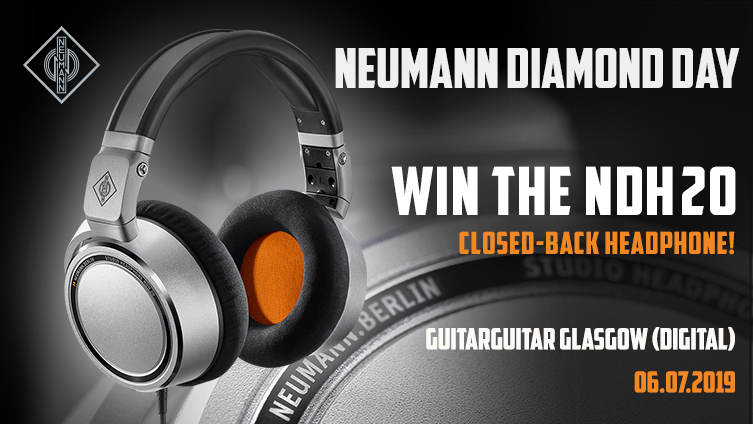 Known for their exceptional build quality and crystal clear audio, Neumann are rightfully among the most well-reputed brands on the market. We're huge fans of their mics which have proved time and time again to be unbelievable across a whole range of applications, quickly becoming favourites of ours in store. However, it's one of their latest ventures that we'd like to draw your attention too, the NDH 20 Studio headphones. As their first step into the world of studio cans, Neumann absolutely blew us away with these monitoring headphones. Combining the brand's dedication to building state of the art equipment with some really impressive features, these headphones offer an extremely well-balanced sound at a really high resolution. On top of that, they offer really impressive isolation to allow you to continue working in loud environments and are extremely comfortable, making those long shifts in the studio that little bit more bearable.
We've been really impressed by the NDH 20s since they first arrived in store, so when we found out we could give you all the chance to win a set of your own, we knew we couldn't pass it up!

On Saturday 6th of July (06/07/19, 10:00AM - 5:30PM), we'd like to invite you to our Glasgow Digital store for Neumann Diamond Day! We'll be giving you the chance to try out the fantastic NDH 20s and get a feel for them but that's not all...
Anyone who tries out a set of these headphones will also be given the opportunity to pick out a lucky 'diamond' and win a pair for themselves! With one ticket inside granting a lucky winner a brand new set of NDH 20s and plenty of other goodies up for grabs, this is the perfect time to check out the headphones everybody's talking about and maybe even bag yourself a set for the studio. Come pay us a visit and get involved!

You're more than welcome to simply turn up but if you want to book a listening session to ensure you don't miss out, please get in touch with the team on 0141 552 3402 or digital@guitarguitar.co.uk.

Check out the Neumann NDH 20 headphones now or learn more about them below!