15th Anniversary: Pedal Week
Published on 03 June 2019

Our 15th Anniversary promotions are go and it's Pedal Week at guitarguitar!
There's nothing quite like adding a new pedal to your board is there? Whether you want to totally transform your tone or simply add a little extra something to your playing, new effects are the perfect way to shake up your sound and inspire you to write something new. With pedal cabinets in all of our locations heaving with the latest and most exciting effects on the planet, there's nowhere better to find your next favourite stompbox, so we're going all out this week and giving you the chance to bag yourself some at discounted prices, or maybe even win yourself something special...

We're kicking off our 15 weeks of deals and giveaways with some absolutely unbelievable offers on pedals from all of your favourite brands. That's right, the time has come to treat yourself to a few new toys and with massive discounts on pedals from TC Electronic, and Line 6, along with a whopping 15% off all pedals from Catalinbread, Chase Bliss, Dunlop, MXR, Fulltone, Keeley, Walrus, Way Huge and Xotic, you won't get a better opportunity than this. We've set up demo stations in all of our stores where you can experiment with the selection and find your perfect match, so make sure you visit your local guitarguitar to try out the range and beef up your board with some new effects!
We're also giving you the chance to WIN a Line 6 Helix multi fx and modelling board worth £1200! This is a truly exceptional piece of kit which is used by countless touring musicians and is among the most popular units in our stores. All you have to do to be in with the chance to take one home is stop by your local store this week (03/06/19 - 09/06/19) and fill out an entry ticket. These will also be entered into a grand prize draw where one lucky winner will take home a guitarguitar gift card worth £1500 at the end of the 15 weeks!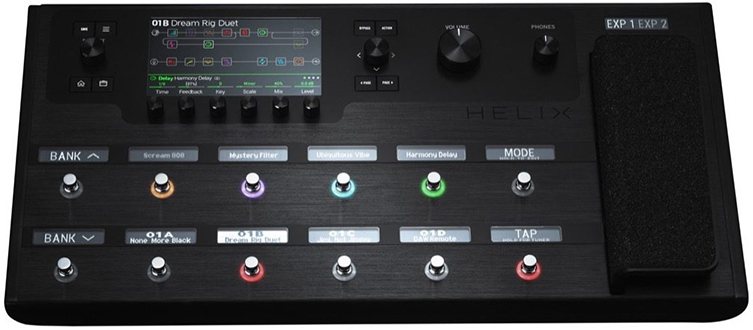 Simply ask a member of staff for an entry ticket and submit it to the ballot box to be in with the chance to win a Line 6 Helix and the grand prize of a £1500 gift card!

The Line 6 Helix giveaway will run from 03/06/19 until close of business on 09/06/19, only entries within these dates will be valid.
Entries for all 15 Week Anniversary promotions are limited to one entry per person each week.
For full terms and conditions click here to visit our 15th Anniversary page.