Events: Yamaha Takeover Day guitarguitar Glasgow (Digital)
Published on 28 May 2019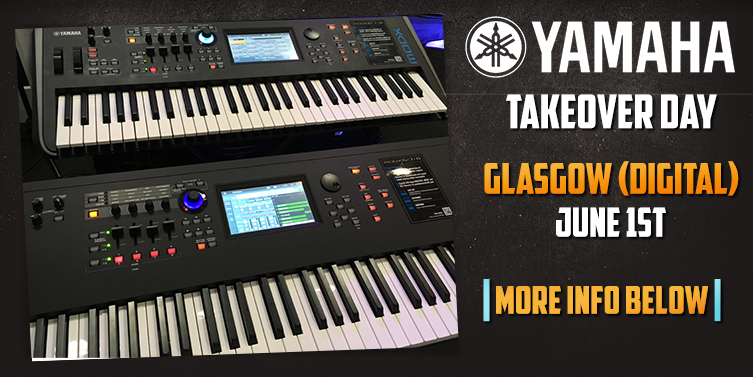 There aren't too many companies who can compete with Yamaha when it comes to keys and with a huge range of their instruments in our stores, we can wholeheartedly testify to how exceptional their gear is. The brand really are masters of their craft and whether it's a piano, synth or all around workstation you're after, you'll struggle to find anyone else who can offer such an incredibly high standard. Consistently blowing us away with their forward thinking ideas, Yamaha are responsible for some of the most powerful keyboards on the market and we're always on the lookout for the latest arrivals so we can get hands-on with them. With demo areas where you can get stuck into all of the latest arrivals, there's nowhere better than guitarguitar to experience what they've got to offer, so we thought we'd invite you along to try it out for yourself...

On the 1st of June (01/06/19), come down to our Glasgow Digital store to get hands-on with the Yamaha CP pianos, along with the Yamaha MODX and the Yamaha Montage ranges. We'll be joined by Yamaha specialist Dom Sigalas who's going to take over the store and show us exactly what these keys can do. Dom knows the gear inside out and will be able to answer any questions you have while he gives you a crash course on the model of your choice. It doesn't matter if you're a pianist, a performer or just a noise maker, there's going to be plenty for you to experiment with and we'd love to see you!

To book an appointment with Dom, simply get in touch with the guys in store on 0141 552 3402 or digital@guitarguitar.co.uk.
Alternatively, feel free to simply drop by the store between 10:30 AM - 5:00 PM - we'll have plenty of gear set up for you guys to get stuck into!