Premier Guitar Week: 15 Years, 15 Guitars
Published on 10 June 2019
15 years, 15 guitars: 15 years of guitarguitar and 15 of the most unusual, memorable and successful guitar models from those years. This article is dedicated to instruments that have appeared since 2004 and have, one way or another, left an indelible mark.
Some of these guitars were limited editions now long gone, others are updates on classic models. Others still are completely original designs, brought into the world during the lifetime of guitarguitar.
We love guitars in all shapes and sizes, from the most stringently authentic retro models to defiantly modern, niche instruments. We think they all deserve their moment, so here is a brief highlight of 15 special examples, in no particular order, for your delight and amazement! Some you'll love, some you won't, but hopefully you'll agree that they all deserve a mention!
Music Man St Vincent
First up is one of the most distinctive and singular designs of recent years. The Music Man St Vincent is, in the words of the artist herself, 'gender neutral' (aren't all guitars?) and was designed to have no pre-conceived notions on either how it's meant to sound or what you're expected to play on it. In practice, this is an unadulterated joy to experience! The shape is a perfect 'sitter' or 'stander', with great balance and a light weight. Its attention grabbing to look at, sure, but isn't that half the point?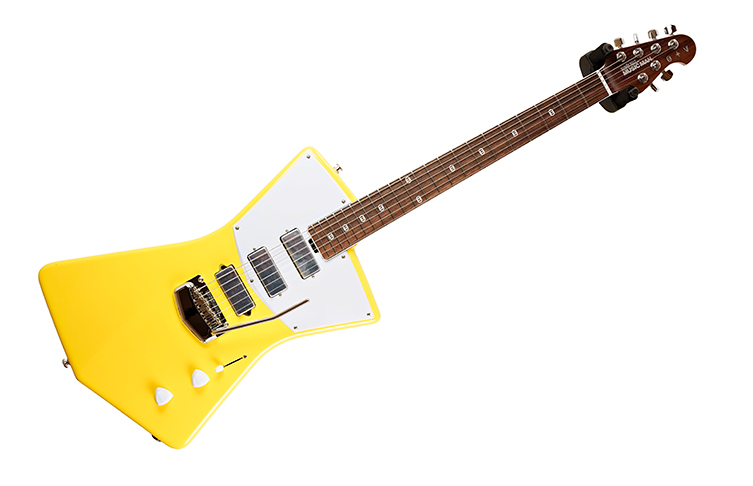 The Music Man St Vincent is equally spectacular to play and is available in a range of suitably bold colours like the 'HD Yellow' pictured above and others like 'Charcoal Sparkle'. Other notable players such as At The Drive-In's Omar Rodriguez Lopez have been spotted shredding a Music Man St Vincent live, so there appears to be a real taste for this wonderful guitar with unorthodox players.
Fender Johnny Marr Jaguar
Johnny Marr, always the trend-setter, was an early adopter of the Jaguar's 'new wave' of popularity, choosing the short scale Fender classic as his main guitar due to its unique features and limitations (namely the inability to really 'shred' on one, keeping Mr Marr from self-confessed bad habits!). Johnny's signature Jag sorts out many of the design bugbears that even Jaguar devotees would admit exist, bringing tweaks to the bridge saddles, whammy bar and pickup switching to bring a retro-tastic yet future-facing Jaguar that everyone can love. The Fender Johnny Marr Jaguar has proved to be exceptionally popular and rightly so.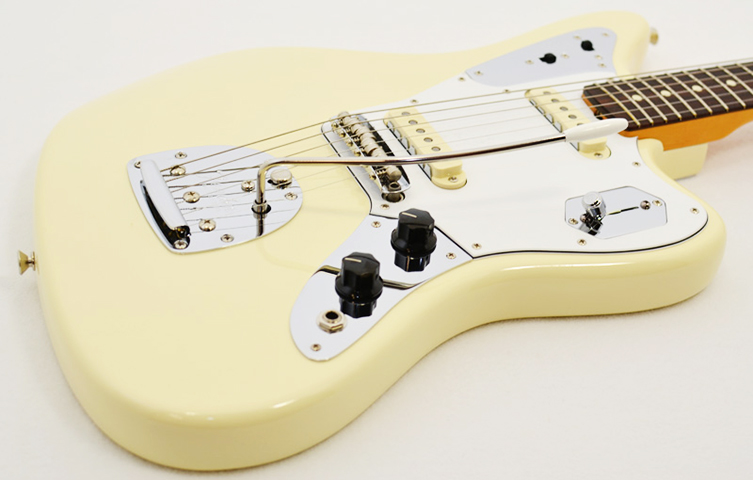 Ormsby Goliath 7 String multiscale
Moving as far away from a Fender Jaguar as it is possible to get, our next choice celebrates the return of the headless guitar! Who saw that coming? Ormsby are a cutting-edge guitar brand from Australia and this Goliath GTR Multiscale 7 brings together several of their trademarks. In addition to the decapitated neck, Ormsby use a multiscale on this guitar. Multiscale is a genuine step forward for guitars and has mainly occurred within guitarguitar's lifetime.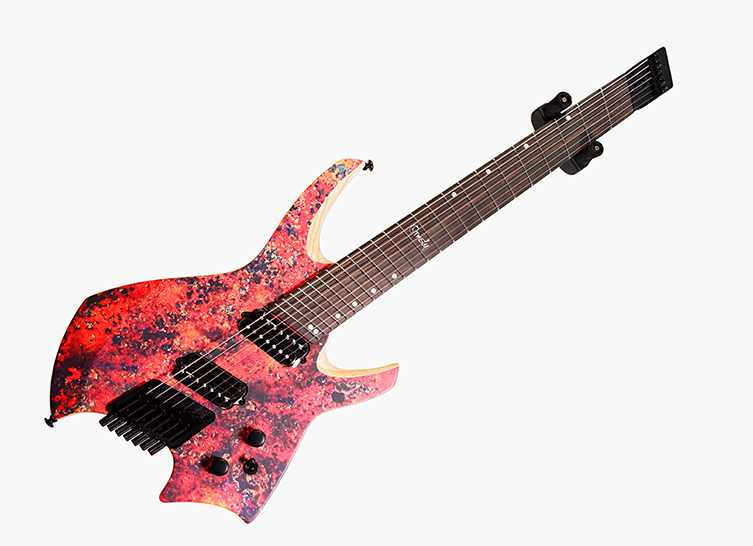 So, multiscale means basically two different scale length measurements on the one neck: a shorter one for the lighter strings and a longer one for the heavier strings. This is to preserve perfect intonation, with no compromises in pitch, across the entire fingerboard. 7 string guitars like this often struggle with intonation across the whole extended range, so multiscale combats this with 'fanned' frets, slanted pickups and a slanted bridge. This is pretty state of the art stuff, but it shouldn't change your playing technique at all: in fact, lots of players think it's more comfortable!
More and more manufacturers are using multiscale technology, but Ormsby use it exclusively. That, matched with the insane Red Copper finish and headless design, puts the Goliath 7 in a league of its own.
Squier Classic Vibe Fifties Telecaster
From the cutting edge modernity of the Ormsby to the oldest electric guitar design of them all, we present the Squier Classic Vibe 50s Telecaster in Butterscotch Blonde. The reason we've chosen this particular guitar is because of the immediate and obvious improvements that happened with Squier throughout this range. Squier have always been the pre-eminent baginner/student's choice, but when the Classic Vibe guitars started appearing less than ten years ago, it was clear that these were in another league altogether.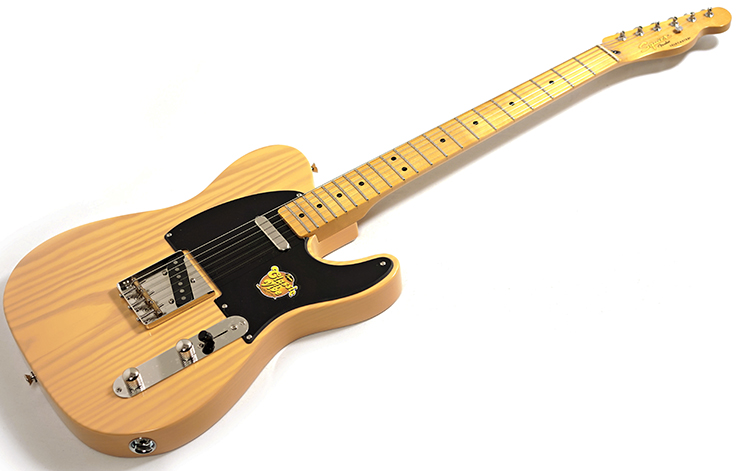 Snobs may still shun them since they have the 'wrong' name on the headstock (though people are now beginning to get snobby about Squiers! Calm down!) but more level-headed guitarists began buying these in droves, going wild for the feel, the look and more importantly, the sound of Squier Classic Vibe guitars! Certainly, we could have picked any of the Classic Vibe range, from the amazing 70s Thinline Tele to the 60s Jazzmaster, but we picked the Telecaster since it is based on such a well-loved model. Not only that, until this came out, players had to pay well over a grand for the USA 52 Tele reissue if they wanted that famous 'Blackguard' look. This Squier brought the vibe indeed, with attention to detail and quality far beyond the asking price.
Gibson Backwards Flying V
Gibson really went for it with this inarguably bold design! The Reverse V was a limited edition guitar that appeared in 2008-2009 as Part of Gibson's Guitar of the Week special runs. Each guitar of the week was limited to 300 guitars, and some were more 'out there' than others!
As a concept, this totally wins! The construction, hardware etc is the same as the standard 'Korina-style' V, except for the obvious reversing of the body. This plays beautifully, sounds great with its '57 Classic pickups and is a fantastic talking point for any gigging players who decide to take this on stage!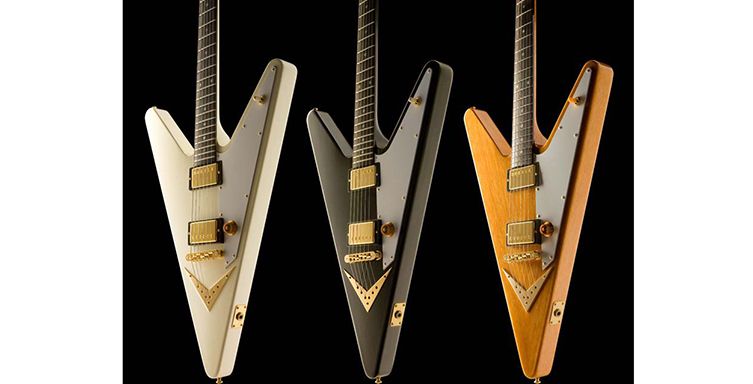 Taylor GS Mini Koa
It may well turn out to be entirely Ed Sheeran's fault, but guitarists have been going mad for travel-sized acoustics for years now! They are portable, easy to play and, if you get a good one like this GS Mini, sound as good as many respectable full-size guitars!
The GS Mini has been a resounding success for Taylor: it is by quite some distance their most popular guitar. So much so, in fact, that deliveries are routinely sold in advance, long before they even hit the workshop, let alone the showroom!
Taylor are unafraid of using modern tools like lasers along with some out-of-the-box construction ideas to improve their products. The GS Mini incorporates a lot of this, and the result is a guitar which, for many, could happily become their main acoustic!

The GS Mini has shown up in many guises over the past few years, with Sapele, Walnut and Mahogany variants becoming available. We've opted to highlight the Koa model for this list. Why? Well, Koa is a stunning tone wood with a great look, but really, the amount of excitement and hype that accumulated around the announcement of this model surprised even us! Happily, the hype was justified: the Taylor GS Mini Koa is a superb guitar and a delight to play.
Gretsch Streamliner G2622T Torino Green
We could happily have picked any of Gretsch's Electromatic range for inclusion here: they were released in our lifetime, bottled up much of that inimitable Gretsch magic, and were very affordable compared with the Japanese Professional Collection. So, when Gretsch brought out the first Streamliner models, with price tags that were often half the cost of comparable Electromatic guitars, we had to do a triple-take! Impressed? Beyond impressed.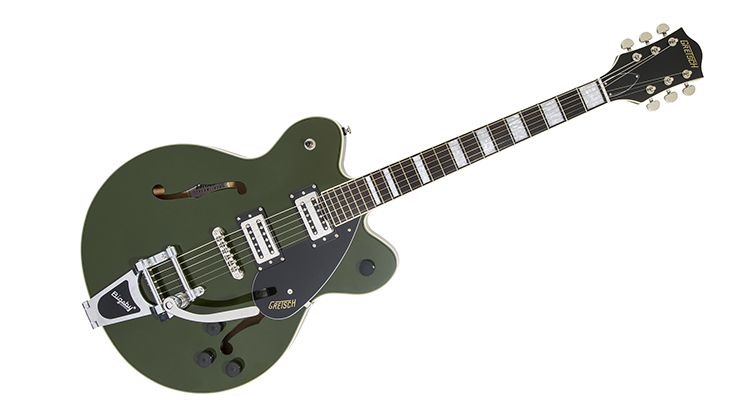 We really expected this range to have cut too many corners to be worth bothering with, but Gretsch instead offered up a collection of instruments that did more than just look like Gretsches (though that's a feat in itself at this humble price point): they are easy to play, with a U-shaped neck and a 12" radius fingerboard, plus they sound great! The Broad'Tron pickups may not be entirely 'vintage-Gretsch' but they do sound excellent, giving this Gretsch Streamliner G2622T rather a Rock-friendly voice. Match this up with the on-point Torino Green finish and a proper licensed Bigsby tremolo, and you have something quite special with tons of value built in.
Fender EOB Ed O'Brien Stratocaster
Radiohead's unsung hero Ed O'Brien surprised many by collaborating with Fender to bring us this rather singular Strat. The quality is excellent and we are happy to report that this is one of the best-selling Fender guitars of the last year! It is by no means a guitar for everybody so it's good to see it enjoying some success.
Ed's Strat, from a distance, is a nice Olympic White Stratocaster. So far, so what, right? Its only when you stop to look a little closer, you realise things like the jack socket being on the side, the pickups looking very atypical and the addition of extra switches. Stop to give it a proper gander and you'll see that the Fender EOB Strat has a Fernandes Sustainer unit in the neck, a Seymour Duncan single-sized humbucker at the bridge and a fantastically chunky V-shape neck profile.

You'll not notice Ed's signature, because it is nowhere near the guitar. He was adamant that this Strat was a tool for players to find their own voice, not to reproduce his. The whole ethos of the EOB Strat is spot on, as is the fit and finish. This is a real star turn from Fender, and from the type of player who actually deserves the recognition.
LTD EC 1000 Vintage Black
If there is one defining 'Metal' guitar from guitarguitar's lifetime, it is definitely this. Igniting the fashion for matte-Black finishes, this elegant rethink of the L£$ P@*l is a hit. A slimmed down, ever so slightly sharper Mahogany body is matched up with a slim set neck, again with an ever-so-slightly more aggressive headstock shape. That matte Black finish (actually called Vintage Black by ESP, to avoid confusion) caught on fast with every major Metal manufacturer, but it never looked as good as it does here, framed in dark cream multi-ply binding.

The EC1000 also kick-started the trend (okay, it was Zakk Wylde really, but we mean in a more 'mainstream acceptance' way) of putting two active, screaming-hot EMG humbuckers into a classic single cut guitar. It's a match made in the fiery furnaces of Hell indeed and is a sound you simply must experience for yourself. The LTD EC1000 is as popular as ever and is available now with more finishes and pickup choices. Check out the thrilling EC-1000FM in See Thru Purple with Seymour Duncan pickups, for instance! Our money, however, stays on the iconic Vintage Black/EMG masterpiece!
Martin D-28 Re-imagined
Everybody loves a good dreadnought and Martin, inventors of the style, still make some of the greatest on the planet. Whilst the D28 is hardly a new creation, the introduction in 2017 of the Martin D28-Reimagined ensures the guitar's legitimate inclusion on our list! Not only that, this guitar has quickly become one of Martin's best-selling guitars, which says a lot considering that this is an expensive, pro-level high end acoustic!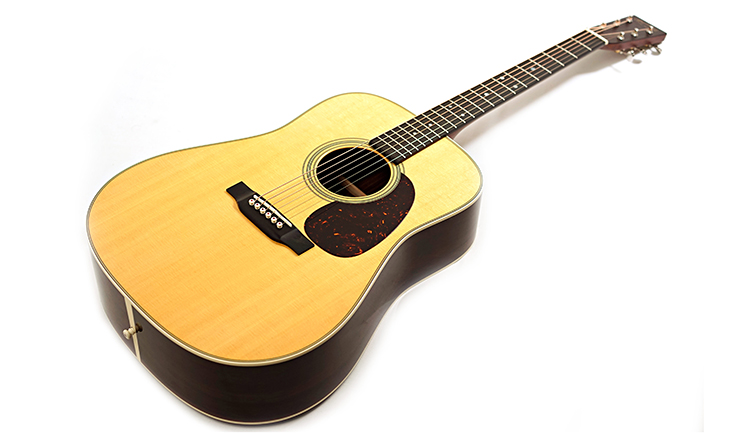 The differences between this Re-imagined model and a standard D-28 are subtle. Aged binding and a tinted lacquer clue you into the fact that something is going on with this guitar, followed by a more modern, player-friendly neck carve and open-gear tuners. These work nicely with the more retro logo on the headstock. All in, you get a more vintage, heritage look with a more modern feel. The best just got better.
Brian May Red Special
Queen are everywhere right now but that hardly matters to us: we think Brian May is one of the very best, an inspiring player who deserves his place in the Rock God pantheon. We all know the story about 'Red Special', his home-made guitar. After numerous attempts over the years to get a production model off the ground that met his approval (how ironic, given how humble the original guitar's genesis was!), Bri decided to just get on with it himself. His company, Brian May guitars, make this, the only official production model Red Specials available.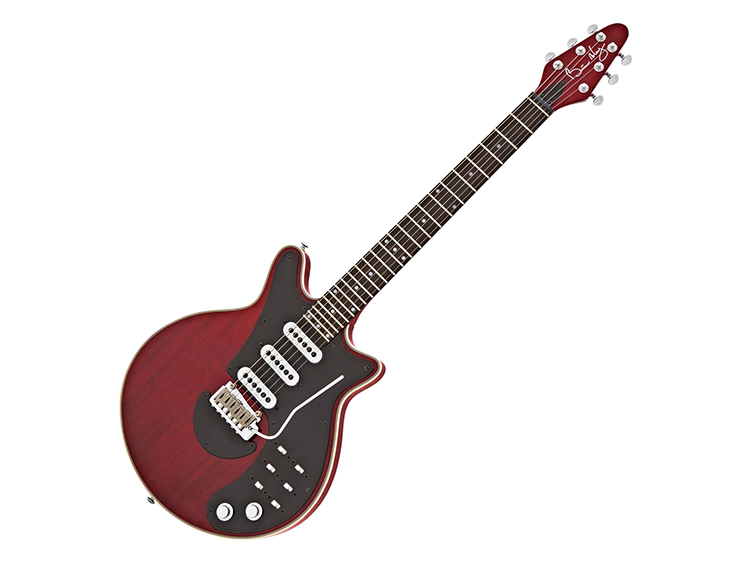 The bad news? They can never make them fast enough and the guitar is frequently sold out!
The good news? It is a superb guitar and very affordable! No wonder it keeps selling out!
Every detail is, whilst not slavish, still closely detailed on the original where possible. Concessions have been made on sensible subjects: for example, the tremolo arm is NOT a knitting needle, but authenticity is there where it is important. The pickups are tri-sonics, the scale length is 24" and all of the switches are present and correct.
If you are even a fair-weather Queen fan, this guitar will speak to you.
PRS SE Custom 24
Keeping on the subject of mid-priced electrics that rock, PRS have enjoyed some serious victories in this realm with their SE series Custom 24. Given that this is a Far-Eastern built version of their £3k+ USA model, it's hardly fair to compare the two. Having said that, there is not an inch of this guitar that does not feel high in quality and well put together.
Early SE models were distinctly different from their Maryland-born brethren, but the visual differences at least have blurred over the years. The SE Custom 24 now sports a Flame Maple veneer (as opposed to the thicker 'top' of a USA PRS Custom 24), the fingerboard sports the iconic Bird inlays and the 'SE' part of the headstock logo keeps shrinking!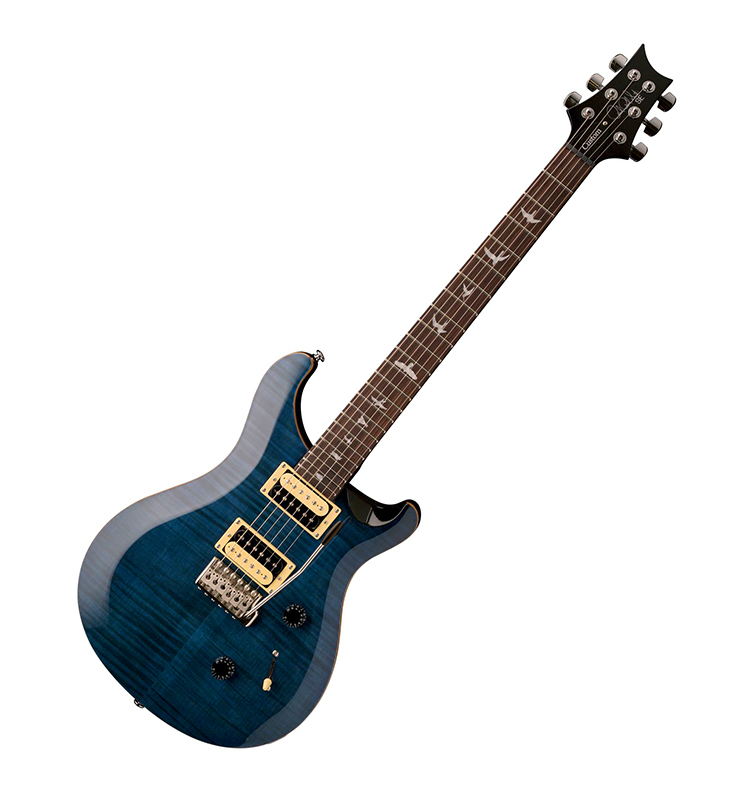 The pickups, which sound fantastic, are imported takes on PRS-favourite 85/15 model humbuckers. The tremolo works extremely well and there are coil taps on board for more chimey tones. It's a great looking guitar with an upmarket feel and undoubtedly pro tones. Cover many bases and look the part whilst doing so with this great PRS.
Ibanez JEM Jr Special
Did somebody say 'SHEEEEERRRRED?' Surely there is no guitar out there more suited to gargantuan displays of technique than the Ibanez JEM? This guitar screams SHRED from the top of its mad-coloured lungs and refuses to stop!
The JEM (yes, it is ALWAYS written in capitals) is, of course, Steve Vai's signature guitar. It has been available in a wide range of increasingly bold finishes since its inception in 1987. Most JEMs have been high-end affairs that cost thousands of pounds, so there was a bit of volcanic excitement occurring amongst guitarists and Vai fanatics alike when Ibanez released the JEM Jr a few years ago. Much like the PRS, this retains much of the charm and overall vibe of the brand's most expensive models, sacrificing quality only up to a point, and ensuring that bang for buck is high.

Initially offered in Steve's favourite shade of White, Ibanez got smart and issued the JEM Jr Special in two of the most 80s-centric finishes they possibly could: really loud Yellow and Pink, each with black pickguards and hot pink pickups! Wow. These were actually already finish options on late 80s JEM guitars, so the authenticity for fans is there. What else is there? The monkey grip is there, the locking whammy bar is there, the Tree of Life inlay is even there!
As an entry into the world of the JEM, this guitar is a no-brainer. As an occasional shred-machine for players who normally don't, its an inspired choice. For plenty of fun and over-the-top playing (you'll hardly be knocking out Wonderwall on one of these), the JEM JR Special totally delivers.
Gibson Custom Shop Hand Picked Les Paul 1959 Beauty of the Burst
This is a special one indeed. Les Paul aficionados already understand that a '59 Les Paul is the zenith, the top of the mountain, in terms of single-cut excellence. Fans may also know that a famous coffee-table book exists called Beauty of the Burst. Inside, author Yasuhiko Iwanade tracked down and photographed every existing 59 Les Paul (actually, all Sunburst Les Pauls from 1958-60) for the drooling benefit of all uber-fans. It's quite something to flick through!
This Les Paul here represents an astonishing recreation of the 59 Les Paul you'll find on page 62 of that very book. Gibson Custom Shop are known for their quite staggering attention to detail, but this is something else. From the double-carved 'dish' (the shape of the carved top) to the exact type of plastic used in making the pickguard, a rather terrifying amount of work has been carried out on this guitar to make sure that it stands toe to toe with the original. This goes beyond 'vintage reissue' and into the realms of actual replica.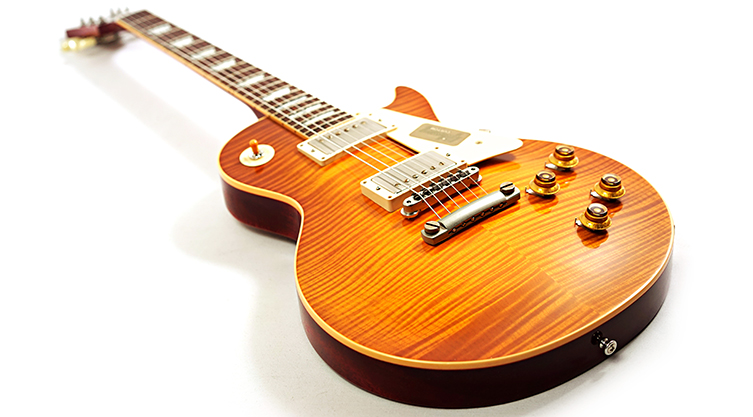 This is about as close as most of us will get to those near-mythical Gibsons from the fifties. Playing this, handling the neck, lighting a few notes and hearing the resulting sound, goes a good distance in helping us understand that myth. There is nothing else out there like this.
Suhr guitarguitar Select Standard
Our final choice of guitars for 15 years is made by Suhr guitars. Over the lifetime of guitarguitar, we have fostered a special relationship with John Suhr. This has resulted in special 'guitarguitar select' instruments being made, with woods hand-selected by us as well as the spec being decided by us. These guitars are not available to any other dealers!
There is no particular style to the guitarguitar select models, so for this celebration blog I just went ahead and chose my favourite one! The Aqua Blue Burst body really has to be seen to be believed: it practically leaps out at you! The 'Standard', which this guitar is, is in many ways the quintessential Suhr. It's blend of bolt-on, double cutaway design with features like double humbuckers, a flat radius fingerboard and a Flamed top make this a true hybrid instrument.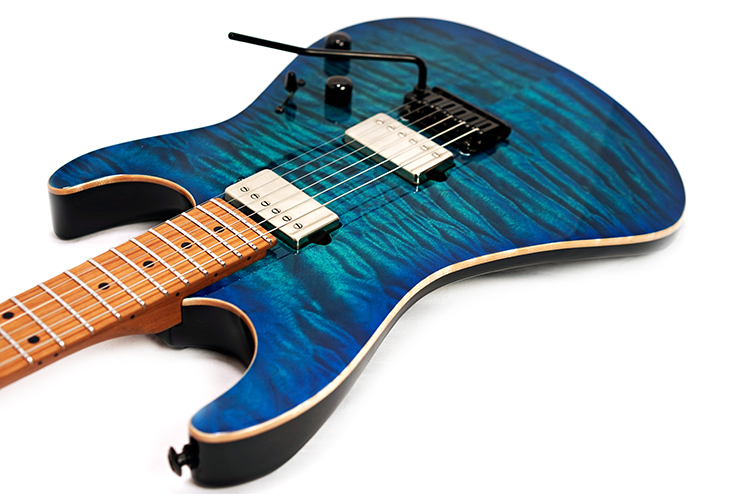 Not an inch of this Suhr Standard is a compromise: everything is as good as it's possible to be! In terms of sound, looks and sheer playability, it's difficult to find anything anywhere that will beat this, even by a tiny increment.
Conclusion
Putting 15 years of guitars into a list of 15 means missing out of many fantastic and amazing instruments! We'd put special mentions in for the EVH Wolfgang, the Gibson ES-275 and the Fender Custom Shop Last Waltz Stratocaster, amongst others. There is never enough space!
Considering how backwards-looking we tend to be as guitarists, loving things from the fifties more than anything else, it is refreshing to note than plenty of new designs exist. Life must be breathed into the form and these special instruments have all played their part.
What will guitars be like in another 15 years? Will we still all be playing Les Pauls, Strats and Teles? Probably yes, but some curveballs will no-doubt come along and perhaps even stay for the ride!
One thing's for sure: here at guitarguitar, we will keep searching for the latest, the freshest, the most wonderful and the most exciting guitars for you, year in, year out. Keep an eye on the site, or sign up for the newsletter and stay up to speed! Here's to another 15 years.
Ray McClelland